Banana Chocolate Smoothie Bowl topped with fresh banana, chocolate chips, coconut flakes and Great Grains® cereal is the perfect way to start your mornings! Besides, chocolate for breakfast is always a good idea!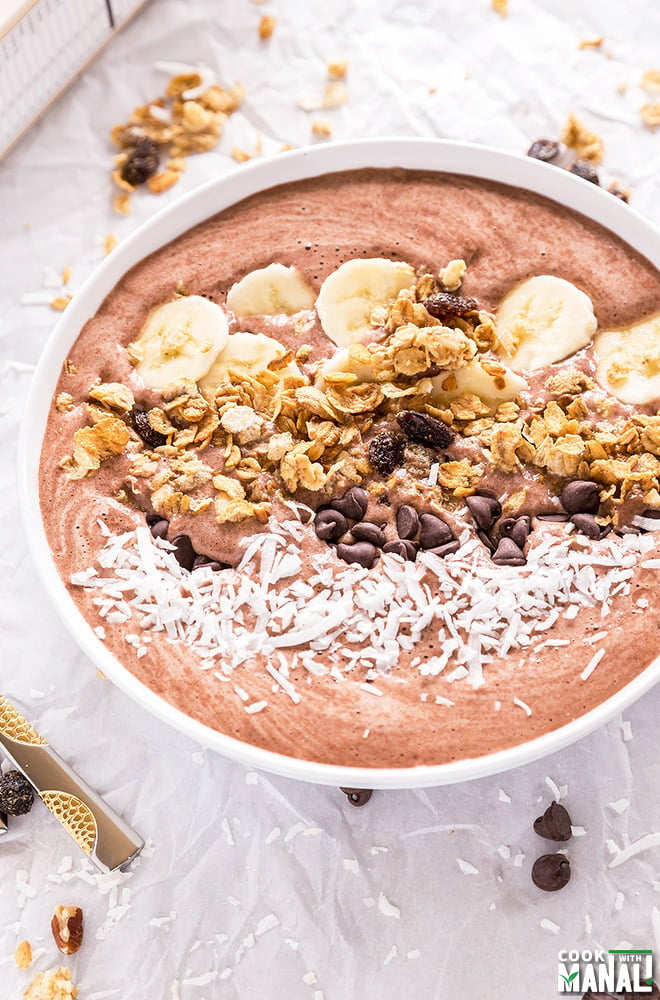 Sometimes I feel that there's some on and off switch as far as the weather is concerned. Like as soon as it's September 1, the switch for dull, dark and cold days gets on. Anyone else feels the same? Because it was pretty warm and nice last week and now it's just grey. I don't think I have seen the sun in the last 2 days. And yes it has suddenly become cold too, it might not be fall yet (officially) but it definitely feels like fall now.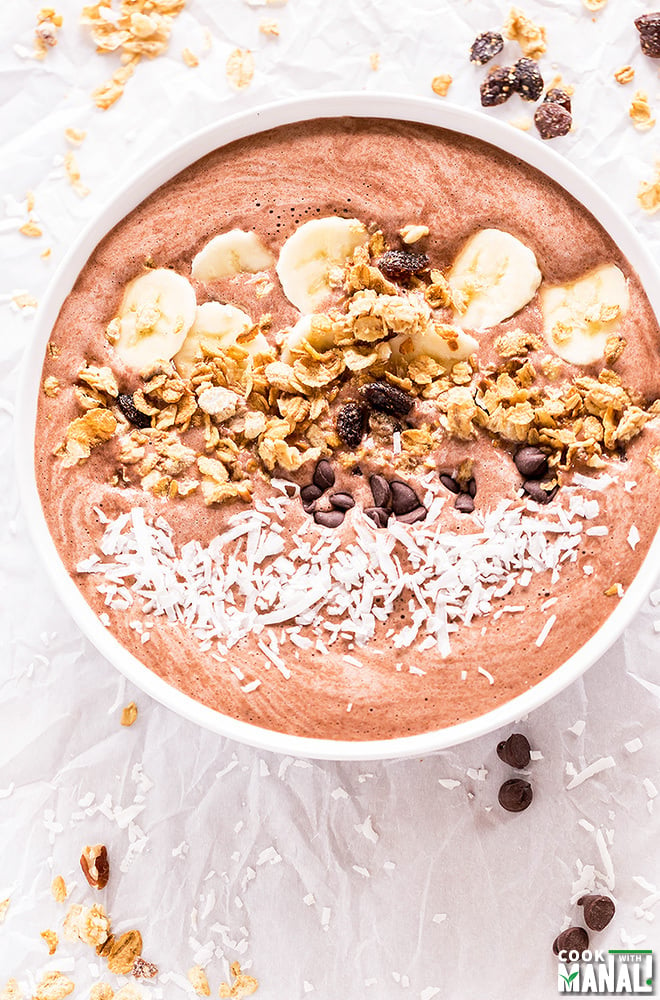 And the most difficult part of the day when it gets cold is to get up in the morning and make breakfast. Okay, let's talk about breakfast here. What do you guys like to have for breakfast? In fact a better question here would be how many of you actually eat your breakfast everyday. I am asking this because if I leave it to my husband, we will not eat breakfast any day of the week. He doesn't think it's important and he also thinks that mornings are super busy and making breakfast takes a lot of time so why bother. Well I certainly don't agree! I mean I agree that mornings are busy but quick breakfast is always an option. In fact more often that not, what gets me through my busy mornings is Great Grains® cereal.
With 6 varieties to choose from, there's something for everyone! My favorite is Raisin, Dates & Pecans and Cranberry & Almond Crunch.
It's so easy to start your day with a filling breakfast with Great Grains® cereal. When my hubby is rushing for work, I often pour him a bowl of cereal with milk and on other days I make this banana chocolate smoothie bowl topped with the cereal. Smoothie bowls are so pretty, especially when there's chocolate in there. This smoothie bowl gets done in 10 minutes. Seriously, can it get any easier? And who doesn't like chocolate for breakfast?
All you have to do is blend all the ingredients together and the pour the smoothie into bowl, add the toppings and eat it. The best part about smoothie bowls is that they keep you full for hours. Here you may use any milk and sweetener of your choice.
It's a good idea to use frozen bananas here because it makes the smoothie creamy and thick. But of course you may use fresh bananas too, just understand that smoothie might not be that thick! I hope you guys like this fun and easy breakfast idea. Get coupons to save on Great Grains® cereal and try it yourself. Click HERE for coupons.
Banana Chocolate Smoothie Bowl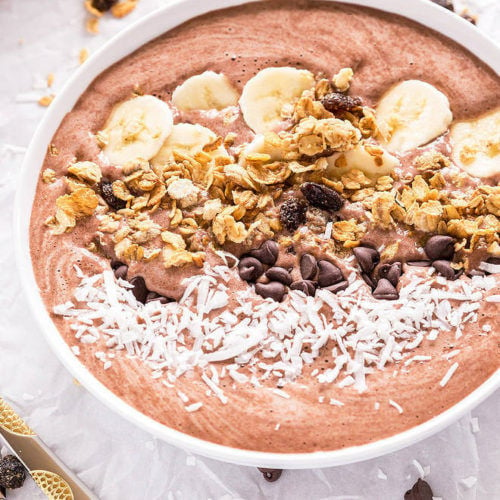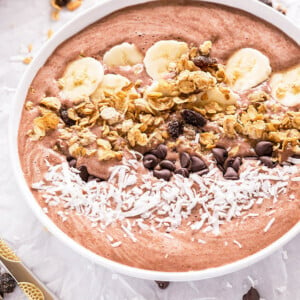 Begin your mornings with this delicious Banana Chocolate Smoothie Bowl. It comes together in 10 minutes ad keeps you full for hours!
Ingredients
Smoothie
1

cup

milk

use any milk of choice

2

small bananas

frozen

1/4-1/2

cup

ice cubes

1

tablespoon

cocoa powder

2-3

teaspoons

maple syrup or honey
topping
sliced banana

Great Grains® cereal

chocolate chips

coconut flakes
Instructions
To a blender add frozen bananas, milk, ice cubes, cocoa powder and maple syrup.

Pulse till everything is well combined. Adjust consistency accordingly. For a thicker smoothie, add less ice cubes.

Pour smoothie into a bowl and top with sliced banana, chocolate chips, Great Grains® cereal and coconut flakes. Enjoy!
Nutrition
Calories:
412
kcal
Carbohydrates:
80
g
Protein:
11
g
Fat:
9
g
Saturated Fat:
5
g
Cholesterol:
24
mg
Sodium:
109
mg
Potassium:
1243
mg
Fiber:
7
g
Sugar:
52
g
Vitamin A:
545
IU
Vitamin C:
20.5
mg
Calcium:
288
mg
Iron:
1.3
mg
Banana Chocolate Smoothie Bowl