Raspberry Linzer Cookies
Dec 16, 2015, Updated May 07, 2023
Lightly sweetened, filled with raspberry jam and dusted with powdered sugar, these Raspberry Linzer Cookies are a favorite!
A classic cookie for the Holidays – these Raspberry Linzer Cookies are one of my favorites. They are lightly sweetened and dusted with powdered sugar to make them festive!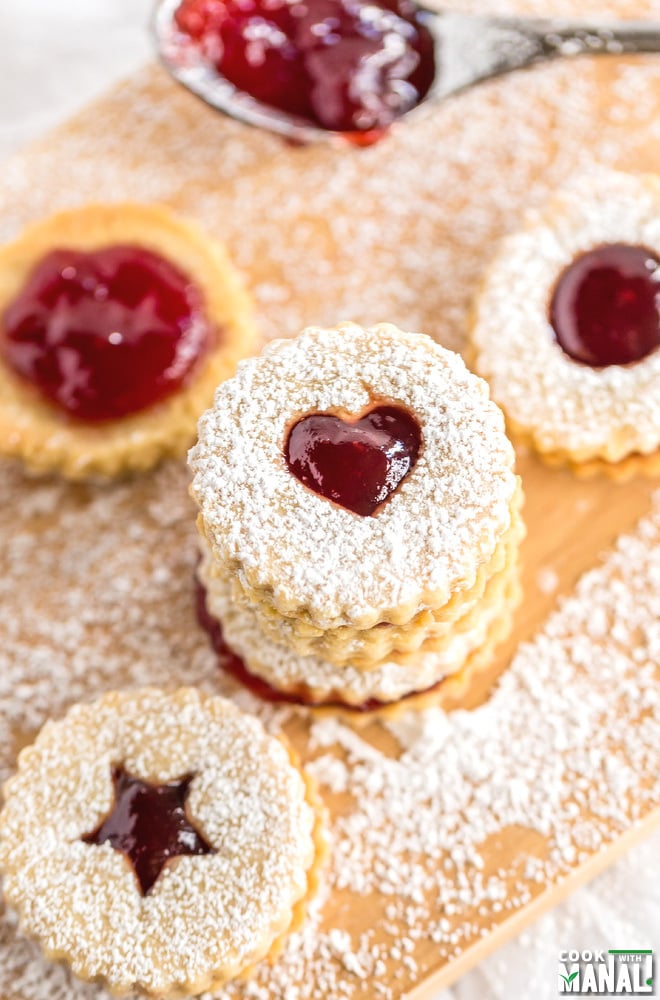 I have such a bad habit of buying things which I would never use. And this is especially true for baking equipments and products. I have a full pantry which only has baking stuff and even that's not enough for me. I mean I just buy so much stuff that nothing can ever fit in. Take for example cookie cutters, I am not a cookie decorator and yet I have so many cookie cutters! Like in all shapes and sizes you can imagine. I use them maybe once or twice a year and the collection just keeps increasing with time. I bought these Linzer Cookie cutters around 2 years back and they have been sitting as such since then. I thought of using them last year but somehow it didn't happen and so this year I made it a point to use them for the holidays and so I made these Raspberry Linzer Cookies! <3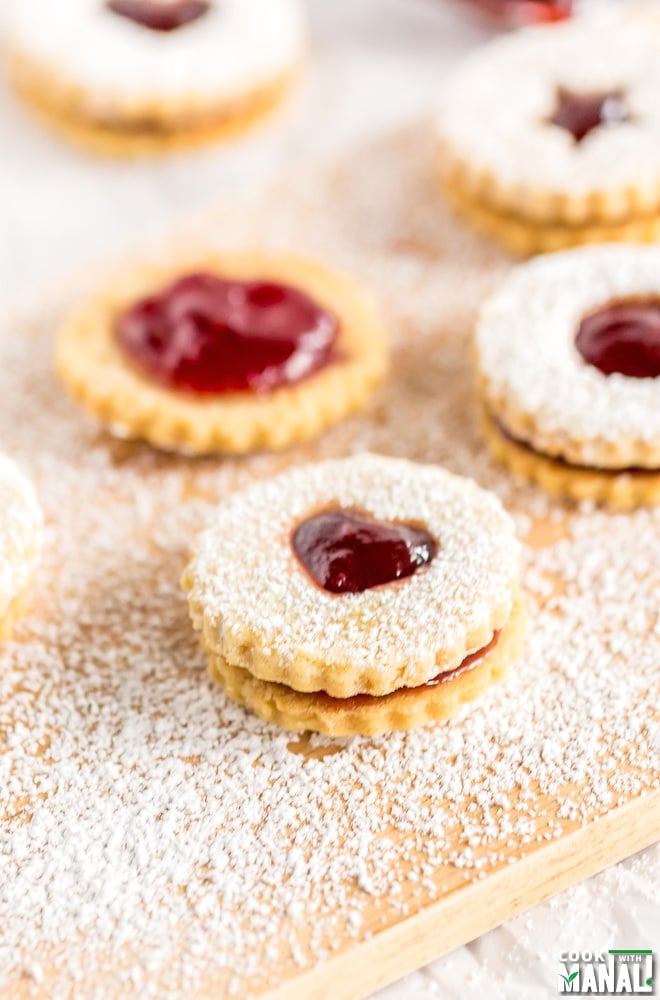 I hope there's still time to share one more cookie recipe. If you ask me, it's always a good time to bake cookies and eat them and so here it is my last cookie recipe for Christmas this year. I really love linzer cookies first because they have almonds in them and I love the nutty flavor in my cookies and second because they aren't very sweet. The raspberry jam filling and powdered sugar on top provide the required sweetness and in my opinion that's exactly the amount of sweetness these cookies need.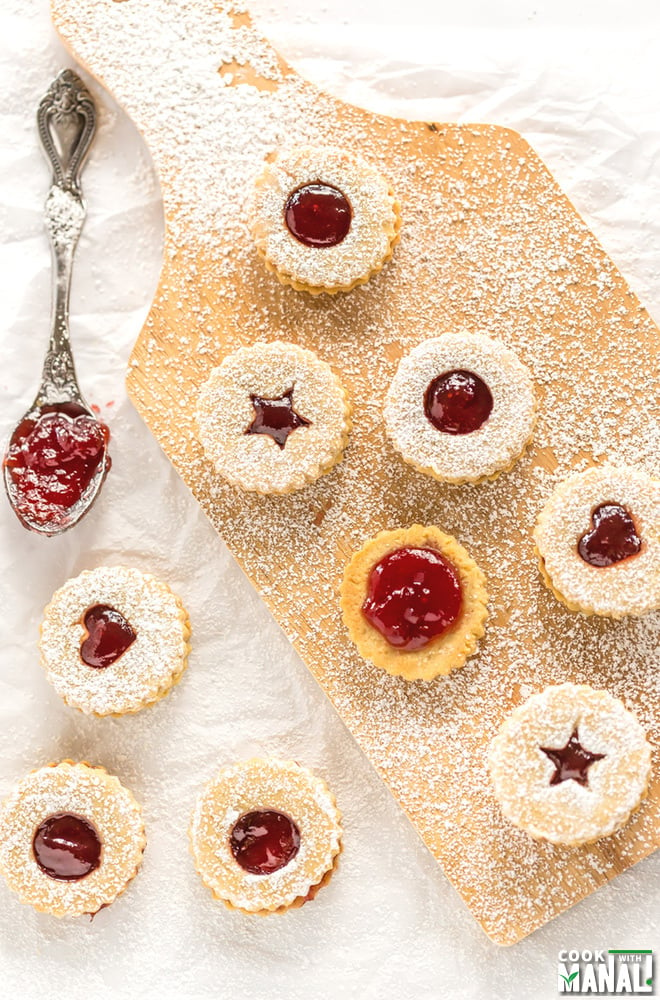 And before I forget I want to apologize for not sharing the step by step pictures for this recipe. I do actually have them but right now there are in my other phone and I don't have to access to it as I am out on vacation with my friends. I will update this post very soon with the step by step pictures so do come back if you interested in that!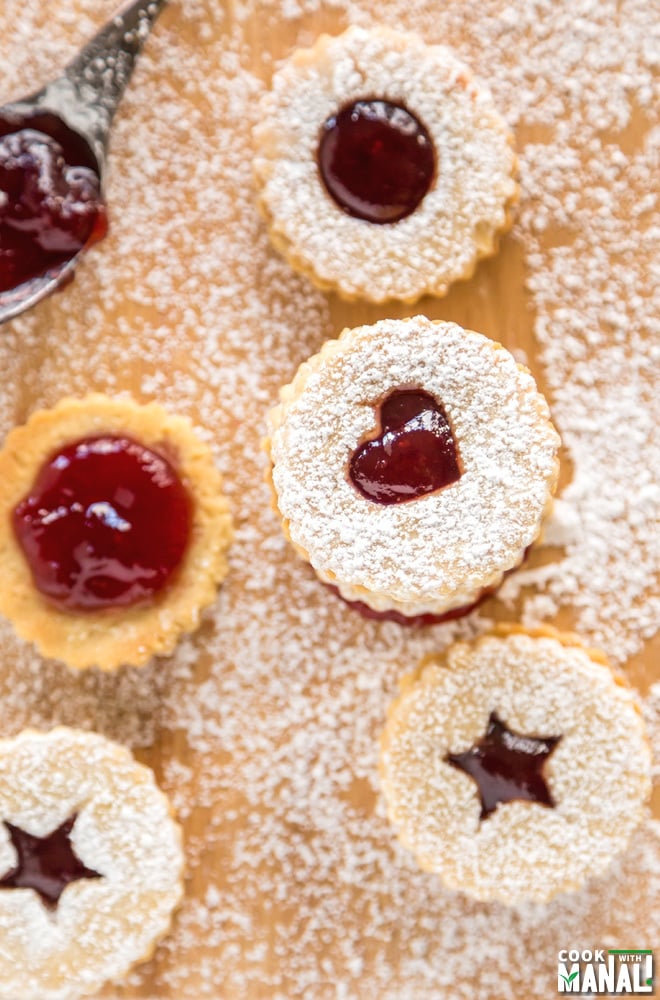 You don't really need a linzer cookie cutter set to make these however having one makes your life easier. This is the one I have – Wilton Linzer Cookie Cutter Set. If you don't have one, simply use a smaller cookie cutter to cut the center. You only need to do that in half of your cookies, the rest will remain plain, without the center cut.
I hope you guys try some of the cookie recipes that I shared for the Holidays and if you do please don't forget to share a picture with me! I would love to see it!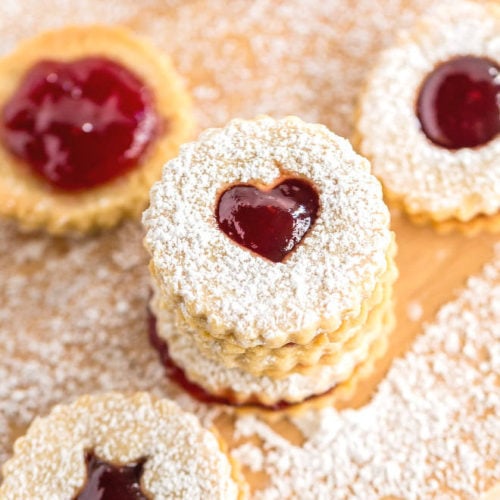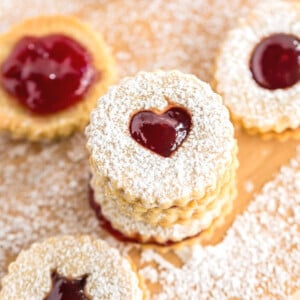 Lightly sweetened, filled with raspberry jam and dusted with powdered sugar, these Raspberry Linzer Cookies are a favorite!
Ingredients
Cookies
2¼

cup

+ 1 tablespoon all purpose flour

¼

teaspoon

cinnamon powder

¼

teaspoon

salt

⅓

cup

light brown sugar

¾

cup

silvered almonds

[around 100 grams]

1

cup

butter [ 2 sticks]

unsalted, at room temperature

1

egg

large

1

teaspoon

vanilla extract

¼

teaspoon

almond extract
1/3 cup powdered sugar, for dusting the top
Instructions
Preheat oven to 375 F degrees. Place almonds on baking tray and toast them almonds till fragrant, around 7-8 minutes.

Pulse the toasted almonds in a food processor along with the brown sugar. Set aside.

In a bowl mix together flour, salt and cinnamon. Set aside.

Using paddle attachment of your stand mixer or using your hand mixer, beat butter till creamy. Add egg, vanilla and almond extract and mix till well combined.

Add the flour mix and the almond mixture. Mix to form a dough.

Wrap and chill the dough for 2-3 hours.

Once the dough has chilled, preheat oven to 350 F degrees and line 2 baking trays with parchment paper and set aside.

Roll the dough to 1/8 inch thickness on a well floured surface.

Cut the cookies using linzer cookie cutter. Half of the cookies should be plain while the other half should have the cut in the center as well for the filling to show off. If you don't have a linzer cookie cutter, simply use a large round cookie cutter for cut the cookies and then a smaller one to cut in the center.

Bake at 350 F degrees for 10-12 minutes or till edges start turning brown.

Cool and then fill each plain cookie with raspberry jam.

Dust the cookies with the center cut with powdered sugar and then place them on top of the plain cookies to form a cookie sandwich.
Nutrition
Calories:
1418
kcal
,
Carbohydrates:
155
g
,
Protein:
20
g
,
Fat:
81
g
,
Saturated Fat:
40
g
,
Cholesterol:
217
mg
,
Sodium:
788
mg
,
Potassium:
481
mg
,
Fiber:
7
g
,
Sugar:
62
g
,
Vitamin A:
1970
IU
,
Vitamin C:
6.7
mg
,
Calcium:
170
mg
,
Iron:
6.5
mg
Nutrition information is automatically calculated, so should only be used as an approximation.
Your feedback is valuable!
Please share your comments, ratings, and any suggestions or adaptations below to help us improve and make our recipes more successful.
Raspberry Linzer Cookie