Baked Kale Chips
Oct 13, 2014, Updated Jan 02, 2018
Crispy baked kale chips, the perfect healthy snack!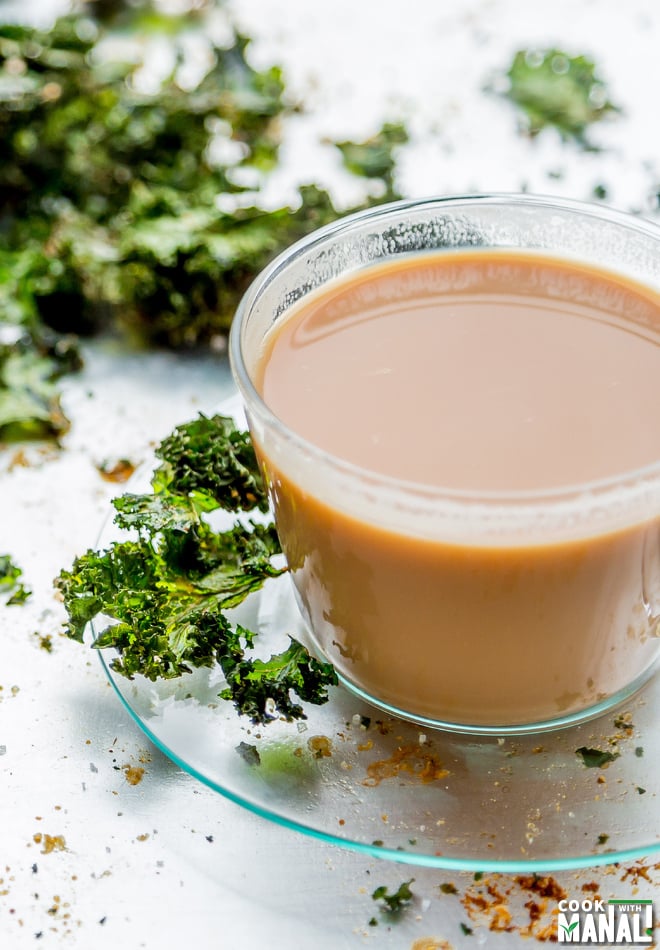 Between all the dessert madness of fall and Diwali, here's a healthy recipe – Baked Kale Chips! I was not very familiar with Kale until a few months back. I always saw it in grocery stores but never picked it up just because I was not sure how it would taste. Then once I tried kale salad in a restaurant and loved it and since then I often buy and use them in salads mostly. But the other day, I had a bunch lying in my refrigerator and I thought of making kale chips for my evening snack. I always look out for healthy snack options and what can be healthier than baked kale chips?
We all know how healthy kale is and so rather than eating your regular chips why not try these healthy chips in stead? These have to be baked at a lower temperature otherwise the leaves would burn. I baked mine at 275 F degrees for 20 minutes. Depending on your oven these may take anywhere between 20-25 minutes.
Here are few things to keep in mind in order to get the perfect crispy kale chips –
1. bake at a lower temperature
2. line your baking tray with parchment paper
3. wash the leaves and dry them completely before tossing them in oil and seasoning
4. too much of oil or any other liquid will make them soggy
5. spread them on the baking sheet in a single layer, no overcrowding
Bake these chips and enjoy them immediately. They don't stay crispy for long!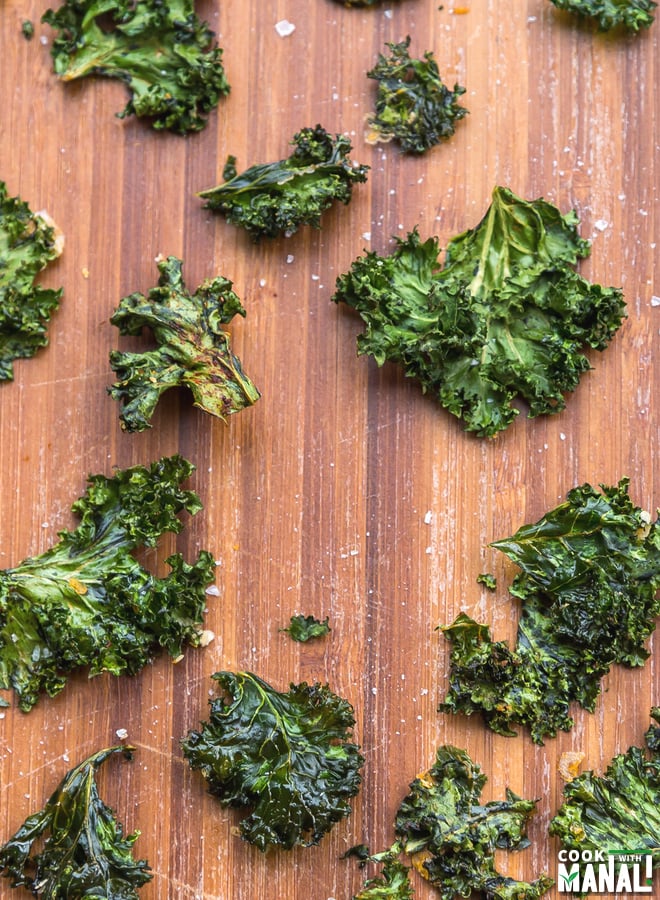 * You can add any seasoning of your choice like cayenne pepper, onion etc.
* Remember to remove the leaves from the stem before washing them.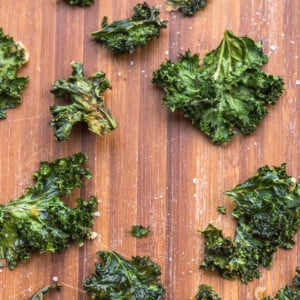 Crispy baked kale chips, the perfect healthy snack!
Ingredients
1

bunch kale leaves

½

teaspoon

garlic seasoning or salt

¼

teaspoon

smoked paprika

¾

teaspoon

olive oil

sea salt

for sprinkling [optional]
Instructions
Preheat oven to 275 F degrees. Line a baking sheet with parchment paper.

Chop of the stems and separate the kale leaves.

Wash the leaves and pat dry them. They should be completely dry before adding the dressing.

Toss the dried leaves in a bowl and add olive oil. Mix till all leaves are coated with the oil.

Sprinkle the seasoning and mix.

Transfer the kale leaves onto the baking sheet in a single layer.

Bake for 10 minutes, rotate the pan and bake for another 10-12 minutes. I baked mine for 20 minutes. [Kale leaves shrink then baked, this is fine]

Take out from oven, let them cool down on the baking sheet for 5 minutes.

Sprinkle some sea salt and eat immediately.
Nutrition information is automatically calculated, so should only be used as an approximation.
Your feedback is valuable!
Please share your comments, ratings, and any suggestions or adaptations below to help us improve and make our recipes more successful.