Instant Pot Beans & Brown Rice, an easy & comforting meal made in the IP using the pot-in-pot method. It's dairy-free, gluten-free and also vegan.
If you love all the Instant Pot vegetarian/vegan recipes that I share on the blog, please join me on this Facebook Group – Instant Pot Vegetarian Recipes. The group would share/feature vegetarian instant pot recipes and ideas from all around the web!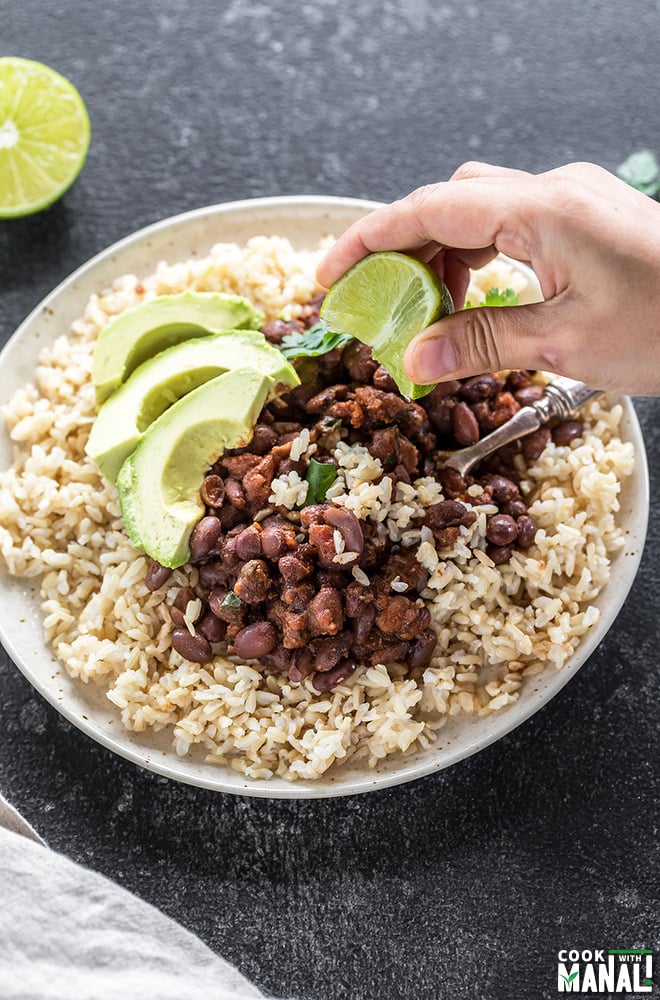 Disclosure: This post contains affiliate links. For more information on my Affiliate and Advertising Policy, please click here. 
Do you guys like brown rice? I didn't grew up eating brown rice, the only type of rice that was made in my house was white rice, and we pretty much ate that everyday. So it took me some time to get used to the taste and texture of brown rice. But now I really like it, in fact I prefer it so much more than white rice with my stir-fries or even in my chipotle bowl! Sarvesh though is different, he doesn't like brown rice and has never even tried to like it. For him if its rice, it has to be white basmati rice. Well after coaxing him for years, he has finally agreed to give it a try and so I have been cooking brown rice more often in my kitchen.
And guess what I have been using to make it perfect every time? Yep, my trusted Instant Pot! This recipe for Instant Pot Beans & Brown Rice is amazing because it cooks both the beans and the brown rice together at the same time using the pot-in-pot method. Do you guys remember the pumpkin curry and jasmine rice recipe that I shared? This is pretty similar except that I use brown rice here to make the meal more wholesome.
This Instant Pot Beans & Brown Rice
✓ is a complete meal which cooks at the same time using the pot-in-pot (PIP) method
✓ packed with nutrients, fiber and protein
✓ is a vegan and gluten-free meal
This recipe calls for pot-in-pot method which means that we cook the rice and beans in 2 different containers but at the same time in the IP. So we cook the beans in the inner steel pot of your instant pot and then place a trivet inside and then a container on top of the trivet and cook the brown rice in that container. You can use any container just that it has to fit in your instant pot and it should preferably be made of steel or glass.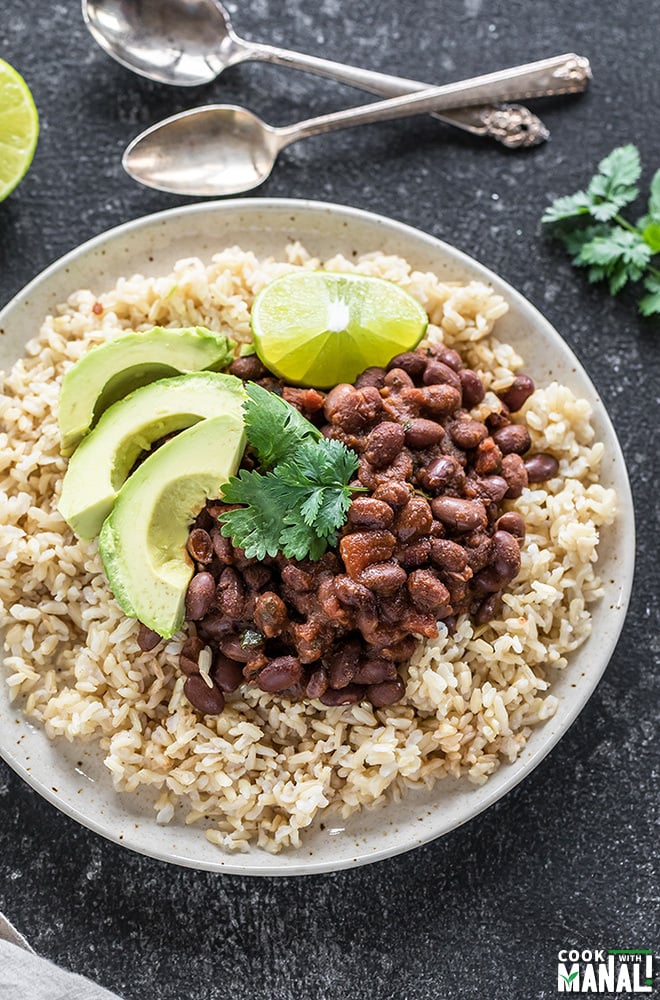 So what do you need for a Pot-in-Pot method?
✓ a trivet – you get one with the Instant Pot but I prefer this one so much more, it has taller legs – Stainless Steel Steaming Rack, 6 Inch Diameter
✓ a steel or glass container to put on top of your trivet. I used these steamer insert pans – Stackable Steamer Insert Pans
I have used black beans here which were soaked in warm water for 2 hours. You may soak them overnight, they will be much softer. The beans are flavored with oregano, cumin, smoked paprika and chipotle powder for that spice kick. I served beans and brown rice with some sliced avocados on top. You may also top it with guacamole or your favorite salsa. This makes a great dinner and leftovers are perfect for lunch the next day. Hope you guys enjoy this easy recipe!
PS: I will update this post soon with video & step by step pictures, so keep an eye on that!
Instant Pot Beans & Brown Rice
Black Beans & Brown Rice cooked in the Instant Pot using the pot-in-pot method. An easy, wholesome meal which is also vegan and gluten-free.
Ingredients
Beans
1

tablespoon

olive oil

1

medium

onion

4

garlic cloves

14.5

oz

can of diced tomatoes

I use the one with herbs

1

teaspoon

dried oregano

1/2

teaspoon

cumin powder

1/2

teaspoon

smoked paprika

1/2

teaspoon

chipotle powder

1/4

teaspoon

cayenne pepper

optional

1

cup

black beans

210 grams, soaked in warm water for 2 hours

1.5

cups

water

12 oz

1

teaspoon

salt

or to taste

2-3

tablespoon

chopped cilantro

lime juice
Brown Rice
2

cups

brown rice

390 grams

2.5

cups

water

20 oz

1

teaspoon

oil

optional
Instructions
Soak black beans in warm water for 2 hours. After 2 hours, drain the water and set the beans aside.

Press the saute button on your Instant Pot. Once it displays hot add oil and then add onion and garlic.

Cook for 3 minutes until onions are softened.

Stir in the can of tomatoes, add cumin powder, smoked paprika, oregano, 1/4 teaspoon chipotle powder, cayenne pepper (if using).

Cook for 3-4 minutes until tomatoes and spices are well cooked. Add soaked beans, water, salt and mix well.

Place a trivet inside your IP. Place a container (which would fit into the IP) filled with brown rice on top of the trivet.

Add water, oil (optional) to the rice container. Cover the container with lid or aluminium foil. Close the pot with its lid.

Press the manual or pressure cook button. Cook on high pressure for 22 minutes, let the pressure release naturally for 10 minutes and then do a quick release.

Open the pot carefully, fluff the rice with a fork and remove the rice container.

Remove trivet and then press the saute button. Mash some of the beans (optional), add cilantro, simmer for 2-3 minutes. Add remaining 1/4 teaspoon chipotle powder. Adjust spices to taste. Also squeeze in some fresh lime juice.

Serve rice and beans with avocado slices.
Notes
You may add less water to the beans if you like your beans to bit on the dried side. Add 1 cup water in that case in place of 1.5 cups.
Nutrition
Calories:
477
kcal
Carbohydrates:
91
g
Protein:
12
g
Fat:
7
g
Saturated Fat:
1
g
Sodium:
751
mg
Potassium:
652
mg
Fiber:
8
g
Sugar:
3
g
Vitamin A:
385
IU
Vitamin C:
12.5
mg
Calcium:
102
mg
Iron:
4.1
mg
Instant Pot Beans & Brown Rice