Instant Pot Moong Dal Chaat
Pressure cooked smooth moong dal topped with an assortment of toppings like onion, tomatoes, cilantro, spices! This Moong Dal Chaat is vegan, gluten-free and also oil free!
Pressure cooked moong dal topped with an assortment on toppings like onion, tomatoes, cilantro, ginger and spices.
This Moong Dal Chaat is a healthy twist on the traditional chaat and is vegan and also oil-free!
I am not sure what took me so long to share this recipe here.
In fact I have hardly made it in my kitchen ever since I got married and moved to the US (which is almost 9 years now)!
I grew up eating this Moong Dal Chaat pretty regularly for breakfast.
At that time, I did not know what it was called. We just used to say "moong dal for breakfast" today.
After some research, I came to know that's it called Moong Dal Chaat or Moradabadi Moong Dal Chaat (since it's popular in a city named Moradabad in Uttar Pradesh).
So mom would pressure cook the dal to a paste like consistency and then place an assortment of toppings on the table.
Everyone would come and make their own plate. It was an easy, wholesome breakfast which we all enjoyed eating.
But now I hardly make it. I cook moong dal often but do not usually serve it in this form.
This time around I thought of making it and sharing it with you guys because it's so easy and I am sure you guys will like it.
This Moong Dal Chaat
✔makes a nutritious breakfast or lunch.
✔is vegan and gluten-free.
✔is also oil-free.
✔protein-packed for healthy start to the day.
You start by pressure cooking the dal. While my mom used her traditional pressure cooker for this recipe, I of course used the Instant Pot.
The consistency here needs to be thick, so I pressure cooked 1 cup dal with 2 cups water. Later on I added some more water to bring the dal to a paste like consistency.
Once the dal is pressure cooked, gently mash the dal with a spatula. To make it extra creamy, I went one step ahead and used my immersion blender to get it all smooth.
I am sure my mom never did that, so don't worry it will be fine even without the immersion blender.
Moong dal has kind of a negative image. In my house eating moong dal was equivalent to being sick. However, this version really spices up the humble dal with all the delicious toppings and then it's not so boring anymore!
Topping for The Chaat
The only cooking that you do for this recipe is pressure cook with dal with some salt and turmeric.
And then prepare all the toppings and assemble the chaat. The good part is there are so many options and everyone can add ingredients to their liking and taste.
So let's see what all toppings are important for this chaat!
Onion: of course what's a good chaat without some chopped onions? I like using red onions here, you can use yellow or white onion if that's what you have.
Tomatoes: these are a must for this chaat, so do not skip on these. I have used roma tomatoes which I chopped fine.
Green Chilies: I have used Thai green chilies here, you can even use jalapeño or serrano peppers.
Ginger julienne: I love ginger julienne in this chaat, however Sarvesh didn't care for them. If you ask me, don't skip on these.
Cilantro: it brings color to the dish and also adds to the freshness of the dish.
Lemon wedges: this chaat needs a good squeeze of lemon juice before serving so do not skip on this!
Freshly ground cumin powder: one of the things mom would always do for this chaat, was to roast some cumin seeds and then grind them coarsely (not a fine powder). It adds so much flavor!
For this recipe I roasted some cumin seeds (around 2 tablespoons) on medium heat for 2 to 3 minutes until they were fragrant (careful not to burn them).
Then coarsely ground the seeds using a spice grinder and use that as a topping. Don't use store bought cumin powder if possible.
Kashmiri red chili powder: this gives beautiful pop of color to the chaat without adding much heat.
Kala Namak: aka rock salt. I cannot imagine having this chaat with kala namak, must use!
Papad (pappadum): this adds crunch to the dish. I roasted some papad that I had on direct heat, crushed them and then used them as a topping.
Crunchy papdi will also work. Mom would always serve this dish with papad.
Cilantro chutney: so we did not use this topping at home. I think mom served this dish as a breakfast and not as a snack or chaat so she didn't use chutney as a topping but I added it to make it more like chaat.
These are the topping that I have used but there's so much more that you can use.
Additional toppings: you can use sweet tamarind chutney, diced cucumbers, pomegranate arils, chaat masala.
This recipe does not use any oil- yes it's oil-free!
However if you want, you can drizzle some ghee over the dal before serving. I did not add any and kept it vegan.
Stove-top Instructions
You can easily make this on stove-top. Soak the dal for around 30 minutes in enough water and then cook in a pan until it's completely smooth and cooked
It will take around 20 to 25 minutes for it to get completely soft.
This chaat should be served immediately.
The dal will thicken as it cools down so serve it immediately with all the toppings. Hope you guys would enjoy this moong dal chaat!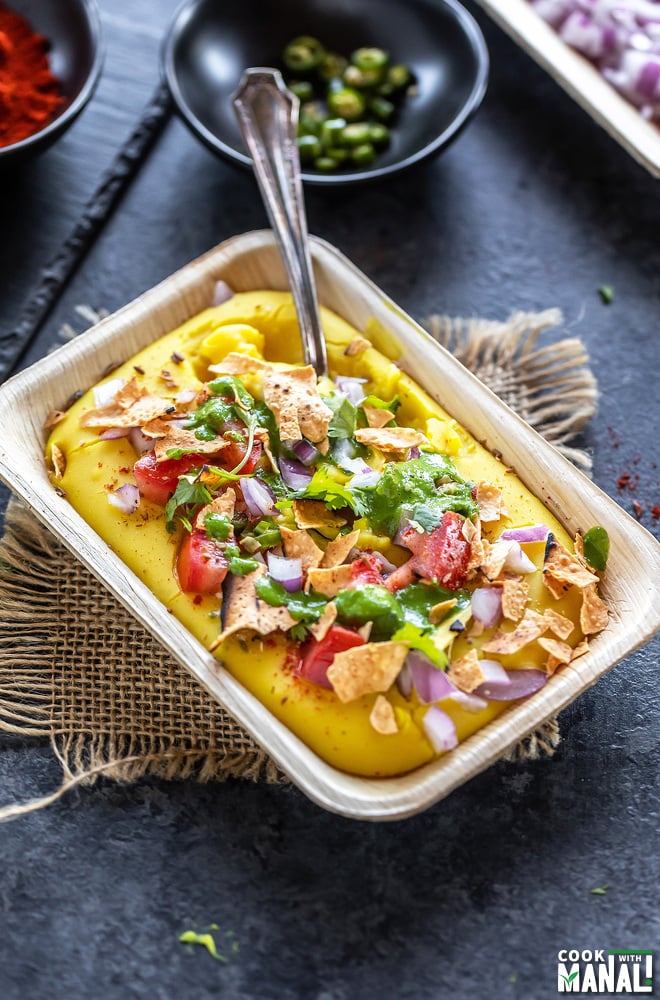 If you've tried this Moong Dal Chaat Recipe then don't forget to rate the recipe! You can also follow me on Facebook, Instagram to see what's latest in my kitchen!
Pressure cooked smooth moong dal topped with an assortment of toppings like onion, tomatoes, cilantro, spices! This Moong Dal Chaat is vegan, gluten-free and also oil free!
Ingredients
1

cup

moong dal dhuli

210 grams, also known as split petite yellow lentils

1/4

teaspoon

turmeric

1/2

+1/8 teaspoon

salt

2

cups

water

16 oz
Toppings
1

medium

onion

finely chopped

2

medium

tomatoes

finely chopped

1

inch

ginger

julienned

2

green chilies

finely chopped

2

tablespoons

chopped cilantro

1

large

lemon

cut into wedges

roasted cumin powder

freshly ground

kala namak

rock salt

kashmiri red chili powder

2

papadum

roasted on direct heat and then crushed
Instructions
 Rinse the moong dal and transfer it to the inner steel pot of the Instant Pot. Add turmeric, salt, 2 cups water and stir. Close the pot with the lid.

Press the pressure cook or manual button and cook on high pressure for 8 minutes with the pressure valve in the sealing position. Let the pressure release naturally.

PS: while the dal is cooking, chop and get all the toppings ready to go.

Open the lid and stir. I added around 3/4 cup (6 oz) water at this point as the dal was super thick. Then use an immersion blender to blend the dal to a smooth consistency. If you don't have an immersion blender, that's fine, just mash using a spatula.

The dal should have a thick paste like consistency, it should not be thin. You can definitely adjust the consistency to preference but keep it on the thicker side for this recipe.

To serve place the dal on the serving bowl. You may drizzle some ghee on top of the dal here, I did not do that but it's a good option!

Top with chopped onions, tomatoes, green chilies, cilantro, ginger julienne, roasted cumin powder, kala namak, kashmiri red chili powder. Add the crushed papadum on top and drizzle with cilantro chutney.

Adjust the toppings to taste. If you don't want it spicy- skip the chilies and so on.

Add a good squeeze of lemon juice and serve immediately. If you want you can even add tadka of ghee (1 tablespoon), pinch of hing and 2 dried chilies (crushed) on top before serving.
Notes
You can change the toppings to taste and preference. If you want to add some sweetness to the chaat, drizzle some tamarind chutney on top. 
If you don't have papad, you can use papdi or sev too.
Dal thickens a lot as it cools. While re-heating you will need to add water to it. But remember to not make it thin for the chaat, has to be on the thicker side.
Nutrition
Calories:
218
kcal
,
Carbohydrates:
40
g
,
Protein:
14
g
,
Fat:
1
g
,
Saturated Fat:
1
g
,
Sodium:
149
mg
,
Potassium:
223
mg
,
Fiber:
8
g
,
Sugar:
5
g
,
Vitamin A:
626
IU
,
Vitamin C:
27
mg
,
Calcium:
43
mg
,
Iron:
2
mg
Nutrition information is automatically calculated, so should only be used as an approximation.
Your feedback is valuable!
Please share your comments, ratings, and any suggestions or adaptations below to help us improve and make our recipes more successful.