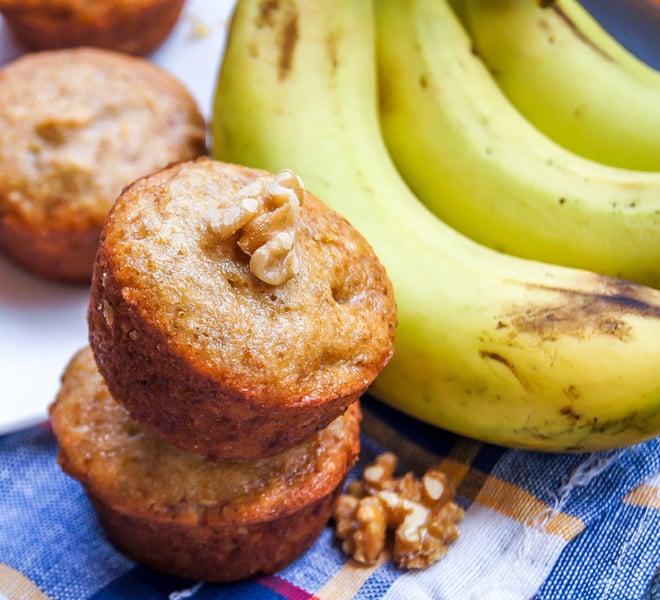 Banana nut muffins are one of the most popular muffins in the world. This is one muffin which is always available in coffee chops even if there's nothing else. In my opinion there's no better way to use bananas than this. These soft, moist muffins are full of banana flavor and hey if you don't eat eggs, here's some good news for you, these muffins are 100% vegetarian and egg-free!
Before I talk about these muffins I have to say that baking in India is quite a challenge! First of all everything is difficult to get hold of right from cream cheese to whipping cream. You do get them but you have to spend a lot of time around looking for stores. Anyway so after all the running you finally get all the ingredients and are really excited about baking your cake and then guess what happens? You put the cake in the oven and the electricity goes off! And then the cake is in the oven and you have to wait till the electricity comes back which can be 2 hours or even 4! It's funny how you never think about these things in US but they are such a major issue when you bake in India. Plus temperature of 115 F degrees doesn't help either!
Anyway enough about baking challenges in India let's talk about the ingredients used in these eggless banana muffins.
Flour: I used 50% all purpose and 50% whole wheat flour. You can use 100% of each flour or mix match as per your liking. Whole wheat flour is dense hence if you use 100% of it, the muffins will take more time to bake.
Oil: You can use any odorless oil of your choice like canola or vegetable oil, I used canola. Oil helps in making the muffins moist and hence I always recommend them.
Sugar: I used more brown sugar and less of white sugar in this recipe. Brown sugar has more moisture and it makes the muffins moist. You can use 100% white sugar or a combination of both. My muffins usually have higher brown to white sugar ratio.
Bananas: Use 2 large ripe bananas, in case you can't get the big ones like in US use 3 regular sized bananas. The bananas that you use should be really ripe with brown spots all over. By the way it's not difficult to get such ripe bananas in India, the market is literally full of them!
Buttermilk: The recipe calls for buttermilk, you can use milk instead but I always suggest using buttermilk – it does make a difference it overall taste and texture of your muffins. If you don't have buttermilk at home, simply make it in 5 minutes. Take a cup and add 1 tablespoon of lemon juice in it, now fill the cup with milk and let is sit for 5 minutes. Your homemade buttermilk is ready to be used in the recipe.
Nuts: I used walnuts in this recipe because bananas and walnuts go well together. Pecans would work too.
Making these muffins is super simple – Mix the dry and wet ingredients separately and then pour wet into dry. Mix and bake – it really is that simple. These eggless banana nut muffins are great for breakfast and also perfect for snacking.
* Nuts can be added straightaway to the batter. I roasted them in the oven before adding them because I like the flavor that comes from roasting. This step is optional and can be skipped.
* Adjust sugar to taste. You can cut down the sugar for less sweeter muffins.
Banana Nut Muffins Eggless
Eggless muffins packed with bananas & walnuts!
Ingredients
1

cup

all purpose flour

1

cup

whole wheat flour

1.5

teaspoons

baking powder

½

teaspoon

baking soda

½

teaspoon

salt

1

cup

brown sugar

2

tablespoons

granulated sugar

¼

cup

+ 1 tablespoons yogurt

1.5

teaspoons

vanilla extract

½

cup

buttermilk

1.5

cups

walnuts
Instructions
Preheat oven to 375 F degrees.

Line a muffin tray with liners or spray with non stick spray. Set aside.

Transfer the walnuts to a baking tray and bake for 7-8 minutes or till you start getting a nice aroma. Take them out and set aside.

In a bowl whisk together all purpose flour, whole wheat flour, baking powder, baking soda and salt. Set aside.

In another bowl mix oil with both the sugar till smooth.

Mash the bananas and add to the oil and sugar mixture. Mix till combined.

Add yogurt, vanilla, buttermilk and mix.

Pour wet ingredients into dry and mix till combined. Do not overmix.

Fold in the nuts.

Pour the batter in muffin tray till 3/4 full.

Bake at 375 F degrees for 20 minutes or till toothpick inserted in the center comes out clean.

Cool on wire rack completely.
Nutrition
Calories:
246
kcal
Carbohydrates:
31
g
Protein:
4
g
Fat:
12
g
Saturated Fat:
1
g
Cholesterol:
1
mg
Sodium:
121
mg
Potassium:
208
mg
Fiber:
2
g
Sugar:
17
g
Vitamin A:
25
IU
Vitamin C:
1.4
mg
Calcium:
56
mg
Iron:
1.1
mg