Bhindi Do Pyaza
May 30, 2017, Updated Jan 02, 2018
Okra cooked with lots of onions and spices. This bhindi do pyaza is a simple Indian sabzi which is best enjoyed with plain roti. Vegan & gluten-free.
Double the onions and lots of spices, surely make this Bhindi Do Pyaza very flavorful. This is one of my favorite ways to enjoy okra with roti or paratha.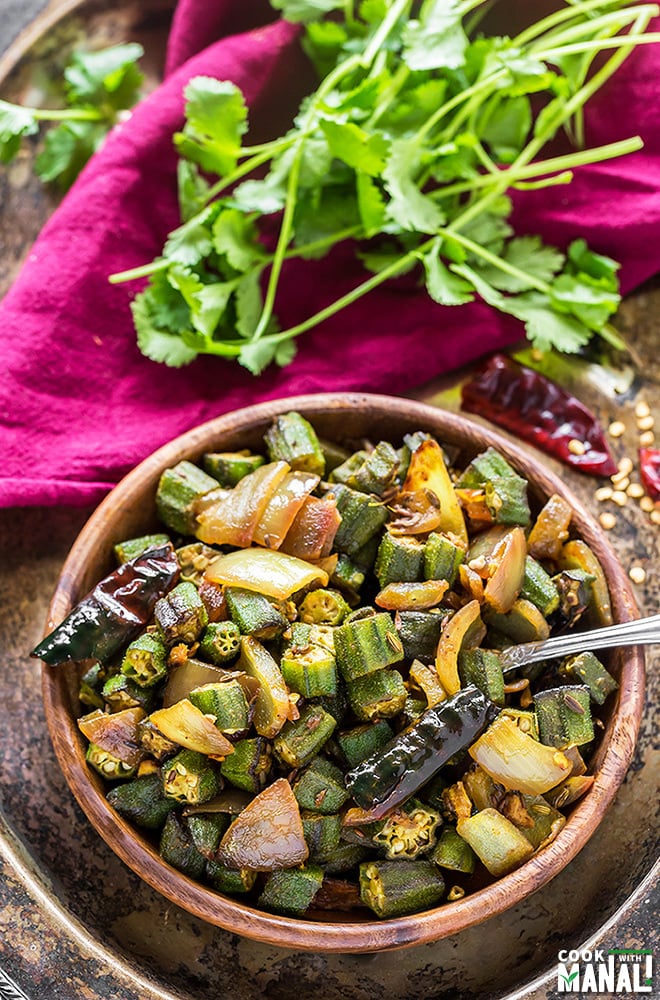 We get a lot of veggies here in the US, however one veggie which I don't see very often here is okra or what we call bhindi in hindi. Bhindi is a very popular vegetable back home and most people I know love it! Me and hubby are big bhindi fans and I try to make it at least once a month for our dinner. Bhindi sabzi with dal and roti – you can't beat a simple Indian meal like this!
The only place where I get okra in my city is the Indian grocery store. I have also seen it around few times at Whole Foods and that's mostly about it. I find it rather surprising that okra isn't very popular in this part of the world as it is in Asian countries. It's actually a delicious vegetable which is also low in calories, so it definitely deserves more popularity. Maybe just like kale and turmeric, the okra trend will also catch up sometime.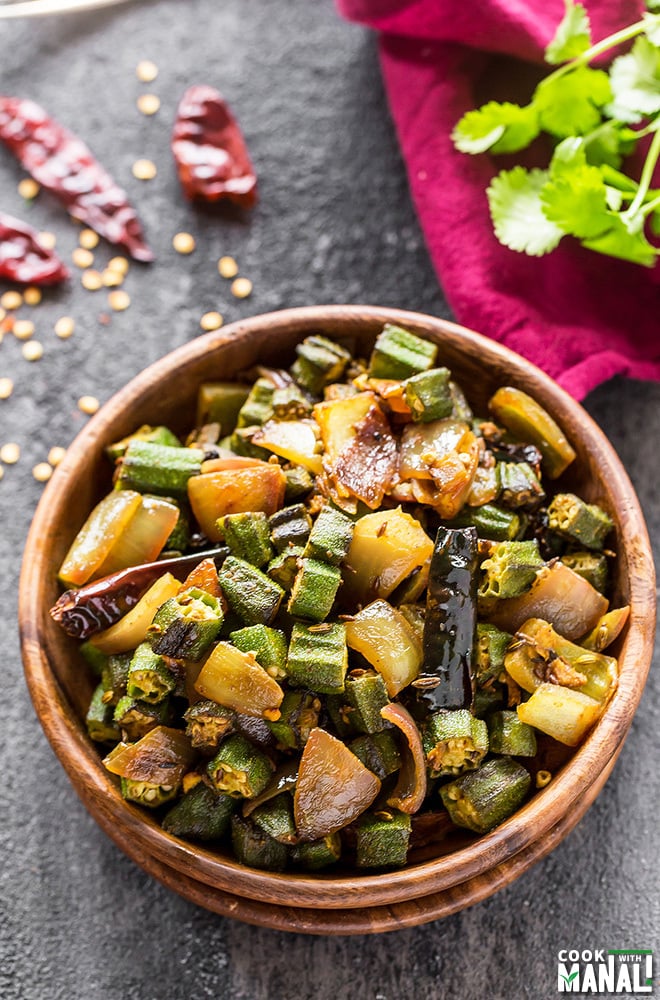 Anyway so the most common way in which you can cook bhindi in an Indian way is by sauteing it with some cumin seeds and spices. In my home, we also use fenugreek seeds to temper. It's super simple and tastes great with rice or roti. I make that version often and sometimes I change things up a bit make bhindi do pyaza. The literal translation for "do-pyaza" means double onions [do=double and pyaza=onion] so this sabzi has basically twice the amount of onions than what you would normally use.
Okra is slimy is nature and can give a lot of trouble while chopping and cooking. A good way to minimize the sliminess is to wash the okra and then pat dry it with a kitchen towel. However if you plan ahead, I highly recommend washing the okra and and leaving it to air dry overnight on a paper towel. This way when you chop the vegetable next morning, the sliminess will be less and cutting the okra would become much easier. I often plan ahead when I am making bhindi just so that I can minimize the slimy mess!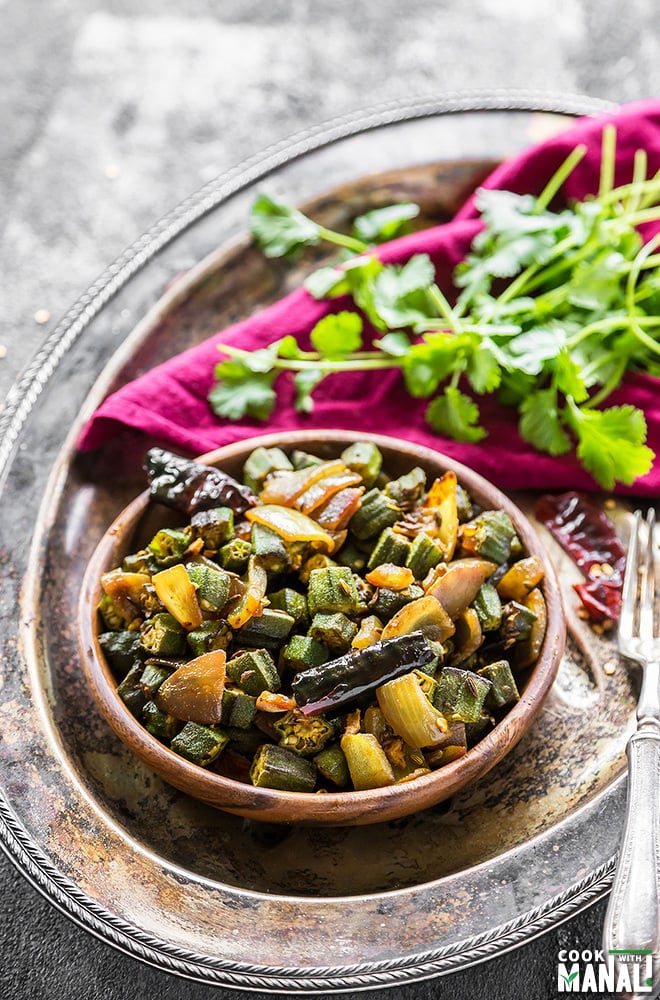 For this recipe of bhindi do pyaza, I used lot of onions and spices like fennel, cinnamon, cumin, cardamom. All these spices make the bhindi really flavorful. We enjoyed this bhindi do pyaza with plain roti and dal and I do believe that's the best way to enjoy this sabzi. So next time, you want to try something different with your bhindi, give this recipe a try. And if you have never had okra before, this recipe is a good place to start!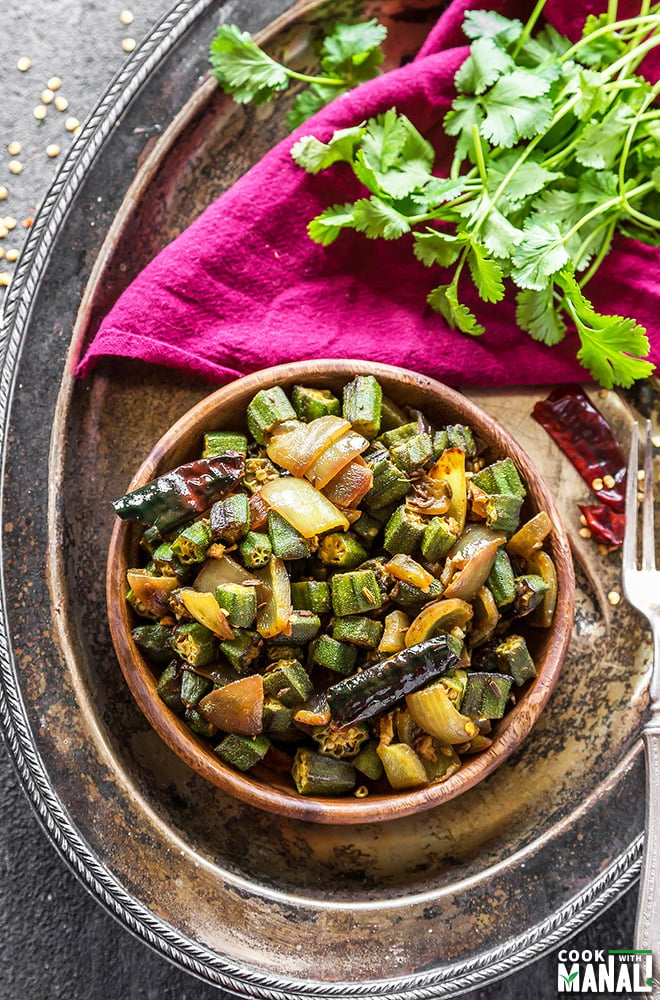 * You may garnish it with chopped cilantro.
PS: I apologize for no step by step pictures for this post. I usually click those with my phone and 2 days back my phone just died on me. I lost all my pictures! If I am able to recover those pictures, then I will definitely edit this post and add those here.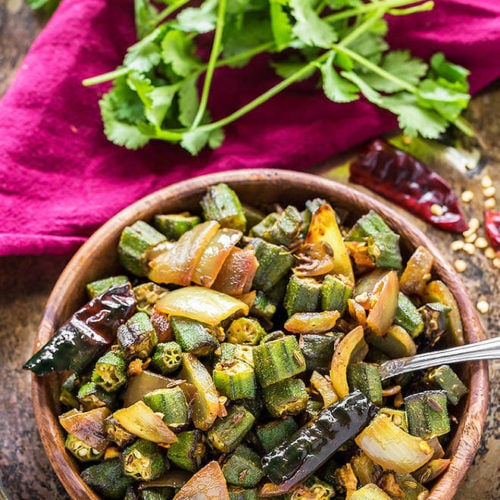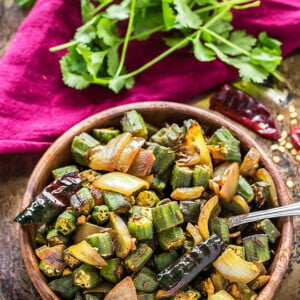 Okra cooked with lots of onions and spices. This bhindi do pyaza is a simple Indian sabzi which is best enjoyed with plain roti. Vegan & gluten-free.
Ingredients
400

grams

okra/bhindi

cut into rounds

2

tablespoons

vegetable oil

divided

2

large red onion

cubed

1.5

teaspoons

chopped ginger

2

dried red chili

broken

1/2

teaspoon

cumin seeds

1/2

teaspoon

fennel seeds

1/4

teaspoon

turmeric powder

1/2

teaspoon

garam masala

1/4

teaspoon

amchur

also known as dried mango powder

salt

to taste

1/2

teaspoon

lemon juice

optional
whole spices
2

cloves

2

green cardamom

1

cinnamon stick

2

black cardamom

6-7

peppercorns
Instructions
Heat 1 tablespoon oil in a pan on medium heat.

Once oil is hot, add the chopped bhindi.

Saute at medium heat for 10 mins, then lower the heat to low and cook for 5 more minutes. Remove bhindi from pan and set aside.

Heat 1 tablespoon oil in the same pan. Add cloves, green cardamom, cinnamon stick, black cardamom and peppercorns. Saute the whole spices till fragrant.

Then add cumin seeds and fennel seeds and let them sizzle.

Add chopped ginger and broken dried red chili.

Saute till ginger starts turning golden in color.

Add cubed onions and mix. Also add turmeric powder and salt.

Cook for 2-3 minutes or till onions turn translucent.

Add the cooked bhindi and mix.

Add garam masala, amchur and stir to combine.

Lower the flame to low cook the sabzi on low heat for 4-5 minutes.

Add lemon juice (optional) and mix. Serve bhindi do pyaza with roti or any bread of choice.
Nutrition
Calories:
130
kcal
,
Carbohydrates:
16
g
,
Protein:
3
g
,
Fat:
8
g
,
Saturated Fat:
6
g
,
Sodium:
12
mg
,
Potassium:
422
mg
,
Fiber:
6
g
,
Sugar:
4
g
,
Vitamin A:
739
IU
,
Vitamin C:
28
mg
,
Calcium:
118
mg
,
Iron:
1
mg
Nutrition information is automatically calculated, so should only be used as an approximation.
Your feedback is valuable!
Please share your comments, ratings, and any suggestions or adaptations below to help us improve and make our recipes more successful.
Bhindi Do Pyaza