Cheesy Jalapeno Dip
Nov 03, 2015, Updated Jan 02, 2018
Cheesy Jalapeno Dip for the perfect movie night!
Thanks Castello for sponsoring this post! As always all opinions are mine alone.
Cheesy Jalapeno Dip made with Castello's delicious Havarti Jalapeño Cheese is the perfect appetizer for the movie night. Serve it with crackers , carrots or anything you fancy!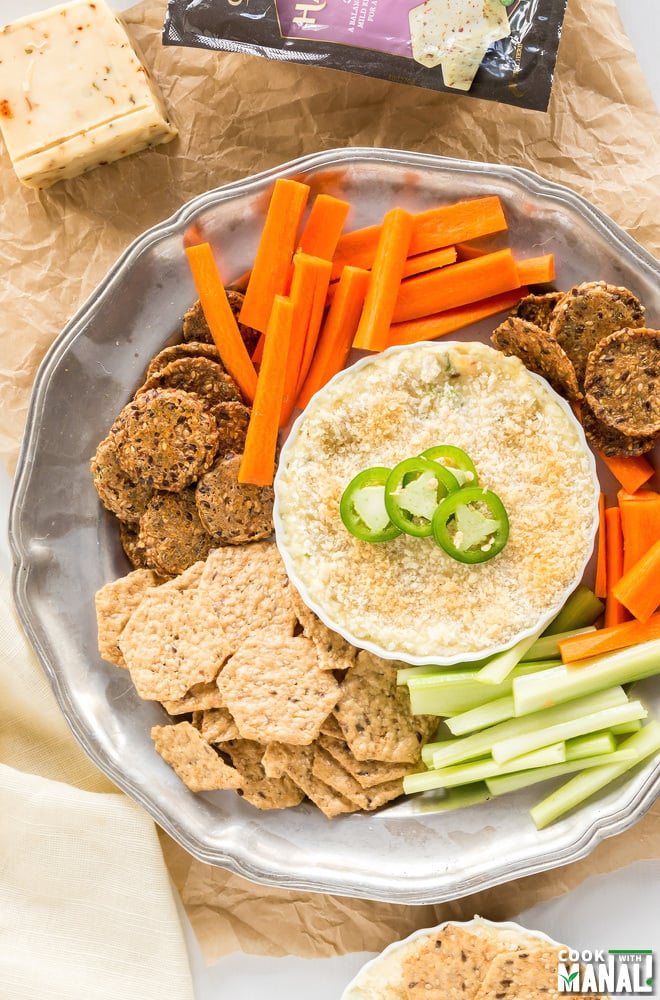 I am a huge movie buff. Yup, I am one of those who you can be sure to spot in a theater whenever a good movie comes up. Because movies are so huge in India, I guess I just grew up being a movie buff, I didn't have much choice! One of the recent releases which has my interest and all my heart is "Burnt"
Let me get to the point. This movie is about a chef, so that means there's food and then it stars Bradley Cooper! So now you know why it has all my interest! And if this wasn't enough, Castello has also developed some amazing recipes for this movie featuring their delicious cheese! Please visit Castello page to read all these amazing recipes.
Burnt is a funny and emotional story about the love of food, the love between two people, and the power of second chances. It's about Chef Adam Jones (played by Bradley Cooper) who had it all, and lost it! To land his own kitchen and that elusive third Michelin star, he'll need the best of the best by his side, including the beautiful Helene (Sienna Miller). Sounds interesting, isn't it?
I would have loved to see this movie in the theater because it sounds just like the kind of cinema I enjoy but I have been under the weather lately and so I decided to enjoy the movie from the comforts of my home. And no movie night is complete without some delicious food! To make our movie experience even more delicious, I made this cheesy jalapeno dip using Castello Havarti Jalapeño, which is made with mild red and green jalapeños for a gentle hint of spice that develops more character as it matures. Why I chose this cheese for the dip is because 1. it's so delicious, (duh!) and 2. it has a soft and creamy consistency and so easy to melt!
All you have to do to make this dip is mix everything together and then put in the oven till it's all heated up. And then you arrange your movie night plate by placing the dip in between and crackers, carrots, celery and what else you want to dip all around it! So easy and so yum! You guys will love this dip, it's so delicious and I didn't have to do much to make that happen. The Havarti Jalapeño Cheese is so delicious on its own that all I had to do was mix it with everything and heat it. The wonderful flavors of the cheese did the rest!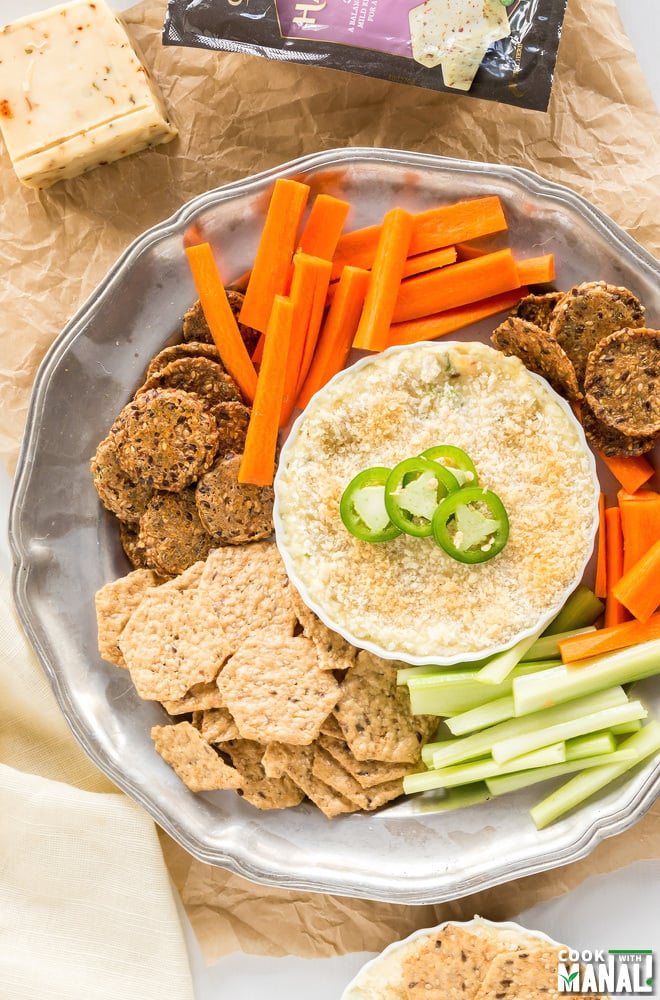 Make sure to #UnlockYourChef by visiting the Castello's Website to participate in the sweepstakes. You can win a lot of prizes like
1. Private cooking classes for two
2. Year's worth of Castello cheese
So what are you guys waiting for? Enter the sweepstakes now and also don't forget to catch Burnt in theaters near you!
* This dip is quite thick because that's how I like it. You can add more sour cream to make it thinner.
Cheesy Jalapeno Dip for the perfect movie night!
Ingredients
8

oz

sour cream

½

teaspoon

garlic salt

1

tablespoon

mayonnaise

1

tablespoon

water

2

jalapeno peppers

seeded and chopped

salt

to taste

pepper

to taste

2-4

tablespoons

panko breadcrumbs

optional
Instructions
In a bowl mix together sour cream and Castello Havarti Jalapeño Cheese.

Add salt, pepper, garlic salt, jalapenos, mayonnaise, water and mix till everything is combined.

Transfer to oven safe dish and top with panko breadcrums (optional).

Heat in the oven for 15 minutes on 350 F degrees and then broil for 2 minutes or till the top starts to turn golden brown.

Remove from oven and serve immediately with crackers, carrots, celery or any other thing of your choice!
Nutrition
Calories:
269
kcal
,
Carbohydrates:
6
g
,
Protein:
8
g
,
Fat:
23
g
,
Saturated Fat:
12
g
,
Cholesterol:
60
mg
,
Sodium:
571
mg
,
Potassium:
134
mg
,
Sugar:
2
g
,
Vitamin A:
715
IU
,
Vitamin C:
8.8
mg
,
Calcium:
276
mg
,
Iron:
0.5
mg
Nutrition information is automatically calculated, so should only be used as an approximation.
Your feedback is valuable!
Please share your comments, ratings, and any suggestions or adaptations below to help us improve and make our recipes more successful.