Easy Chocolate Nut Clusters – sweet little treat for Valentine's Day!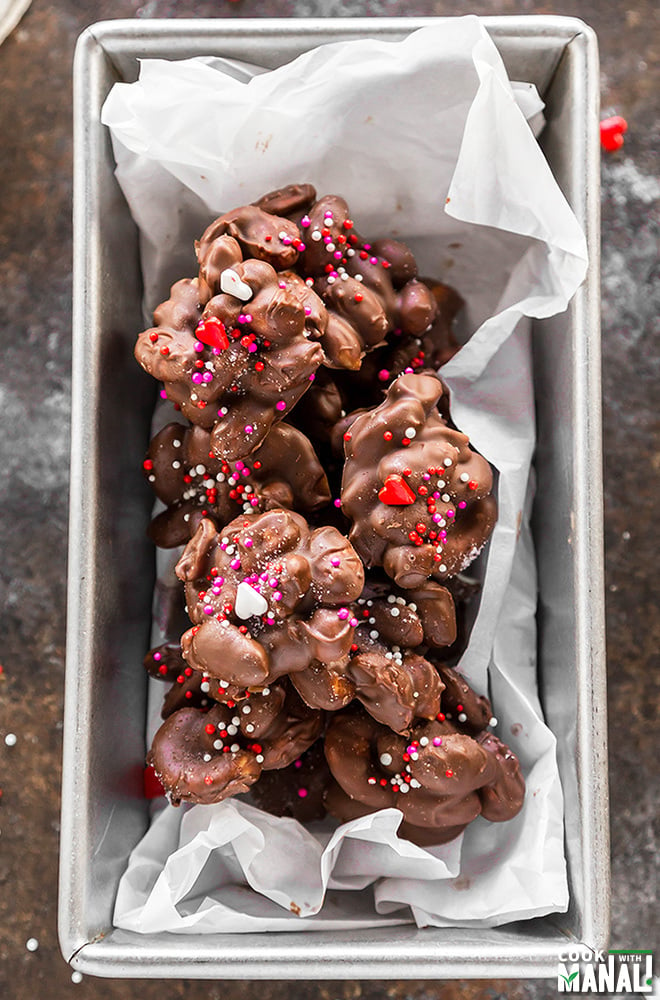 It's funny how everyone is all about healthy stuff in January but as soon as February comes, it becomes all about desserts and chocolates! You will understand this so much more if you are a food blogger. But I never complain when it comes to chocolates and desserts. For me it's always about eating everything in moderation so I never really go the "no sugar for a month" plan. I am sure I will fail, so I don't even try! What about you guys? Are you good at sticking to plans?
Valentine's Day for me is just an excuse to make and eat more desserts and I guess that is obvious with the number of valentine's day desserts I have on the blog. My favorite is this Orange Pavlola Cake that I made last year, you have to try it! But that aside, I also like gifting my hubby something homemade on this day. It could be fortune cookies or chocolate bark or these chocolate nut clusters.
Homemade treats are the best especially when you are running short on ideas and have no idea what to gift your loved ones. I face this problem every year with my hubby because & I have mentioned this before, he doesn't like anything. Like NOTHING! Urgh, it's so difficult to buy something for him. And for that very reason, now I simply make something for him at home and he loves it much more than any store bought stuff. This year I am planning to make these Chocolate Nut Clusters for him. They are so easy and all you need is 10-15 minutes to make them.
You obviously need a good quality chocolate for these. Chocolate chips would do but a real chocolate is so much better. Milk or dark is totally a personal preference. I used milk because hubby isn't a dark chocolate fan and I also used a mixture of nuts here – almonds, cashews & peanuts. You can change this to preference, like make it with almond only or with cashew only. But honestly if you ask me, I think these chocolate nut clusters are the best with mixed nuts.
I also used a little coconut oil here, that is totally optional. To make these all you have to do is melt the chocolate, stir the nuts > make clusters and then chill. And then wait for them to set and make sure you don't end up eating the entire tray! I also sprinkled these clusters with some sea salt and valentine's day sprinkles (just because!), you may leave them as such. I love sweet & salty flavor so I would never skip on the sea salt.
And sorry I don't have the step by step pictures for these chocolate nut clusters but to make up for it, I have a video! Hope you guys like it! They are really easy.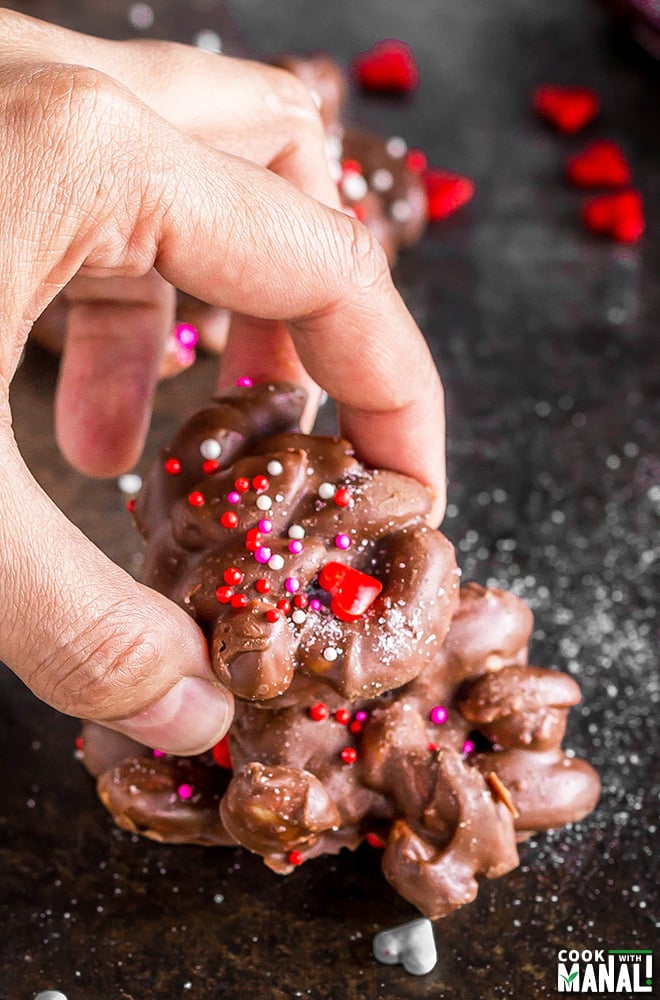 * I got around 15 clusters from this. You mat get more or less depending on how
* Melting wafers work very well for this recipe. I highly recommend them.
Chocolate Nut Clusters
Chocolate Nut Clusters with almond, cashew & peanuts - sweet little treat for Valentine's Day!
Ingredients
6

oz

chocolate

melting wafers/candy melts work best

1/2

cup

almonds

1/4

cup

cashews

1/4

cup

peanuts

1/2

teaspoon

coconut oil

optional

sea salt

to sprinkle on top

valentines day sprinkles
Instructions
Line a baking sheet with parchment paper and set aside.

Chop chocolate and melt it in a microwave, stirring every 30 seconds or use a double-boiler. I also used a little coconut oil while melting the chocolate, that is optional.

Once the chocolate is completely melted and smooth, stir in the nuts.

Mix to combine till all nuts are well coated with the chocolate.

Drop by spoonfuls on to the prepared baking sheet or use a fork.

Sprinkle with sea salt and valentines day sprinkles.

Place the baking sheet into the freezer until the clusters harden up, around 15 minutes or in the fridge for around 45 minutes

Store in the refrigerator and enjoy!
Nutrition
Calories:
111
kcal
Carbohydrates:
8
g
Protein:
2
g
Fat:
8
g
Saturated Fat:
2
g
Sodium:
2
mg
Potassium:
98
mg
Fiber:
1
g
Sugar:
6
g
Calcium:
19
mg
Iron:
0.7
mg
Chocolate Nut Clusters