Cranberry Pistachio Biscotti
Dec 09, 2014, Updated May 07, 2023
Crispy, crunchy Cranberry Pistachio Biscotti are perfect for the Holidays!
The Holiday season is here which actually means the cookie season is here 😀 It's all about cookies, everywhere and anywhere! While I love baking everything & anything, cookies are one of my favorites to bake and that's why this time of the year excites me all the more. There are so many cookie recipes to make/try that my head is literally spinning with what to bake and what not to bake. Why can't I bake everything? *Sigh*
While I love all kinds of cookies, crispy and crunchy cookies are my favorites. As an Indian, my mind is programmed to like crispy cookies since that was all we grew up eating! Now of course I like soft and chewy cookies as well but I treat them more as desserts. Cookie for me is one that I can dip in my chai and that cookie has to be crispy just like these Cranberry and Pistachio Biscotti.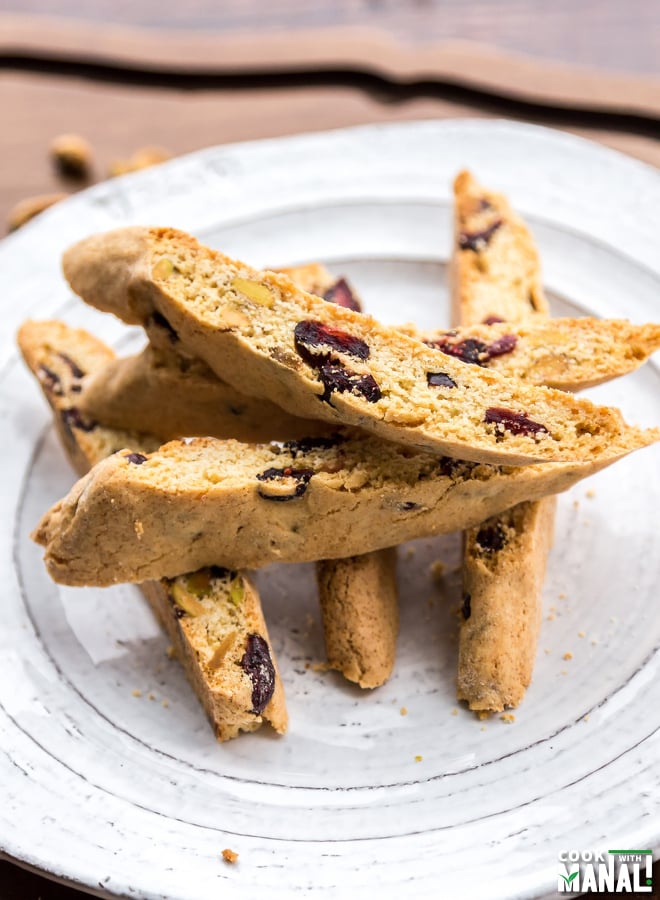 This is my 2nd straight cranberry recipe on the blog, you can tell they are in season and it also helps that they are so festive. I don't like munching on real cranberries, they are a little too tart for my taste. But I love the dried cranberries, they are great for snacking and also amazing to bake with. Cranberries are in season and pistachios always remind me of festivals [I don't know why maybe it's just me?] and so I combined these two flavors to come up with this Cranberry Pistachio Biscotti which would be perfect for the Holidays!
Other than the fact that biscotti are delicious, they are also very easy to make. I never use my stand mixer for making them, all I need is a simple whisk and a bowl. For making these biscotti you first melt the unsalted butter and let it cool down to room temperature. You then mix it with sugar, eggs and vanilla extract. Finally you add in the flour and dried cranberries and toasted chopped pistachios to form a dough. I just used my hands to bring it all together as a dough.
Once the dough is done, divide it into 4 equal parts. I used my kitchen scale to make sure all 4 parts were equal in weight. You then roll each part into a 12 inch long log. Press it slightly so that it's around 2 inch thick, just like in the picture.
We know we have to bake biscotti twice. So after the first baking once the logs cool down for around 20 minutes you cut them diagonally using a sharp knife [see picture]. The second bake has to be at a lower temperature. I baked 8 minutes each side for the second time and thought the crispiness was just perfect. For crispier cookies, you can bake them for 10-12 minutes each side.
For these  cranberry pistachio biscotti I used unsalted and roasted pistachios from Trader Joe's. If the ones you have are not roasted, I would recommend toasting them up before adding to the dough. To toast, place them in a baking tray and toast at 350 F degrees for few minutes till fragrant. You can then chop them roughly and add to the dough.
Make these easy cranberry pistachio biscotti during the Holidays. They would look awesome on your cookie platter and you can also pack them in little treat bags and gift them to your friends and family. And now I'm off to enjoy my morning ginger chai with these homemade biscotti 😀
* For added flavor, you can dip these biscotti into melted white chocolate.
Cranberry Pistachio Biscotti
Crispy, crunchy Cranberry Pistachio Biscotti are perfect for the Holidays!
Ingredients
2.5

cups

all purpose flour

1.25

teaspoon

baking powder

¼

teaspoon

salt

2

eggs

at room temperature

5

tablespoons

unsalted butter

melted and cooled

1

cup

granulated white sugar

1

teaspoon

vanilla extract

¼

teaspoon

almond extract

1

cup

dried cranberries

¾

cup

roasted pistachios

roughly chopped
Instructions
Preheat oven to 350 F degrees.

In a bowl whisk together all purpose flour, salt and baking powder. Set aside.

Melt the butter in the microwave. Set aside and let it cool down to room temperature.

In a bowl whisk together melted cooled butter and sugar. Mix till well combined.

Add in the eggs, vanilla extract and almond extract and mix till smooth.

Add in the flour mix in parts mixing after each addition.

Fold in the dried cranberries and toasted chopped pistachios and mix to form a dough.

Divide dough into 4 equal parts.

Take 1 part of the dough and placed it on your working surface which has been lightly floured.

Knead a little till it's all smooth.

Roll in into a log 12 inches long.

Transfer it to a baking sheet lined with parchment paper. Press the log slightly so that it's around 2 inches wide.

Repeat the same with the remaining 3 portions of the dough.

Bake the logs at 350 F degrees for 28-30 minutes.

Take them out at let them cool down for around 20 minutes.

In the meanwhile reduce the oven temperature to 325 F degrees.

Once the logs have cooled down use a sharp serrated knife, to cut the log diagonally into 1/2 to 3/4-inch-thick slices.

Arrange all the slices in the tray and bake at 325 F degrees for 8 minutes.

Take out the tray and flip the slices and bake for another 8 minutes on the opposite side.

Transfer biscotti on a wire rack to cool completely.

Store in an airtight container.
Nutrition
Calories:
1150
kcal
,
Carbohydrates:
189
g
,
Protein:
20
g
,
Fat:
37
g
,
Saturated Fat:
14
g
,
Cholesterol:
159
mg
,
Sodium:
243
mg
,
Potassium:
651
mg
,
Fiber:
8
g
,
Sugar:
95
g
,
Vitamin A:
870
IU
,
Vitamin C:
1.7
mg
,
Calcium:
146
mg
,
Iron:
6.9
mg
Nutrition information is automatically calculated, so should only be used as an approximation.
Your feedback is valuable!
Please share your comments, ratings, and any suggestions or adaptations below to help us improve and make our recipes more successful.
 Cranberry Pistachio Biscotti