Eggless Tutti Frutti Cookies
Aug 29, 2013, Updated May 07, 2023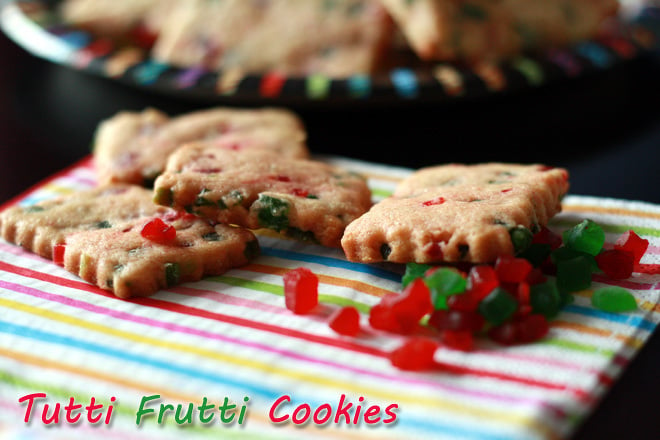 Tutti Frutti are candied fruits which are often used in baked goodies like cakes and cookies.
Tutti Frutti cakes are quite popular in India and I remember as a child it used to be my favorite cake. My parents often used to get it from the local bakery and I would munch on them happily. Oh and how can I forget the tutti frutti ice-cream. Bliss!
Few months back, I spotted a pack of tutti frutti at the Indian grocery store here. I was just so happy so have found it. I instantly baked a cake using the tutti frutti but after that I was never able to find another pack of it at the stores.
So this year when my parents were visiting us from India, I asked them to bring some tutti frutti with them. And finally I got around making these tasty and colorful cookies.
For this recipe, I used jell-o instant pudding & pie filling. Jell-o has cornstarch in it and that made the cookies chewy. Honestly I was skeptical about using cornstarch in cookies initially but now it is going to feature in my recipes quite frequently. The pudding and pie filling also imparts a rich taste to the cookies.
My eggless tutti frutti cookies are not crisp, these are really soft and chewy just the way I like them!
They taste so buttery and yummy that I gobbled up 3 while trying to *taste* them.
Enjoy these cookies with a glass of milk.
Yield: 15-20 small cookies.
Ingredients
All Purpose Flour: 1 cup
Sugar: 1/2 cup
Butter: 5 tbsp, at room temperature
Vanilla Extract: 1/2 tsp
Tutti Frutti: 1 cup
Baking Powder: 1 tsp
Salt: 1/4th tsp
Orange Juice: 1 tbsp
Milk: 2 tsbp
Vanilla Jell-o Instant Pudding & Pie Filling [Vanilla Flavor]: 2 tbsp
Method
1. Mix flour, baking powder and salt in a bowl and set aside. Take butter in another bowl and whisk it till it becomes soft. Now add in the sugar and mix till is becomes soft and fluffy. Add in the vanilla extract and mix.
2. Now add in the flour mix. Once the flour is well mixed with the butter and sugar, fold in the tutti frutti. Add the jell-o instant pudding & pie filling and mix well.
3. Add the orange juice and milk to form a dough. Once your dough is ready, cover and place in the fridge for atleast 45 minutes. Take out the dough and roll it into a sheet of desired thickness using a rolling pin. Cut cookies using cookie cutter. You can also shape them using your hands.
4. Preheat oven to 350 F. Place cookies on the baking sheet and bake for 15 minutes. The cookies will be soft, let them remain on the baking sheet for 10 minutes before transferring them to the wire rack for cooling.
Once completely cooled, store the tutti frutti cookies in an airtight container. They should stay good for a week.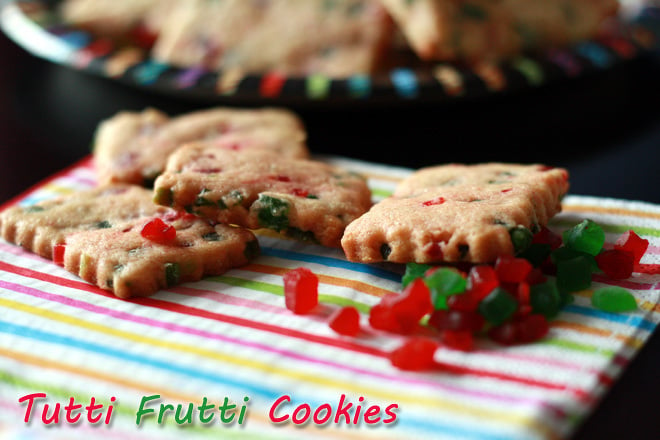 Tips
1. I strongly recommend chilling the dough. It makes working with the dough so much easier.
2. Leave some space between the cookies on the baking sheet else they might stick to each other.
3. These cookies are soft, if you want crispier cookies bake them for an additional 5 minutes but be careful that they do not get burned.
4. Use of orange juice is optional, you can use only milk instead.
5. You can cut down on the vanilla extract if you are not very fond of the flavor. The jell-o pudding & pie filling already has vanilla flavor in it.
6. If you do not have jell-0 instant pudding & pie filling, you can very well use custard powder instead.