Festive Guacamole with Apples & Pomegranate
Nov 16, 2016, Updated Jan 02, 2018
Festive guacamole with apples, pomegranate & toasted walnuts is perfect for the holidays! It's my favorite!
Festive Guacamole with apples, pomegranate & toasted walnuts. Perfect for the holidays!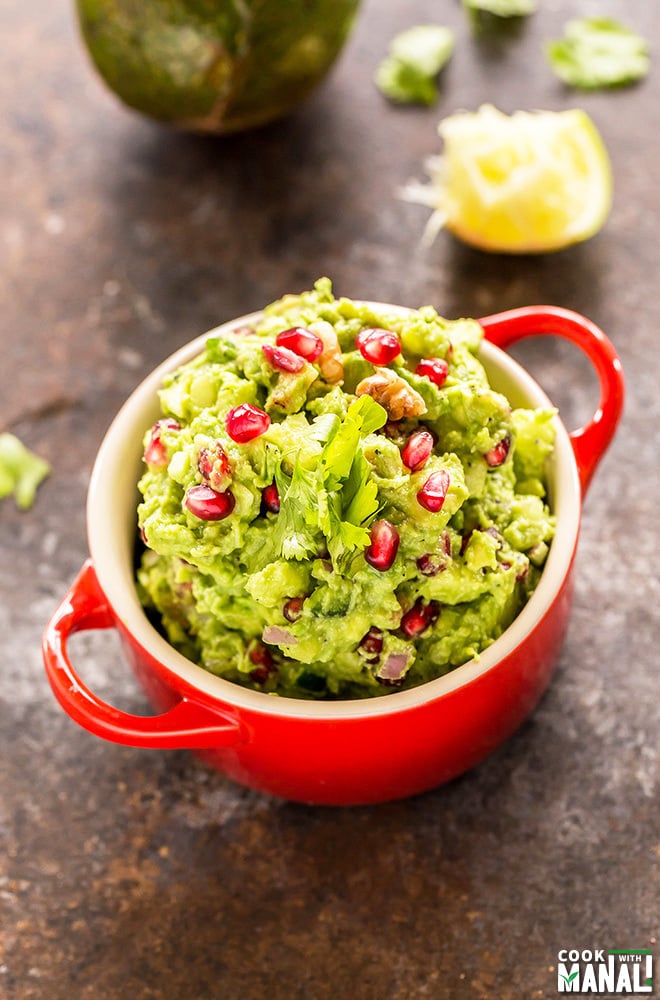 If you ask me my favorite discovery "food wise" in recent years, it's hand down avocados. Oh my god, I absolutely love them and to think of it I had no idea about this wonderful fruit some 5 years back! Thanks to America, I got really addicted to it and now I feel like eating it everyday. It's good with anything & everything but my favorite way to eat avocados is still guacamole. Well somethings are meant to be that way. Isn't it? It's hard to beat a classic dish.
Few months back we took a trip to southern California and as you guys know there's a heavy Mexican influence there. Literally for 3 days we only ate Mexican food. There were the traditional restaurants and then there were the not so traditional ones and it was at one of these fusion Mexican restaurants that I discovered this guacamole that I am sharing with you guys today. I don't know what to call it so I am calling it festive guacamole because look at it, doesn't it look super festive?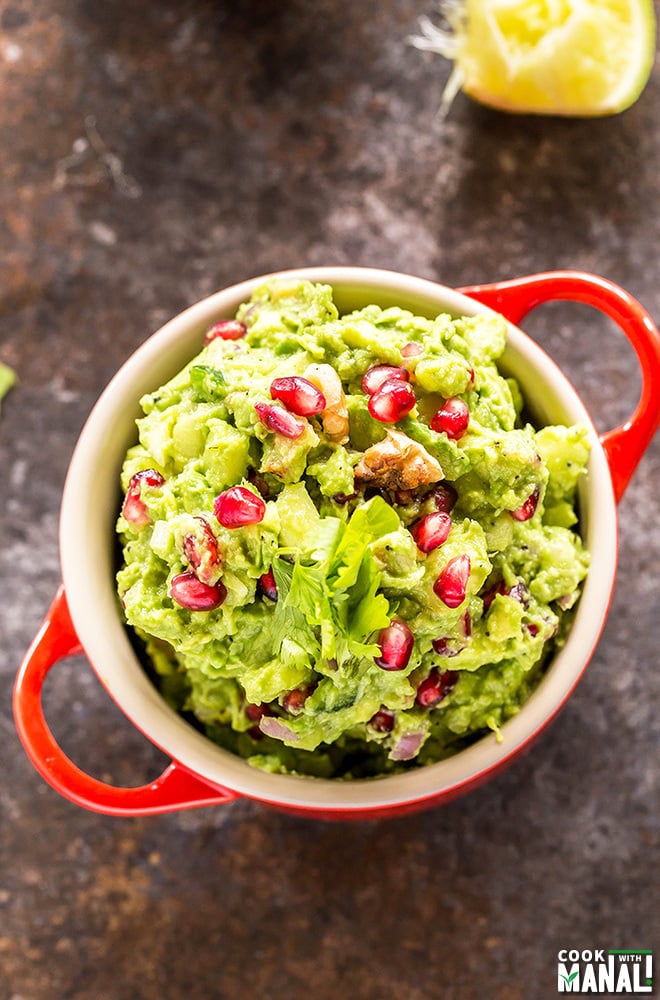 This is not an authentic recipe at all. Like I told you guys, this in inspired from that Mexican fusion restaurant so it's far from being authentic. And all of you know how to make a regular guacamole right so I am not sharing that today. What I am sharing is this special guacamole with apples, roasted walnuts & pomegranate!
Since Thanksgiving is almost here, I thought this would be the perfect time to share this recipe. I mean I almost always see guacamole on table in the few thanksgiving dinners that I have attended. And I think it makes perfect sense because something so easy and so delicious should always be on the table anyway. But how about giving your regular guacamole a twist this year and try my favorite favorite guacamole? I promise you won't be disappointed.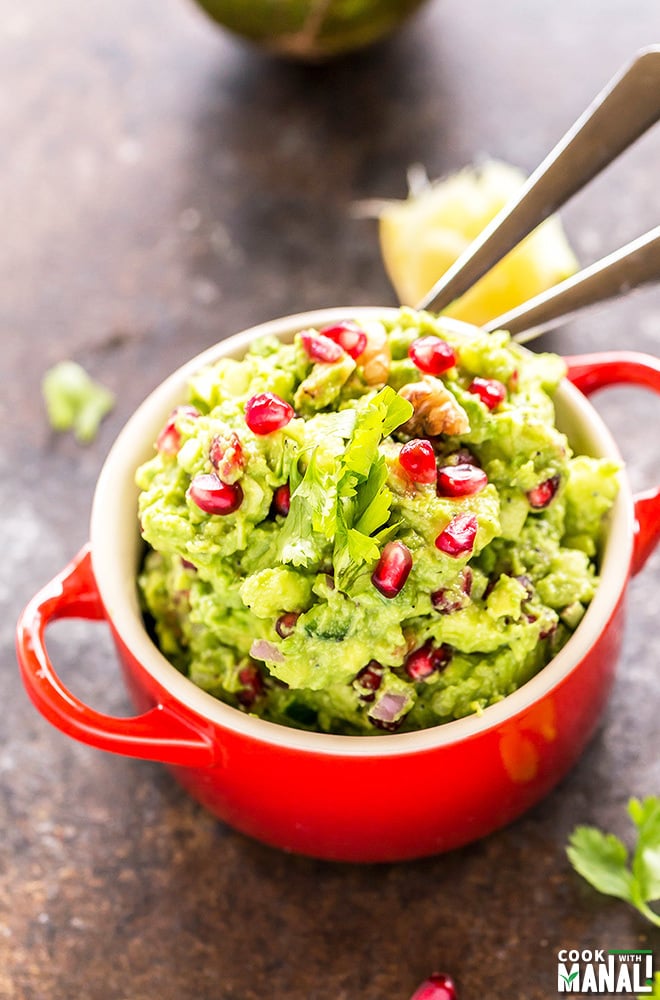 To make this festive guacamole is really simply. You just have to mix everything together. Remember to toast the walnuts before you add them. You can either toast in the oven or in the pan on stove-top. Chop the apples really fine, they add a wonderful sweet crunch to the guacamole but make sure to chop them super fine. I used only 1/4th of a gala apple here.
Pomegranate are in season, they make this guacamole visually appealing and also very festive (and not to forget delicious as well!). I kept avocados slightly on the chunkier side since I like them that way. You can obviously mash them completely. Like guacamole usually is, this one is also vegan and gluten-free. Enjoy!
* You may add tomatoes here, I just thought it was better without it.
Festive Guacamole with Apples & Pomegranate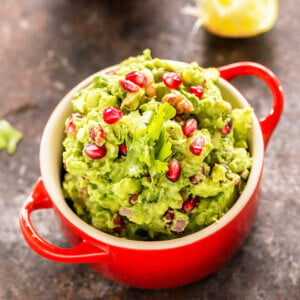 Festive guacamole with apples, pomegranate & toasted walnuts is perfect for the holidays! It's my favorite!
Ingredients
2

avocados

1/8

cup

finely chopped onion

1/4

cup

pomegranate seeds

1/2

jalapeno

desseded and chopped

1

tablespoon

chopped cilantro

2

garlic cloves

chopped

2

tablespoons

chopped walnuts

toasted

juice of 1 small lime

salt

to taste

black pepper

to taste
Instructions
Cut the avocados, remove the seed and scoop out the flesh. Transfer to a bowl.

Mash the avocados using a fork. I did not mash them completely and kept it slightly chunky.

Stir in everything else and mix.

Garnish with more pomegranate seeds and serve.
Nutrition
Calories:
843
kcal
,
Carbohydrates:
53
g
,
Protein:
12
g
,
Fat:
72
g
,
Saturated Fat:
9
g
,
Sodium:
32
mg
,
Potassium:
2134
mg
,
Fiber:
31
g
,
Sugar:
13
g
,
Vitamin A:
665
IU
,
Vitamin C:
57.5
mg
,
Calcium:
79
mg
,
Iron:
2.8
mg
Nutrition information is automatically calculated, so should only be used as an approximation.
Your feedback is valuable!
Please share your comments, ratings, and any suggestions or adaptations below to help us improve and make our recipes more successful.
Festive Guacamole