Focaccia is an Italian bread which is made with high-gluten flour and lots of olive oil. It is typically flavored with herbs but people use all different types of toppings. Considering the amount of olive oil used in focaccia, the taste of the bread depends heavily on it. And it is for this reason that you must use a very good brand of olive oil if you planning to make focaccia. It's a great side for meals, you can even make sandwiches using the bread or just eat as it is.
The bread has an amazing texture, little bit crusty and little flaky. It is harder and chewier than you regular white bread. We ate it with tomato and basil soup and it was absolutely delicious. My husband has already asked me to make more!
The thing with Focaccia is it looks so fancy but it's actually quite simple to take. You obviously need a good quality yeast without which it's difficult to bake any bread. I used instant yeast here because it helps me in skipping a step, I don't need to proof instant yeast and can add it directly in the flour mixture. You can certainly use dry active yeast but proof it first by mixing it with warm water. Let it sit for 10-15 minutes till it froths up and you can then use that water to knead the dough. Also i used 1.25 tsp of instant yeast here, but if you are using active dry yeast use 2.25 tsp.
Like I mentioned before, there's a lot of olive oil in this bread. In fact I counted, and in total there are 6 applications of olive oil in this recipe-
1. As a part of the dough
2. While kneading the dough
3. Coating the dough
4. Before poking the dough to create dimples
5. Before putting in the oven to bake
6. After taking it out from the oven, when the bread it still warm
Didn't I tell you there's a lot of olive oil in here!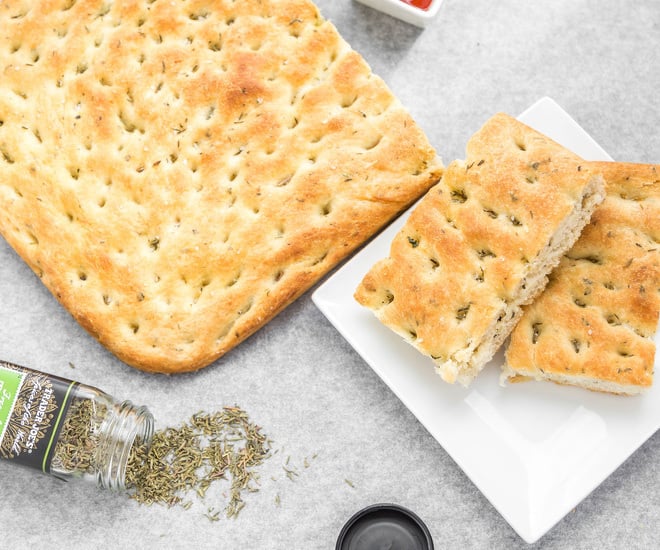 You have to knead the dough well till it's smooth and elastic. It will be sticky initially, so dust your hands and the surface with flour and keep kneading till it's smooth. You will know it's done when the dough springs back when poked.
The thing with making bread is that you have to get comfortable with using the yeast. I will admit I was initially terrified of yeast, I don't know somehow it always indicated disaster to me. But once I figured out a good yeast brand and played around with it a little, I am definitely more confident than before. So don't be afraid of the yeast, it does most of the work itself – you only need to pick a good brand!
So ditch your inhibitions and go ahead and give this gorgeous Italian bread a try!
Method
In a bowl mix together bread flour, salt, sugar, yeast, dried thyme, dried basil and olive oil. Please note that I used instant yeast here and it's doesn't need to be proofed. Add warm water slowly and mix till the dough starts coming together. Transfer the dough on to your working surface which has been floured well.
Put some flour on your hands and start kneading the dough, after 2-3 minutes the dough will become little smooth. Apply 1/2 tsp oilve oil on one side and knead. Apply 1/2 tsp of oil on the other side as well and knead. Keep kneading for 7-8 minutes [apply a tsp of oil more in between] till dough is smooth and elastic
Transfer the dough into a bowl and coat it with 1.5 tbsp of olive oil. Cover the dough and keep it in a warm place and let it rise for around 1 hour. I kept mine in the microwave, you can keep it in an oven [which is obviously switched off] or at any other warm place in your house.
After it has risen, the dough will double in size. Depending on the temperature of the place where you have kept the bowl, it might take anywhere between 1-2 hours, mine doubled in an hour. Transfer the dough onto to 13X9 baking pan and flatten it using your fingers.
Since it's not clearly visible in the picture above, here's a full picture. The idea is to get all the air out. So once you have shaped the dough, cover and let sit for 10-15 minutes. This isn't the 2nd rising, it's just to let the dough rest a bit.
After 15 minutes drizzle some olive oil, spread to cover the entire surface. And then using your fingers make holes in the dough, it's called dotting the bread. Don't make shallow wells, go all the way till your fingers touch the pan. Keep poking till the dough has dimples all over. Now cover at keep it a warm place for 30-45 minutes for 2nd rising.
Preheat the oven at 475 F degrees. After the dough has risen, sprinkle dried thyme or any herb of your choice and drizzle very little olive oil all over again. You can use a brush to spread the oil but careful not to punch down the dough so do it very slowly. Sprinkle some sea-salt crystals, this is optional but recommended.
Bake the bread at 475 F degrees for 15 minutes till it's nice golden brown in color. Take it out from the oven, brush some olive oil on top while it's still warm and then transfer to a wire rack to cool completely.
Cut the foccacia into slices and enjoy the delicious homemade bread!
* If using active dry yeast, first proof it by mixing it with warm water. If you have a candy thermometer you can check the water temperature, it should be around 105-115 F degrees. It's fine if you don't have one, just use warm water but remember it should neither be hot nor cold. So after you have mixed yeast with warm water, let it sit for 10-15 minutes till you see bubbles on top. Add this water to the flour+herbs+salt+sugar+oil mixture and proceed in the same way.
* I have used bread flour here because I like the texture I get with bread flour. The flour has more gluten which gives breads it's characteristic texture. All purpose flour would work too.
* Use a good brand olive oil since how your focaccia tastes has a lot to do with the type of olive oil you use.
* The total amount of olive oil used in this recipe – 2 tbsp in the dough + 2 tsp while kneading the dough + 1.5 tbsp to coat the dough while it's rising + brushing before poking the dough, before putting in the oven and after it's baked.
* You can definitely use fresh herbs in this bread, just increase their quantity. Like instead of using 1 tsp of dried thyme use around 3 tsp of fresh thyme.
* Rosemary is commonly used in focaccia, I didn't have it in my pantry the day I decided to bake this. So you can use any herb of your choice.
Focaccia Bread With Herbs
Classic homemade focaccia bread flavored with dried herbs.
Ingredients
For the dough
2.5

cups

bread flour

¾

tsp

salt

½

tsp

sugar

2

tbsp

olive oil

1

tsp

dried thyme

1

tsp

dried basil
To knead
extra flour

2

tsp

+ 1.5 tbsp olive oil

1.5 tbsp to cover the dough in the bowl after kneading
To sprinkle
thyme or any herb of choice

olive oil

sea salt
Instructions
In a bowl mix together bread flour, salt, sugar, yeast * [read notes above if using active dry yeast], dried thyme, dried basil and olive oil.

Add warm water slowly and mix till the dough starts coming together.

Transfer the dough on to your working surface which has been floured well.

Put some flour on your hands and start kneading the dough, after 2-3 minutes the dough will become little smooth.

Apply 1/2 tsp oilve oil on one side and knead. Apply 1/2 tsp of oil on the other side as well and knead.

Keep kneading for 7-8 minutes [apply a tsp of oil more in between] till dough is smooth and pliable. It should spring back when poked.

Transfer the dough into a bowl and cover it with 1.5 tbsp of olive oil.

Cover the dough with aluminium foil or cling sheet and keep it in a warm place and let it rise for around 1-1.5 hours.

After the dough has risen, transfer it onto to 13X9 baking pan and flatten it using your fingers.

Shape the dough and let sit for 10-15 minutes.

After 15 minutes drizzle some olive oil, spread to cover the entire surface.

Using your fingers make holes in the dough, it's called dotting the bread.

Don't make shallow wells, go all the way till your fingers touch the pan. Keep poking till the dough has dimples all over.

Now cover at keep it a warm place for 30-45 minutes for 2nd rising.

Preheat the oven at 475 F degrees.

After the dough has risen, sprinkle thyme or any herb of your choice and drizzle very little olive oil all over again.

Sprinkle some sea-salt crystals [optional]

Bake the bread at 475 F degrees for 15 minutes till it's nice golden brown in color.

Take it out from the oven, brush some olive oil on top while it's still warm and then transfer to a wire rack to cool completely.

Cut into slices and enjoy the bread
Nutrition
Calories:
247
kcal
Carbohydrates:
38
g
Protein:
6
g
Fat:
7
g
Sodium:
294
mg
Potassium:
60
mg
Fiber:
1
g
Calcium:
14
mg
Iron:
0.8
mg
Focaccia Bread with herbs