This fresh and healthy sabzi is commonly made during winters in the Northern parts of India. Why winters? Because carrots and green peas are both readily available only during the winter months in India. Of course frozen peas are available throughout the year but they are no match if you compare their taste to the fresh peas.
This Gajar Matar sabzi is healthy, easy to make and a perfect side dish with roti or paratha.
I cut the carrots in rounds for but you can cut them in any shape you like. Just make sure they are thinly sliced else they will take a longer time to cook.
This recipe can be easily tweaked according to your taste. Like I used only little chilli powder, because we don't like very spicy food but if you do go ahead and some green chillies in the recipe or add some more red chill powder. One can also add tomatoes in the recipe though I prefer it like this, only with onions.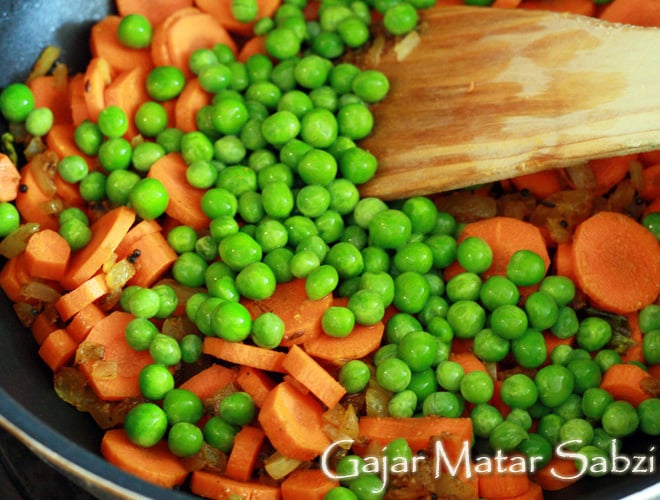 Serves: 3-4
Ingredients
Vegetables
Carrots: 5, big, chopped in rounds
Onions: 2, finely chopped
Green Peas: 1 cup
Dry Spices
Coriander Powder: 1 tsp
Red Chilli Powder: 1/4th tsp [or more depending on taste]
Mango Powder (Amchur): 1/2 tsp
Turmeric: 1/4th tsp
Garam Masala: To sprinkle
Cumin Seeds: 1/4th tsp
Mustard Seeds: 1/4th tsp
Curry Leaves: 5-6
Ginger-Garlic Paste: 1 tsp
Oil: 2 tbsp
Salt: To taste
Method
1. Heat oil in a pan. Add cumin seeds and mustard seeds and let them crackle.
2. Once they crackle, add onions and curry leaves. Fry the onions till the raw smells goes away, 2-3 minutes.
3. Add in the ginger garlic paste and saute for 1-2 minutes.
4. Add in all the dry spices and salt, except garam masala and fry for a minute.
5. Add in the carrots next and then the peas.
6. Mix everything together and lower the heat to medium.
7. Cover and cook till carrots are soft and cooked, around 6-7 minutes.
8. Sprinkle some garam masala on top.
9. Garnish with coriander and serve hot with roti or paratha.
Tips
1. Potatoes can be added in this recipe.
2. You can totally omit onions from the recipe, just fry the spices and add the carrots and peas.
3. On the other hand, one can also use both onions and tomatoes for the recipe. The tomato will give a tangy flavor to the dish and I would then cut down on the mango powder. The only reason I added mango powder in this recipe was to give it a tangy touch since the carrots are sweet in taste so if you use tomatoes, cut down on it.
4. I used frozen peas for this recipe since that's what is available here. Use fresh peas for better taste.