Homemade Pecan Butter
Dec 19, 2017, Updated Jan 02, 2018
Homemade Pecan Butter with cinnamon! Easy, vegan & gluten-free.
Homemade Pecan Butter with cinnamon- easy & so good! Use it on top of your toast, oatmeal, pancakes or just eat it with a spoon!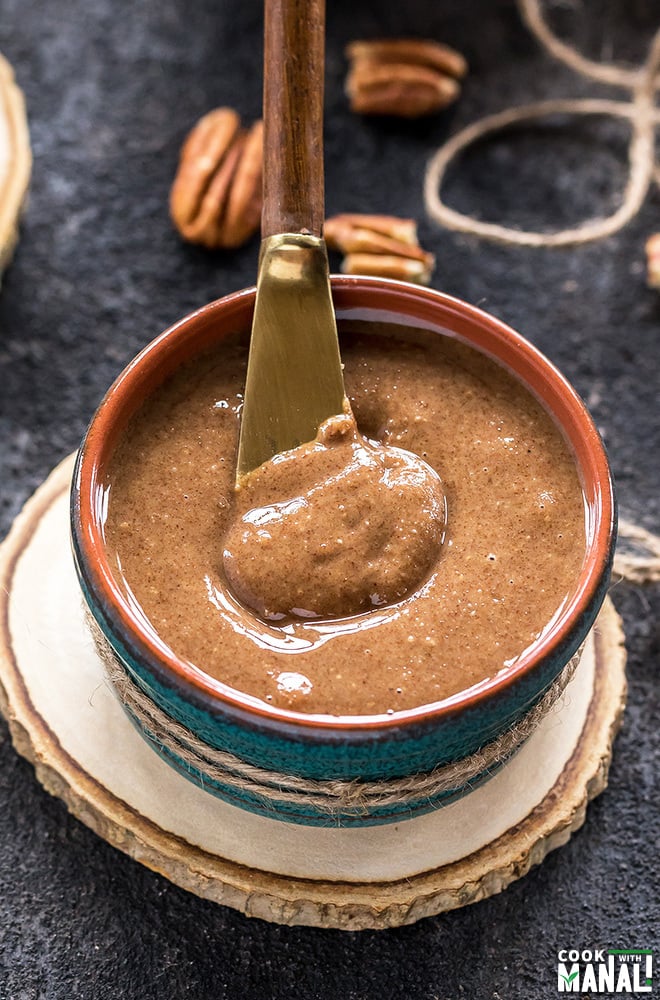 Disclosure: This post contains affiliate links. For more information on my Affiliate and Advertising Policy, please click here.
Christmas in less than a week! What are you guys cooking/baking? Homemade cookies? Cinnamon rolls? Tell me all! I have thinking to make my overnight cinnamon rolls for breakfast on Christmas along with a cuppa of hot chocolate. Mmmmm! I really think cinnamon rolls for Christmas breakfast should be a thing, they just sound so perfect for occasion, isn't it? Did you guys make edible gifts to gift your loved ones? If not, I have this one last minute idea. This homemade pecan butter takes only about 10 minutes to make and tastes amazing. I can assure you that anyone would be delighted to received this as a gift! I mean common, look at this creamy deliciousness!
Have you guys ever made nut butters at home? They are so ridiculously easy, I kid you not. The 10 minutes prep time is actually the time taken to roast the nuts. The actual process of making the butter took me only about 1 minute and 15 seconds. Can you guys believe that? I used my blendtec twister jar to make this pecan butter and it came together in a snap. Don't worry if you don't have a high speed blender, you can still make it in your food processor. The only difference would be that the food processor will take more time to churn the pecans into butter, but it will get there.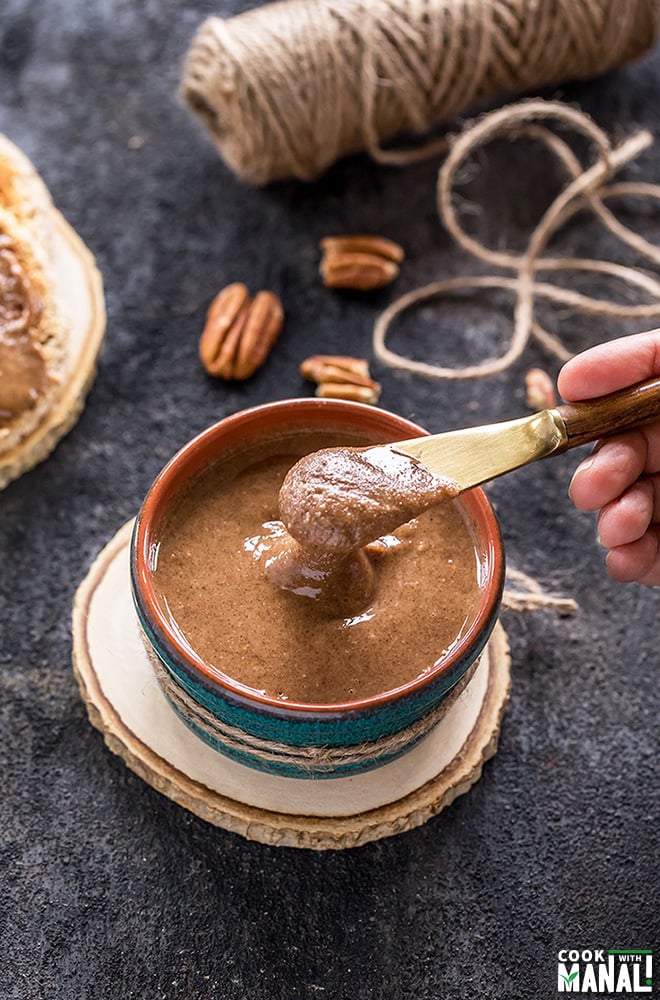 Can we talk about this Pecan Butter?
✓ homemade with no preservatives
✓ flavored with cinnamon
✓ tastes so much better than store bought
✓ gets done in less than 10 minutes
✓ is vegan & gluten-free!
Seriously though, if you guys have never made nut butters at home, you are missing out. They not only taste so much better but are also much economical to make at home. I always recommend toasting the nuts before making the butter. It just makes the butter more flavorful. Of course you may use raw nuts as much but if you can spare those extra 5 minutes, do roast the nuts.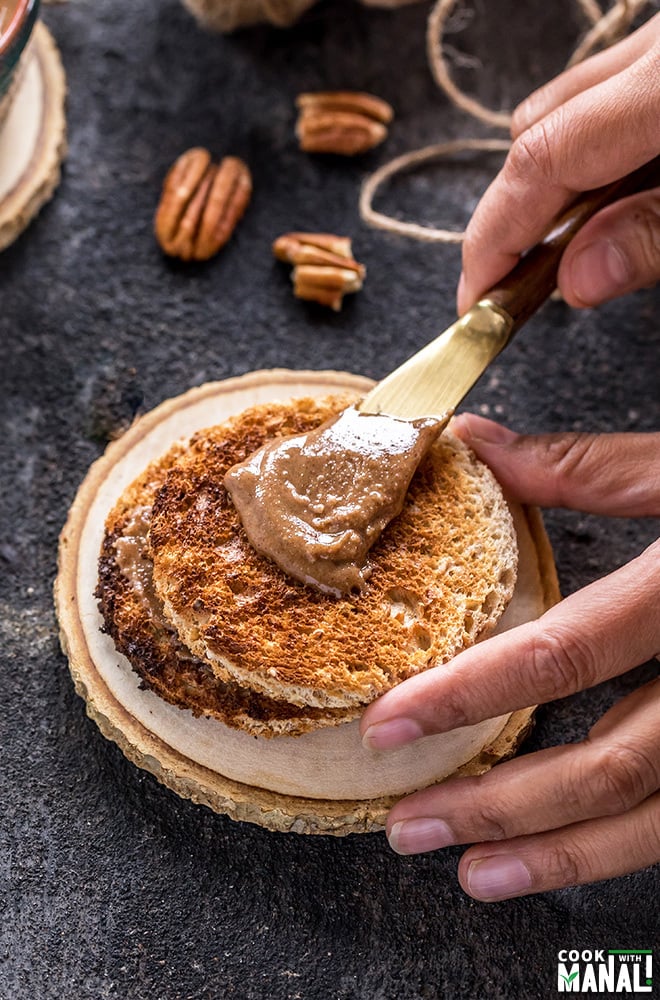 I flavored this pecan butter with cinnamon and sweetened it with brown sugar. You may use any other sweetener of choice like honey or coconut sugar or even maple syrup would work. I like to blend the nuts first and then add in the sweetener at the end. You need a good blender or food processor to make nut butters at home. Once you have one of these, you don't really have to do anything. You just have to add the ingredients and wait for the magic to happen.
And where do you use this pecan butter? On your toasts of course, or on top of your oatmeal, smoothie bowls, pancakes, french toast. My favorite way is to eat with a spoon. It is so addictive and I can't stop. I may or may not have eaten 10 spoons while trying to click these pictures! ?
* I used my blendtec twister jar to make this pecan butter. You have to rotate it clockwise for the first 30 seconds or so. In case you don't have a twister jar, you would need to stop the blender and scrape down the sides and then blend again. 
* You blender/food processor might get very hot while trying to blend the pecans. Stop if you see fumes coming out of your blender/processor. Let it cool down a bit and then blend again.
Homemade Pecan Butter with cinnamon! Easy, vegan & gluten-free.
Ingredients
2

cups

pecans

8 oz

1

teaspoon

cinnamon powder

2

tablespoons

brown sugar

or to taste

pinch

of salt
Instructions
Preheat oven to 350 F degrees. Line a baking sheet with parchment paper or silicone mat.

Add the pecans to the baking sheet and roast at 350 F degrees for 7-8 minutes until fragrant.

Remove from oven and let them cool down a bit.

Add the toasted pecans to your blender along with cinnamon. Pulse on medium to high speed, the nuts will be crumbly at first and then blend to a creamy butter. The time taken for this will depend on your machine. A high speed powerful blender like blendtec or vitamix would take only 1-2 minutes where a food processor might take 10 minutes or more.

Once the mixture is creamy, add in the brown sugar and pulse again for 15 seconds until the sugar is well combined.

Transfer pecan butter into a jar with an airtight lid. Store in the refrigerator for 3-4 weeks.
Nutrition
Calories:
1464
kcal
,
Carbohydrates:
53
g
,
Protein:
18
g
,
Fat:
143
g
,
Saturated Fat:
12
g
,
Sodium:
7
mg
,
Potassium:
852
mg
,
Fiber:
20
g
,
Sugar:
31
g
,
Vitamin A:
117
IU
,
Vitamin C:
2
mg
,
Calcium:
179
mg
,
Iron:
5
mg
Nutrition information is automatically calculated, so should only be used as an approximation.
Your feedback is valuable!
Please share your comments, ratings, and any suggestions or adaptations below to help us improve and make our recipes more successful.
Homemade Pecan Butter