Homemade Whole Wheat Bread
Oct 28, 2013, Updated Jan 02, 2018
Healthy and nutritious homemade whole wheat bread.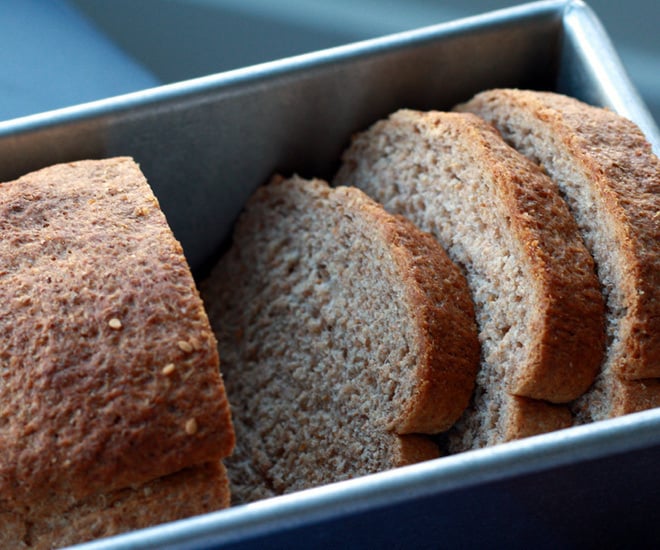 Growing up in India we only knew one type of bread, the classic white bread. That was the only kind of bread that was available at stores when I was a kid. But today things are a bit different. You go to stores and you can find breads made from oats, wheat, rye etc. The reason for this is awareness, these products were introduced in the market as people became aware of healthier options. Today we know that whole wheat bread is healthier than white bread and are even willing to pay extra for it.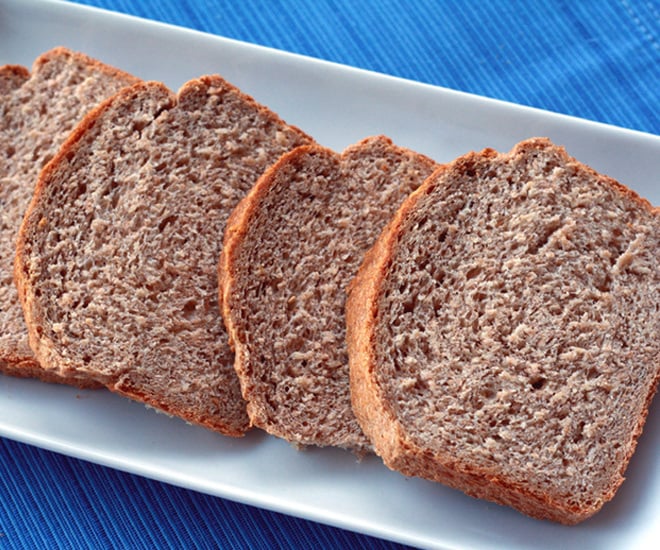 2 types of breads are very popular these days – multigrain and whole grain breads. Which one is healthier? The whole grain, always stick to it! The multigrain is simply a bread made out of various grains, it does not mean it's healthy and most of them use the regular all purpose flour which isn't nutritious at all. Whenever possible buy the 100% whole wheat bread, its healthy and nutritious and if you can't find it at your stores, make one at home.
And that's why I am sharing my homemade whole wheat bread here. Ever since I moved to US, I have been eating only whole wheat breads and I have got so used to the taste that now I can't really relish the flavor of white breads. This is a choice that I made for good health and you should totally do the same.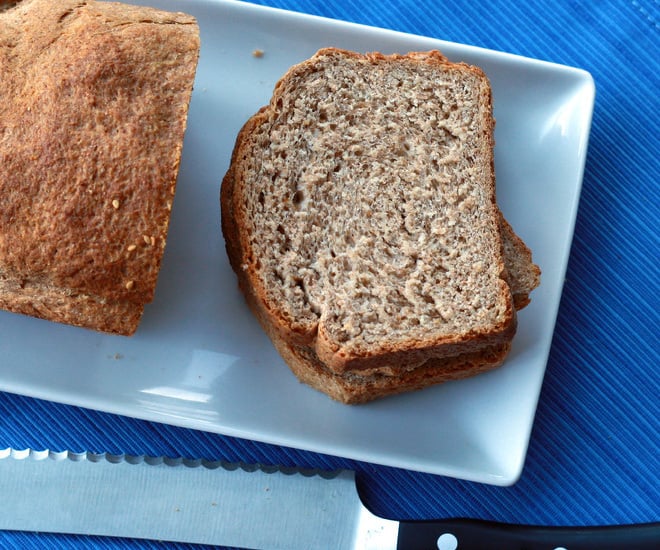 This recipe for homemade whole wheat bread, is very similar to the classic white bread recipe that I previously shared. I didn't click pictures for the steps since they are exactly the same as the white bread recipe. So please refer to the white bread recipe for detailed pictures of the steps. The only thing I added is 1 small egg and I would strongly recommend you doing the same. It helps in keeping the bread soft.
Even though the recipe is for whole wheat bread, it still calls for some bread flour. Reason? well just to make the bread a little lighter. Breads made only from whole wheat flour are quite dense and so a little bread flour keeps the bread comparatively lighter. It's mostly whole wheat though, 75% of it.
Enjoy the fresh whole wheat bread with some jam of your choice. I had mine with nutella. Yumm X 1000!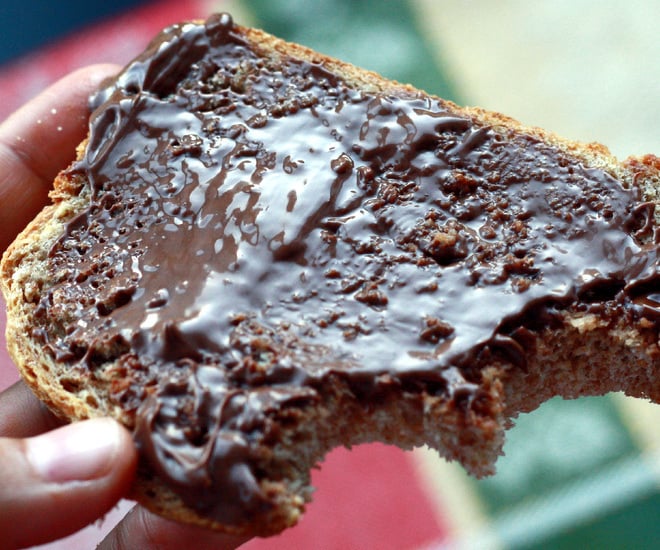 Use instant yeast for the recipe if possible. If using dry active yeast, let it proof first by mixing it with warm water and sugar and letting it rest for 10 minutes. Once you see bubbles and froth on top, it means the yeast has activated and you can now add it to the flour. I didn't proof the instant yeast instead added it directly to the flour.
Homemade Whole Wheat Bread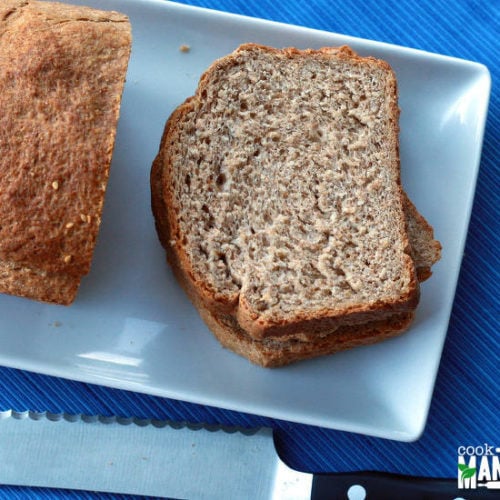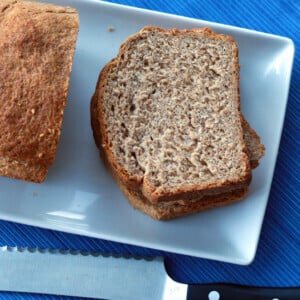 Healthy and nutritious homemade whole wheat bread.
Instructions
In the stainless steel bowl of your stand mixer, add whole wheat flour, bread flour, salt, sugar, egg and instant yeast.

Add olive oil and turn on the stand mixture at speed 1 or 2 with flat beater attachment.

Add warm water into the mixture till the dough starts coming together.

Replace the flat beater with dough hook once the dough comes together and knead for 7-8 minutes at slow speed [1 or 2]. In case you are kneading with your hands, knead for around 15 minutes till the dough looks smooth. It will be sticky.

Once the dough appears smooth, apply some oil on top and place it in a bowl. Keep the bowl in a warm place for 1-1.5 hours.

The dough will double in size after 1.5 hours, take it out and punch it down to flatten it. Knead with hands or in the stand mixer for a minute or two.

Shape the bread loaf and put in the loaf pan.

Apply some oil on top and keep it in a warm place for 20 minutes again. Preheat the oven to 375 F.

The dough will rise for a second time after 20 minutes or so.

Place the pan in the oven and bake at 375 F for 35-40 minutes.

When done, the bread will appear golden brown and sound hollow when tapped from bottom.

Let the bread cool completely before cutting it into slices. Apply some butter or oil on top.
Nutrition
Calories:
1281
kcal
,
Carbohydrates:
231
g
,
Protein:
45
g
,
Fat:
25
g
,
Saturated Fat:
4
g
,
Cholesterol:
163
mg
,
Sodium:
2407
mg
,
Potassium:
994
mg
,
Fiber:
27
g
,
Sugar:
13
g
,
Vitamin A:
240
IU
,
Calcium:
106
mg
,
Iron:
10
mg
Nutrition information is automatically calculated, so should only be used as an approximation.
Your feedback is valuable!
Please share your comments, ratings, and any suggestions or adaptations below to help us improve and make our recipes more successful.
Whole Wheat Bread