Mango Orange Bread
Sep 07, 2013, Updated Jul 03, 2015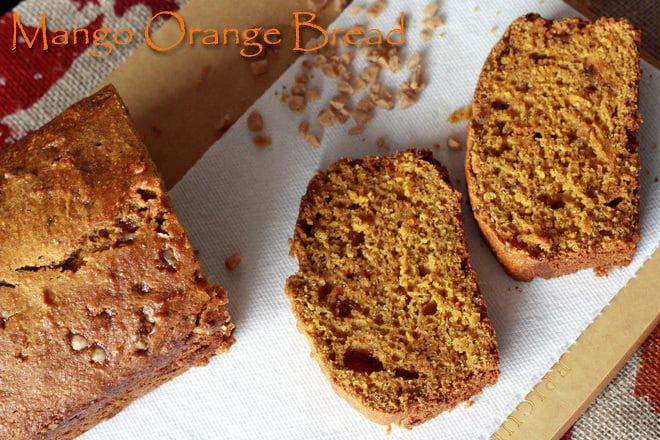 This bread recipe combines two of my favorite fruits – mango and orange.
I bought a pack of mango pulp from the Indian grocery store few weeks back. So in an attempt to do something with the mango pulp, I came up with this mango orange bread recipe.
This is a quick recipe, doesn't require any blender. Just mix in the ingredients and put it to bake. The addition of orange in the bread gives in a little tangy flavor which I really liked.
The toffee bits increase the sweetness  and also give a nice flavor to the bread. You can adjust the amount of toffee bits that goes into the recipe depending on how sweet you would like your bread to be. The sweetness of this bread was perfect for me.
I used 100% whole wheat flour for this recipe, but you can use all purpose flour or a mix of both. The bread is soft and moist and stays good at room temperature for 7 days when placed in an airtight container.
Yield: 1 loaf
Ingredients
Whole wheat flour: 1 1/4th cup [or all purpose flour]
Brown Sugar: 1/2 cup
Baking Soda: 1/2 tsp
Salt: 1/4th tsp
Vanilla Extract: 1/2 tsp
Mango Puree: 1/2 cup + 4 tbsp
Plain Yogurt: 2-3 tbsp [low-fat or regular]
Orange Zest: 2 tbsp
Egg: 1
Oil: 3 tbsp
Toffee Bits: 1/3rd cup [can add more]
Method
Preheat the oven at 350 F. Lightly spray a  9 X 5 loaf pan and set aside.
1. Whisk together flour, salt, baking soda and set aside.
2. In a medium bowl, using a blender mix together oil and brown sugar till there are no lumps. Add the egg and beat in the vanilla, mango puree, yogurt and orange zest.
3. Using a rubber spatula, slowly mix in the dry ingredients into the wet ingredients. Mix everything together till no flour is seen, be careful not to overmix. Slowly fold in the toffee bits.
4. Pour the batter in the loaf pan and bake for 55-60 minutes or till a toothpick inserted in the center comes out clean. Mine was ready in exactly 55 minutes. Remove from the oven and allow it to cool completely on a wire rack.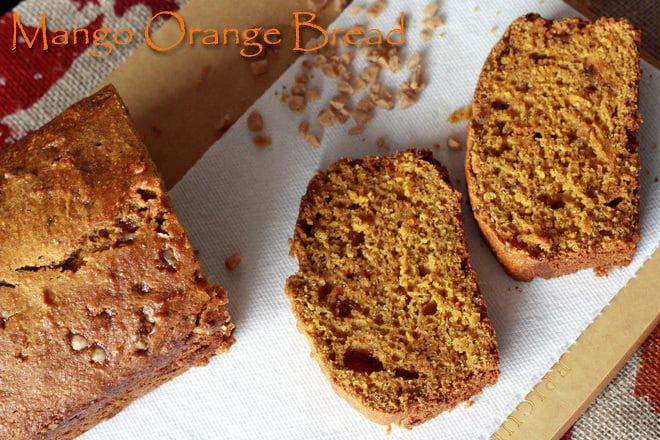 Tips
1. Addition of walnuts or pecans would enhance the taste.
2. Do not overmix the batter else you will end up with a tough bread.
3. To enhance the mango flavor, you could use mango yogurt instead of the plain one.