Babka is a buttery sweet yeast bread. It's almost like a cake! This nutella babka has a soft brioche, which is filled with nutella and baked to perfection!
It takes some amount of work (& time!) to put it all together but one bite into it and it all seems worth it! Nutella Babka + Coffee = the best breakfast ever!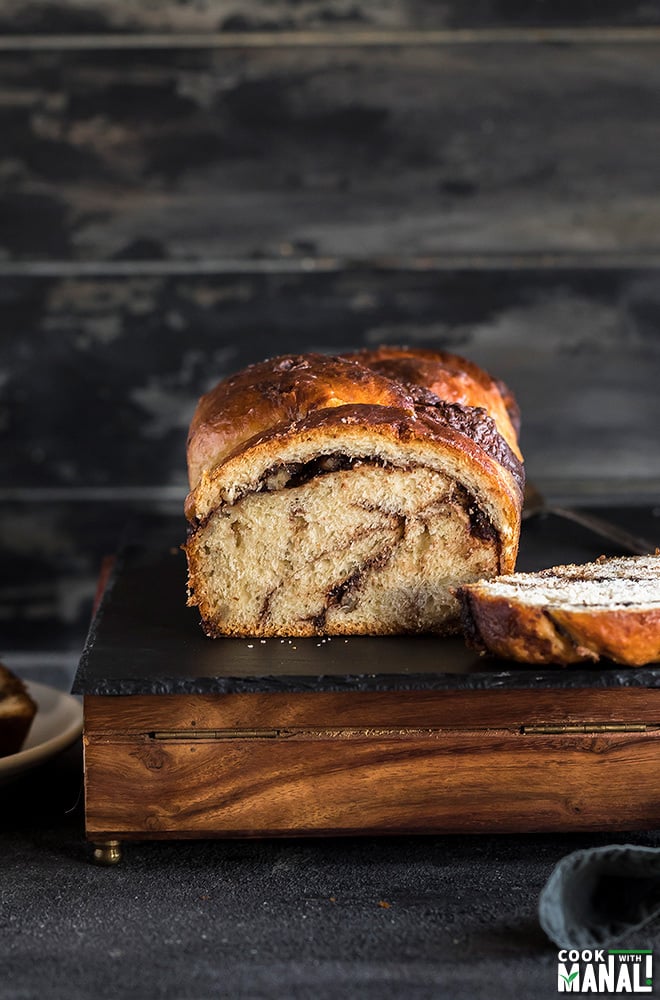 I realized that I have not shared a bread here for so long! I love making breads at home but I don't get to make them as often as I would want.
That definitely needs to change! This time around I wanted to try something new and so I settled on making babka. Have you guys ever had one?
What is a Babka?
Babka is a yeast bread which is Jewish/Russian in origin. It's sweet and almost like a cake. Well what I want to say is that it is sweet enough to eat as a dessert.
The bread has a soft brioche which can be filled with cinnamon, chocolate or in this case nutella!
The first time I had babka was at a local bakery and I have to say I instantly loved it. I have a thing for brioche, it's hard to not love a soft and buttery bread!
How to make Nutella Babka
Making babka takes a bit of time. You have to first make the brioche then let it rise. Then roll it, fill it and then let it rise again and then bake. So yeah it does take time. But is is worth it? Totally!
So to make nutella babka, you start with making a simple brioche with milk, flour, sugar, butter and eggs.
Once your dough is kneaded well, you let it rise for around 1.5 hours.
or until it is doubled in size!
After the dough has risen, you roll it into a rectangle and fill it with your favorite filling. It could be simple jam, cinnamon sugar, chocolate or nutella like in this nutella babka!
Then roll the dough tightly into a log.
Then cut the dough lengthwise into two parts. You might want to use a serrated knife here. It would get a little messy but don't worry its all worth it!
Make a plait by lifting the right half over the left half and then repeat the process but this time lift left half over the right (with the cut sides facing up).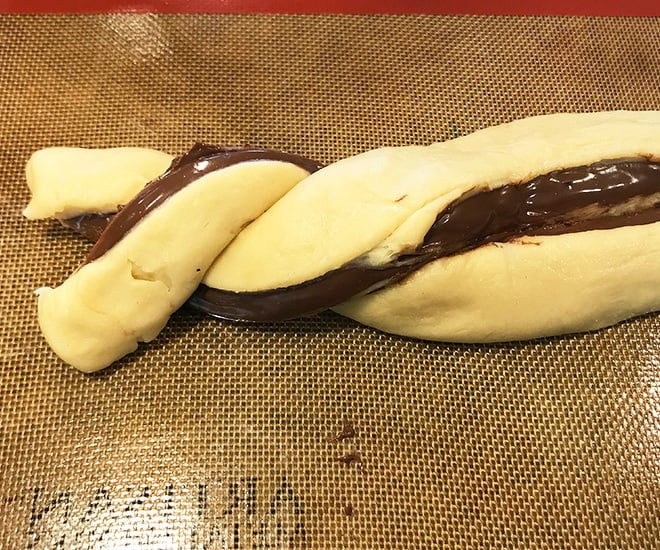 Squeeze the ends and place the dough into the baking pan. Let it rise.
Once it has risen, bake until nicely golden brown! I love to serve it warm but you may also serve it at room temperature.
TIP: The bread will keep well at room temperature for few days. Just cover it properly and it will be fine, do not refrigerate it.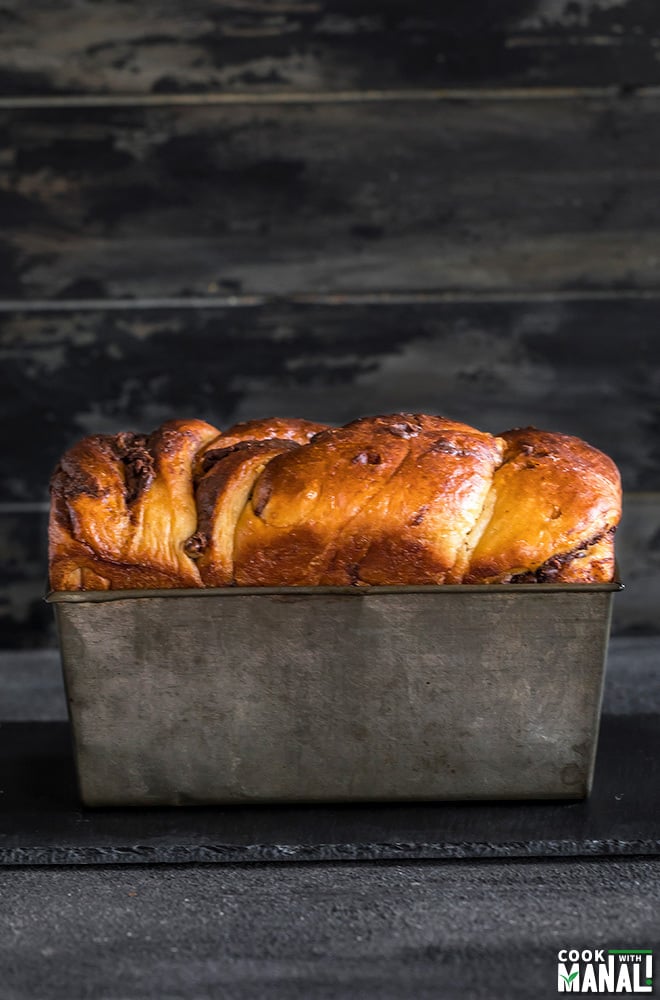 Have you ever tried a babka? If yes, then which if your favorite filling? I would love to know!
If you've tried this Nutella Babka then don't forget to rate the recipe! You can also follow me on Facebook, Instagram, Pinterest and Twitter to see what's latest in my kitchen!
Nutella Babka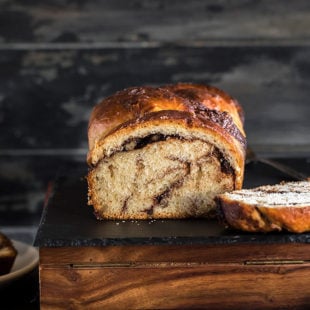 Soft and buttery Babka filled with nutella is the ultimate indulgence! This Nutella Babka has a light brioche which tastes just fantastic with a cup of coffee!
Ingredients
3/4

cup

milk

warm

1

teaspoon

sugar

2.25

teaspoon

active dry yeast

1/2

cup

unsalted butter

at room temperature (1 stick)

1/2

cup

granulated white sugar

100 grams

2

large

eggs

at room temperature

3.5

cups

all purpose flour

+ 1/4-1/3 cup extra, as needed

1/2

teaspoon

salt

1.5

cups

nutella
Sugar syrup
1/3

cup

water

1/3

cup

granulated white sugar
Instructions
Mix warm milk with 1 teaspoon sugar and active dry yeast. Let proof for 10 minutes.

Using your stand or hand mixer, mix together butter and sugar until well combined. Add eggs and mix well.

Add the proofed yeast mixture and then start adding the flour. Add 3.5 cups at first. Also add the salt and mix.

Once everything is well combined, start kneading the dough. You can do this your hands. I used the dough hook attachment of my stand mixer.

Knead for 6 to 7 minutes until a soft dough is formed, it should leave the sides of the bowl. If it feels too sticky and doesn't leave the sides, add 1/4 to 1/3 cup extra flour at this point.

Transfer dough to a large bowl brushed with oil and let rise for in a warm place for 90 minutes or until doubled in size.

After the dough has risen, divide the dough into 2 equal parts.

Roll each part into a rectangle, approx 9 x 13 inch rectangle.

Spread 3/4 cup nutella on each rectangle. Roll the rectangles tightly, starting from the longer side to form a log. Use your hands to even out the rolls.

Using a serrated knife, cut the dough into half. Make a plait by lifting the right half of the dough over the left half and then repeat the process but this time lift left half over the right (with the cut sides facing up).

Carefully lift the dough and transfer to two 9x5 loaf pans. Cover the pans looselt with a cling wrap and let it rise for 30 minutes in a warm place. Meanwhile pre-heat the oven to 350 F degrees.

Once the dough has risen again, brush each dough with the egg wash (prepare by mixing 1 large egg with 1 tablespoon milk).

Bake the loaves at 350 F degrees for 35-40 minutes.

While the babka is in the oven, make the sugar syrup. Add water and sugar to a small pan and bring it to boil. Let the sugar dissolve and then remove the pan from heat. Set aside to cool.

Once the bread has baked, take it out of the oven and poke holes in both the loaves using fork or chopsticks. Pour sugar syrup on the two loaves.

Let the bread absorb the sugar syrup for 15 minutes. Transfer the bread loaves onto a wire rack to cool completely. Serve warm!
Notes
You may chose to skip the sugar syrup.
You may also add a streusel topping on your babka.
Nutrition
Calories:
365
kcal
Carbohydrates:
50
g
Protein:
6
g
Fat:
15
g
Saturated Fat:
12
g
Cholesterol:
39
mg
Sodium:
100
mg
Potassium:
183
mg
Fiber:
2
g
Sugar:
26
g
Vitamin A:
230
IU
Calcium:
53
mg
Iron:
2.6
mg