Overnight Cinnamon Rolls
Feb 16, 2015, Updated May 07, 2023
Overnight Cinnamon Rolls with Orange Cream Cheese Frosting - Do all the work a night before and enjoy these rolls for breakfast next morning!
So I had a wonderful weekend! For those unaware, Cricket World Cup has begun and cricket in India is like football in US maybe even bigger. Cricket is a religion in India and cricketers are worshiped, no kidding! It's the only thing that unites more than 1.2 billion people in the country. India is the defending world champion, winner of 2011 world cup and we played our first match in the tournament yesterday against arch rivals Pakistan and we WON! Wohooo! The match started around 7 PM PST and went on till 4 am, so yeah we were awake the whole night but because we won, it was all worth it! 😀
You know what else made the weekend wonderful? These overnight cinnamon rolls with an amazing orange cream cheese frosting! Who doesn't like waking up to some warm homemade cinnamon rolls? Say you don't and I'll say you are lying, I mean it really because how can anyone resist these? HOW? Overnight Cinnamon Rolls = My Perfect Breakfast!
I love overnight cinnamon rolls simply because you do all the work a night before and in the morning you just have to bake them. It makes life so much easier! So for Valentine's Day I thought of making these for our special brunch. I prepared the dough around 7 in the evening, let it rise for around 2 hours and then filled and rolled the dough, covered and kept it in the refrigerator and baked them in the morning. It was really that simple and allowed me to relax and spend some quality time with my husband in the morning and not run around the kitchen thinking of what to make for breakfast.
And you know what's the best part about making cinnamon rolls at home? The aroma in your home when the rolls are baking – HEAVEN!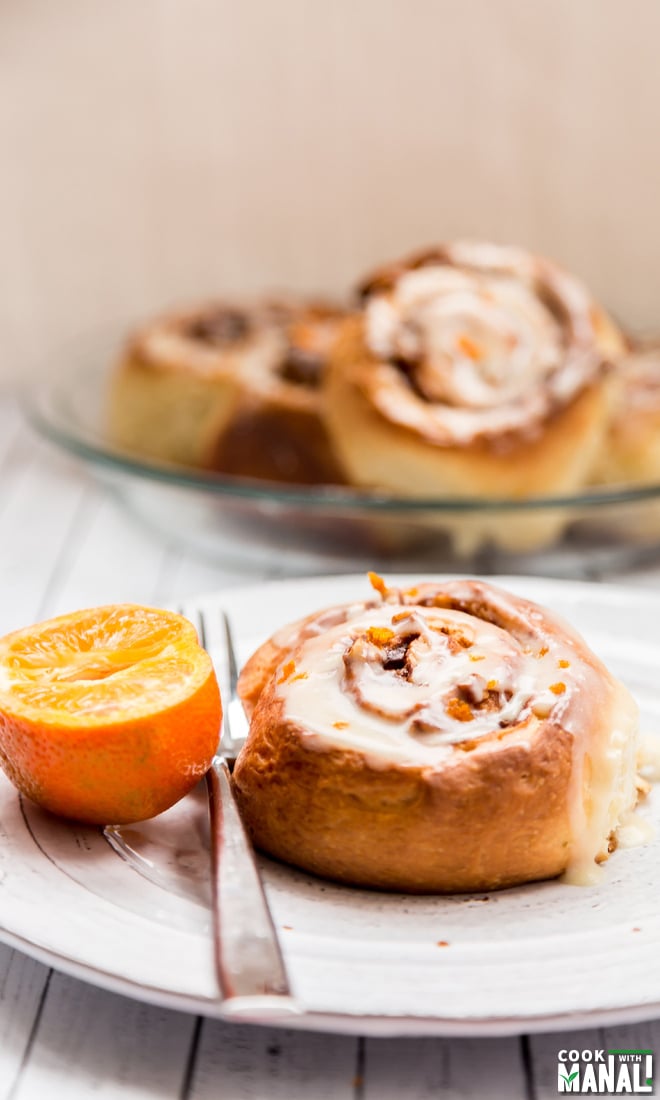 I already have a cinnamon roll recipe on my blog, the steps are exactly the same the only difference is that we do the 2nd rise in the morning. I have not included step by step pictures in this post, please refer to my other cinnamon rolls recipe on the blog for that. To make the dough is super simple especially if you have a stand mixer. You just have to mix in everything together and knead till the dough is soft and smooth. The dough hook attachment of the stand mixer does this job for you but if you don't have it you can simply knead the dough with your hands till it's soft and nice.
Like I always say, use a good quality yeast and make sure the temperature of the milk/water is just right to activate the yeast. The yeast doesn't get activated if the liquid is too hot or too cold, the temperature should be around 120 F degrees. It's best to use a kitchen thermometer here, makes life easier. However if you don't have it, that is fine just make sure the liquid is warm but not like boiling hot when you add yeast to it. If you don't see any froth/foam on top after 10 minutes, it means the yeast is dead, just throw the liquid and start over again.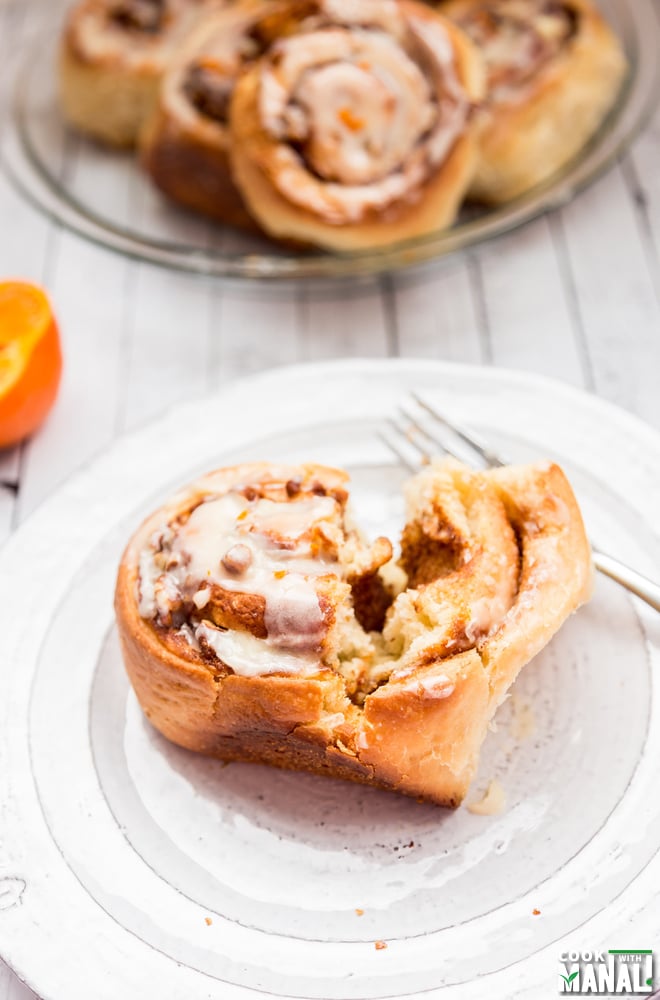 And now let's talk a little about the filling and the frosting for the overnight cinnamon rolls. I used brown sugar, butter and some pecans for the filling. The pecans are optional but I loved them. I added them in little amount so that they don't feel like too much but still give that little crunch at times. My husband said the pecans were the best part about these cinnamon rolls, other than the frosting of course!
I thought to play around with frosting a little and came up with this orange cream cheese frosting and it was sensational! So good, fruity, refreshing, mildly sweet and just perfect when you are eating these cinnamon rolls for breakfast. Like I said these overnight cinnamon rolls are amazing mainly because you don't wait to make the dough and wait for hours before eating them. Do the work in the evening so that you can sit back and enjoy hot rolls in the morning.
* I started making these overnight cinnamon rolls around 7 in the evening, went out for dinner and when I came back after 2 hours the dough had risen. After filling and rolling them, they were in the refrigerator around 9:45 pm. I took them out of the refrigerator around 8:30 am in the morning and kept them in a warm place for 1 hour. And then I baked them around 9:30 am. This is just to give you an idea on how much time it takes.
* If it's cold where you are living, simply preheat your oven to 200 F degrees and then switch it off. Place the dough inside the oven [the oven should be off] and let it rise. For the 2nd rise in the morning, I switched on my oven for only 30 seconds and then switched it off. It was enough for the rolls to rise.
* I made huge rolls and so was able to get only 8 out of this dough. You can even get 12 if you want smaller rolls.
* These overnight cinnamon rolls freeze well, with or without frosting. Cover each roll individually with a cling and then place in a ziplock bag and freeze. When you want to eat them, transfer them to the refrigerator a night before. In the morning, preheat your oven to 350 F degrees and place the rolls inside the oven for around 5 minutes till they are warm and soft.
* If you have leftovers and you want to eat them next day, simply cover the rolls with a cling and refrigerate. Place them in a preheated oven at 350 F degrees for 5 minutes and enjoy!
* Whole milk is recommended for this recipe.
* Please refer to my other post on cinnamon rolls for step by step pictures.
Now go and make some overnight cinnamon rolls this weekend and make your breakfast super awesome! <3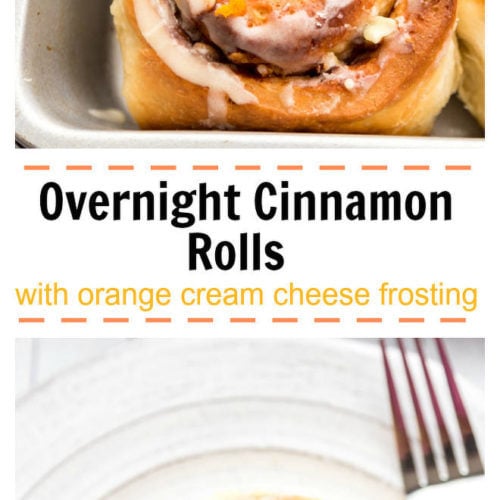 Overnight Cinnamon Rolls with Orange Cream Cheese Frosting - Do all the work a night before and enjoy these rolls for breakfast next morning!
Ingredients
Dough
3.5

cups

all purpose flour

2¼

teaspoons

dry active yeast [1 packet]

¾

cup

whole milk

warm [around 120 f degrees]

¼

cup

+ 1.5 teaspoons granulated sugar

1.5 teaspoons to be added in the yeast mixture

5

tablespoons

unsalted butter

melted

¼

teaspoon

salt

1

egg

2

tablespoons

warm water
Filling
⅓

cup

brown sugar

you may increase to ½ cup to increase sweetness

6

tablespoons

unsalted butter

softened

⅓

cup

pecans

chopped finely

1.5

tablespoons

cinnamon powder
Orange Cream Cheese Frosting
2

oz

cream cheese

softened

1.25

cups

powdered sugar

2

tablespoons

fresh orange juice

⅛

teaspoon

orange extract

orange zest

for garnishing
Instructions
Dough
Start by mixing together flour and salt in a bowl. Set aside.

Heat milk in microwave for 30-45 seconds, it should be warm but not boiling hot. [temperature around 120 F degrees, use a kitchen thermometer in case you have one]

To the warm milk, add yeast and 1.5 teaspoons of sugar. Give a quick stir with a spoon and leave the mixture for 5-10 minutes. This is called proofing of the yeast.

While the yeast is proofing, in the steel bowl of your stand mixer fitted with paddle attachment or using a hand mixer whisk together melted butter, sugar, water and egg till well combined.

After 5-10 minutes the yeast will get activated and you will see it all bubbling up.

Add the yeast mixture to the the egg-butter-sugar mixture and mix till well combined.

Start adding the flour mix in parts, add 1/2 of it first and run the mixer on low speed till it's all incorporated.

Using a spatula scrap down the sides to mix in all the flour together.

Now add the remaining flour and mix at low speed.

Once it's all mixed, increase the speed to medium [fitted with dough hook] and let it knead for 5-7 minutes or till the dough is totally smooth. Alternatively you can use your hands to knead the dough.

Take a bowl and and coat it will canola or vegetable oil.

Place the dough ball in the bowl, cover with a cling sheet and let it rise at a warm place for around 90 minutes to up to 2 hours or till it's more than double it's size.

After 90 minutes, the dough will more than double in size.
Filling
In a bowl mix together cinnamon powder and brown sugar. Set aside.

Chop pecans finely using a sharp knife.

Remove the dough from the bowl and punch to release the air. Let it sit for 5 minutes.

Using a roller or your hands, roll the dough to a 14 x 9 inch rectangle. I used my hands and used my pan as a guide for measurement.

Take softened unsalted butter and spread it all over the dough.

Now sprinkle the cinnamon-sugar all over, making sure you cover the entire dough including the edges and corners. Also sprinkle chopped pecans all over.

Starting from the long end, start rolling the dough tightly.

Roll till you have a log. You can use little water to seal the edges towards the end.

Cut the dough into 8 equal pieces.

Brush a 13 X 9 inch pan with oil or butter and arrange the cinnamon rolls in it, leaving a little space between each roll.

Cover with a cling sheet and keep it the refrigerator overnight.
Baking rolls in the morning
Take the rolls out of the refrigerator

Place them in a warm place for 45 minutes-1 hour for 2nd rise.

Preheat oven to 350 F degrees.

Bake the rolls at 350 F degrees for 25-28 minutes or till nice golden brown in color.
Orange Cream Cheese Frosting
While the rolls are in the oven make the frosting.

In the stand mixer fitted with paddle attachment or using your hand mixer, beat together room temperature cream cheese.

Once it's all smooth, add in the powdered sugar and mix.

Add fresh orange juice, orange extract and beat till everything is nice and smooth.

Slather the frosting using a knife on the warm cinnamon rolls, sprinkle some orange zest on top and enjoy!
Nutrition
Calories:
560
kcal
,
Carbohydrates:
80
g
,
Protein:
9
g
,
Fat:
23
g
,
Saturated Fat:
12
g
,
Cholesterol:
71
mg
,
Sodium:
121
mg
,
Potassium:
182
mg
,
Fiber:
3
g
,
Sugar:
35
g
,
Vitamin A:
650
IU
,
Vitamin C:
2.1
mg
,
Calcium:
74
mg
,
Iron:
3
mg
Nutrition information is automatically calculated, so should only be used as an approximation.
Your feedback is valuable!
Please share your comments, ratings, and any suggestions or adaptations below to help us improve and make our recipes more successful.
 Overnight Cinnamon Rolls with Orange Cream Cheese Frosting