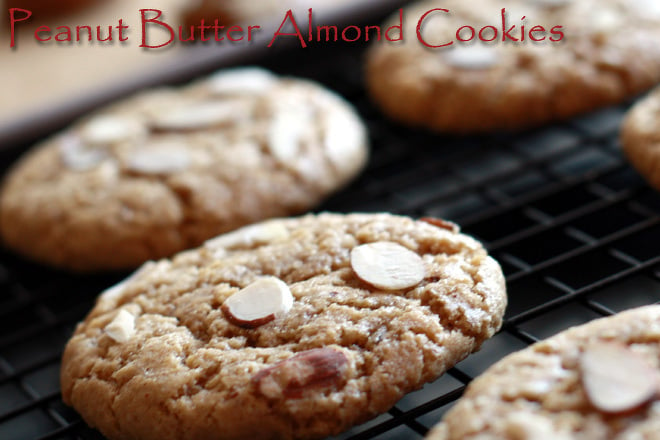 Peanut butter is my absolute favorite. I just LOVE it, so creamy, so nutty and so yum!
The other day I got this natural creamy peanut butter from Whole Foods, it had no sugar or salt added to it and so these almond peanut butter cookies were born.
These cookies are really chewy, thanks to the brown sugar and peanut butter.
One thing which I would probably change in this recipe, now that I think about it is to add some unsalted regular butter into it. Working only with the peanut butter made the dough very sticky.
I wanted to add almond flour to the recipe to enhance the almond flavor. But because I didn't have it at home, I just tossed the almonds in a mixer and used that powder instead. If you have almond flour, go ahead and use that.
Like I said, peanut butter make the dough really sticky. It was quite difficult to work with the dough until I chilled it for 1 hour. So make sure to chill the dough, it's not optional but mandatory.
I baked the cookies for exactly 12 minutes. They look unerbaked and really soft but they harden up after they cool down. They might get burned so one has to be very careful with the baking time here.
Yield: 18 cookies
Ingredients
All Purpose Flour: 3/4th cup
Almond Powder: 3/4th cup
Baking Soda: 1/2 tsp
Salt: 1/4th tsp
Peanut Butter [creamy, unsalted & unsweetened]: 1/2 cup
Brown Sugar: 1/2 cup
Granulated White Sugar: 1/2 cup
Almond Extract: 1/2 tsp
Egg: 1
Milk: 1/4 cup
Sliced Almonds: For garinishing
Method
Preheat oven to 350 F. Line a baking sheet with parchment paper and set aside.
1. In a small bowl, whisk together the flour and almond powder. Add in the baking soda and salt; set aside.
Beat peanut butter and sugar in large bowl with electric mixer on medium speed until blended.
2. Add egg and almond extract. Beat until smooth.
Stir in flour mixture until blended. Add milk and mix. The dough will be sticky, cover and chill for 1 hour.
3. Take around 2 tablespoons of dough and shape them into round balls. Flatten it slightly and decorate with some sliced almonds on top.
4. Bake at 350 F for 12 minutes.
Transfer to a wire rack and let them cool completely.
The cookies will stay soft and chewy for 7 days in an airtight container.
Tips
1. Vanilla extract can be used in the recipe instead of almond extract.
2. Add some unsalted regular butter to make these cookies more buttery. It will also make working with the dough easier.
3. Do not overbake these cookies. If you want them chewy, 12 minutes is perfect.