With the mango season upon us, now is the perfect time to enjoy mango lassi!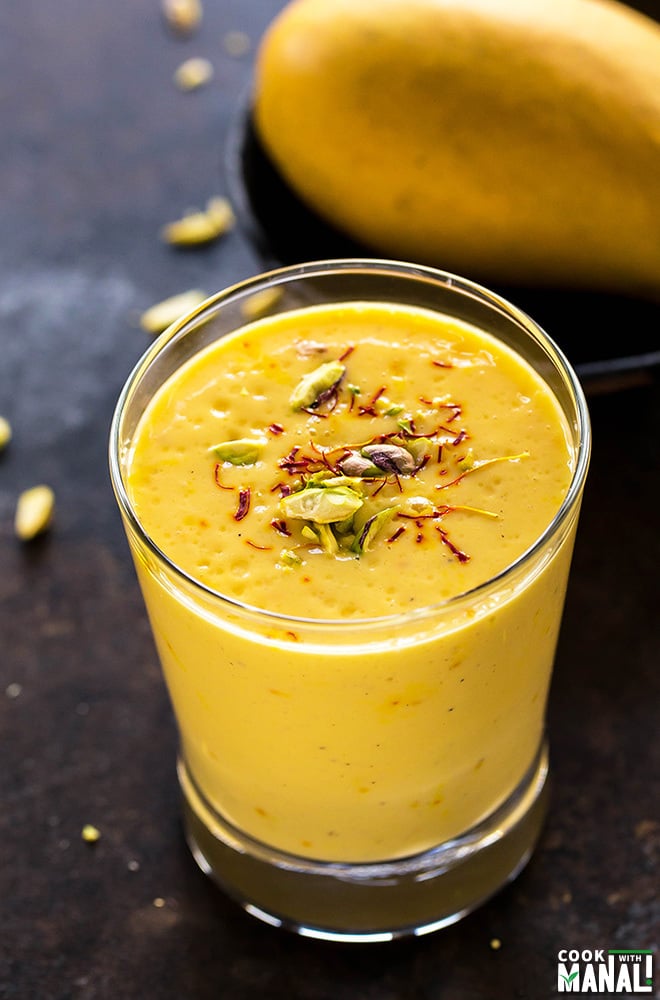 Mangoes! Yeah, they are delicious and more than half of Indians are obsessed with them. I am not kidding! But I am not one of those. I like mangoes but I am not obsessed with them. Indians are so obsessed with mangoes that I have heard countless stories of people packing tons of mangoes into their bags on their way back to the US and then they all end up going in the trash! Yeah fresh fruits, veggies aren't allowed but the love of mangoes overpowers all logic and everything in between 😛 I get it that Indian mangoes are the best and nothing in US comes even close but why would you pack so many mangoes when you know the custom people are going to throw it in the trash, beats me!
Anyway when mangoes are in season, I love eating them as such or add them to my salads. Do you guys do that? Add mango to your salads? Try it if you haven't, you are definitely going to love it. Another way in which I enjoy mango is Mango Lassi. I am sure most of you are familiar with this popular drinks. Fresh mango chunks blended with yogurt, sugar and little cardamom makes a delightfully refreshing summer drink.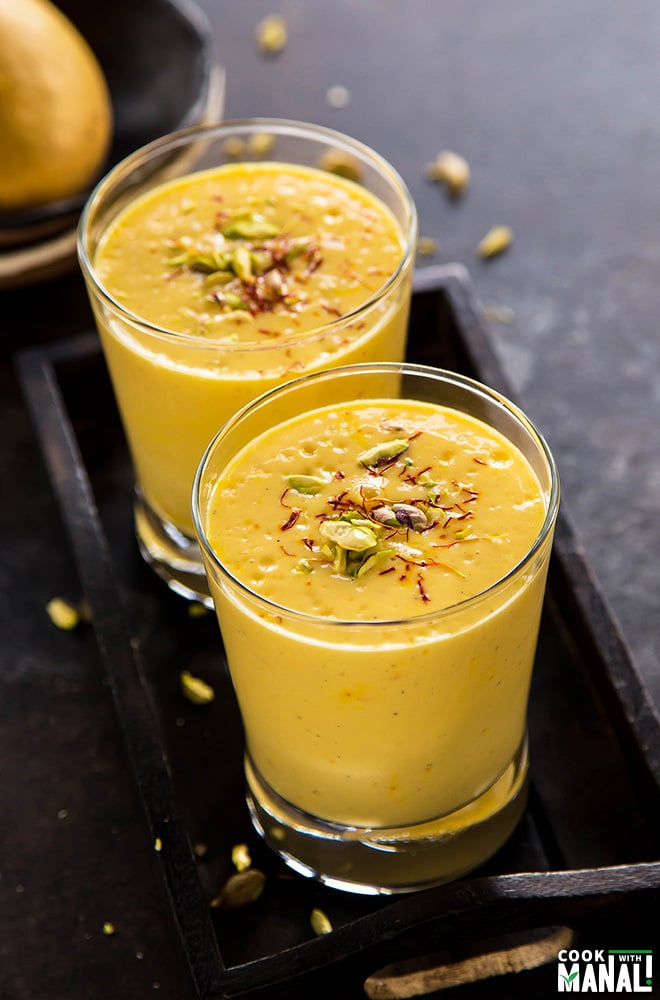 In the Indian subcontinent  "Lassi" refers to any yogurt based drink.  The popular ones are sweet lassi which obviously is sweetened with sugar and salty lassi which has salt and other spices in it. But one can always get creative and make so many lassi flavors. Like one of my favorites is the Strawberry Lassi that I shared long back. You must try it during the berry season.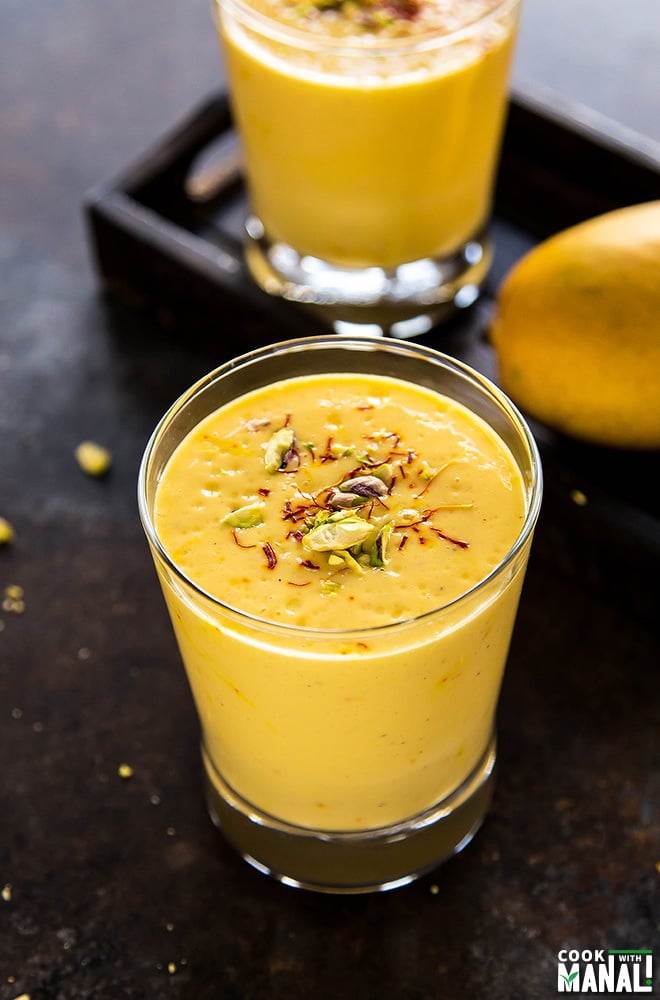 You only need some basic ingredients and few minutes to put it all together. For this recipe of mango lassi, I have used mangoes, yogurt, milk, sugar and cardamom. And of course some ice cubes. A lot of times lassi is made using "yogurt only", traditionally that's how it was made. But I like to add little milk to my lassi since I don't like it super thick. You can use all yogurt if you aren't a fan of adding milk to your lassi. You may also add saffron or a splash of rose water for extra flavors but that is optional.
Here's a quick video for this recipe!

* For best taste and flavor use mango pulp from fresh mangoes although you can use canned mango pulp.
* Also the lassi is supposed to be quite thick but if you want a thinner consistency, just add more milk/water to it.
This post has been updated from the recipe archives, first published in 2014.
Mango Lassi
The popular Indian drink Mango Lassi is a delicious blend of mangoes and yogurt with a touch of cardamom!
Ingredients
1

cup

mango pulp

1/2

cup

milk

, or cold water

1

teaspoon

sugar

, or to taste

1/4

teaspoon

cardamom powder

4-5

ice cubes

pistachios

, to garnish, optional

saffron strands

, to garnish, optional
Instructions
Blend together yogurt with mango pulp, milk or water, sugar cardamom powder and ice cubes until smooth.

Pour mango lassi into glasses. Garnish with pistachios and saffron strands (optional).

Serve chilled.
Nutrition Facts
Mango Lassi
Amount Per Serving
Calories 234
Calories from Fat 54
% Daily Value*
Total Fat 6g 9%
Cholesterol 22mg 7%
Sodium 111mg 5%
Potassium 270mg 8%
Total Carbohydrates 37g 12%
Protein 6g 12%
* Percent Daily Values are based on a 2000 calorie diet.
Mango Lassi