I am back with yet another macaron recipe and this time they are pretty festive! These Peppermint Macarons are filled with a delicious peppermint buttercream and rolled in crushed candy canes to make the perfect little treat for the Holidays!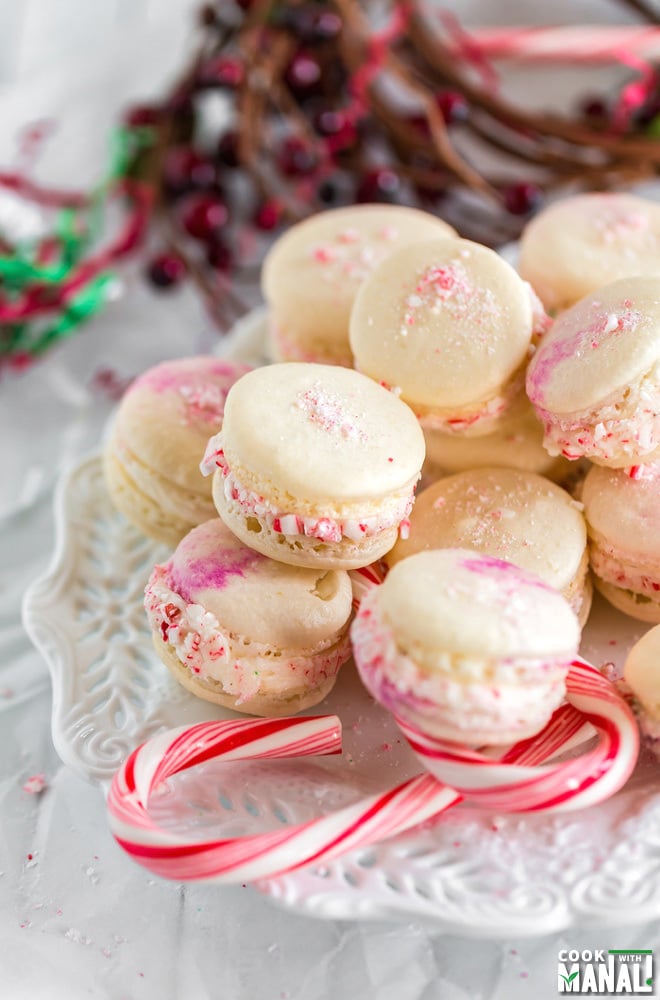 Starting today I will be sharing some of my favorite cookie recipes with you guys. Well honestly, I wanted to share lots more but last month was so busy with travelling and then packing for my India trip that I didn't quite reach my goal. But still I was able to make some of my favorites [from the long list of cookies that I had initially planned!] and I am really excited to share them with you guys.
My love for french macarons knows no end and so the first recipe that I am sharing with you is peppermint macarons!I think I can't help it. Whenever there's an opportunity to bake cookies, I always end up making french macarons. I don't know why but they just make me very happy. Look at them, aren't they gorgeous? So when I was making a list of cookies I wanted to bake for the holidays, the macarons obviously made it to the list. To make them perfect for the occasion, I thought of making peppermint macarons and rolling them in crushed candy canes!
B-E-A-U-T-I-F-U-L ❤❤
I find french macarons one of the easiest cookies to bake. I know most people find it intimidating, I did too when I first made them some 2-3 years back. But trust me, once you guys get the hang of these, they are indeed one of the easiest cookies! You need very few ingredients to make the macaron shell and I guess that's why I find them so easy. And they are so versatile, you can fill then shell with whatever flavors you fancy. Check out some on the flavors I have shared on my blog before –  salted caramel, rose, lemon and now peppermint since it's the season for all things peppermint.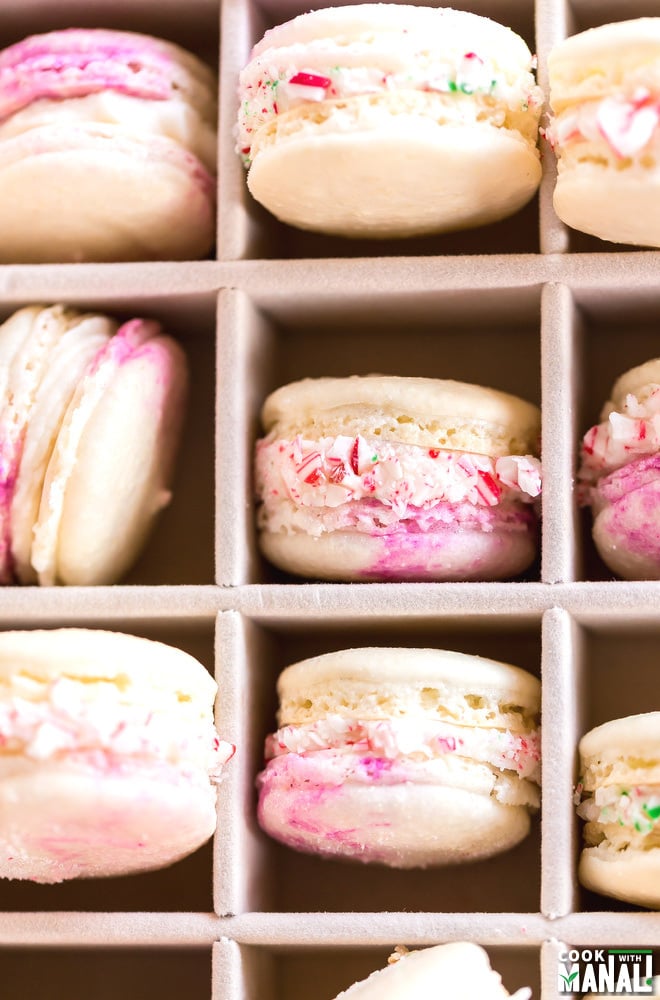 Remember this post I did on tips and tricks to master french macarons? Just go through it if you are new to this or having trouble getting this right. The most important thing in my opinion is to use room temperature egg whites, I usually separate the eggs when they are cold and then leave the egg whites to come down to room temperature for 2-3 hours. Some people I know prefer keeping their egg whites at room temperature overnight, I also tried it once and didn't find any difference between that batch and the batch made when I kept the whites at room temperature for 2-3 hours so I always go with the latter.
The second most important thing is to make sure that there's no grease anywhere when you are dealing with egg whites. Not on your mixer, not your hands, not on your whisk/spatula – everything should be totally grease free, remember egg whites will not whip up properly if they get in contact with grease/fat. And the third most important thing is to not bake the macarons immediately once you have piped them. You have to let them dry, I pipe the macarons and let them sit at room temperature for around 45 minutes and then bake them. Your macarons will not develop their characteristic "feet" if you bake them immediately. For more tips and tricks on french macarons, please refer to this post.
Hope you guys enjoy these peppermint macarons! They would also make great gifts for your friends and family.
* Click here for step by step instructions to make the macaron shell.
* The preparation time includes the resting time of 45 minutes for the macaron shells.
* If you want to get little pink swirls on top of your macaron shells [like in some of the macarons above] simply add few drops of pink food color in your piping bag (filled with the batter). As you pipe the macarons, some of them will get that little touch of pink on top!
Peppermint Macarons
Peppermint Macarons are filled with peppermint buttercream and rolled in crushed candy canes to make them perfect for the holidays!
Ingredients
Macaron shells
1

cup

almond flour

1.5

cups

powdered sugar

3

large egg whites

at room temperature

¼

cup

granulated white sugar

¼

teaspoon

cream of tartar
Peppermint frosting
1

stick unsalted butter

at room temperature

2

cups

powdered sugar

½

teaspoon

peppermint extract

½

teaspoon

vanilla extract

2-3

tablespoons

cream or milk
pink food color [optional]
Instructions
Macaron shells
In a bowl mix together almond flour and powdered sugar.

Sift the mixture 3 times and set aside. This step is important for macarons to have that smooth top.

Separate eggs whites [they are best separated when cold] and keep them at room temperature for 2 hours before you start working on them. You can even leave them for 24 hours, this recipe does not work if egg whites are not at room temperature.

Beat the egg whites at high speed using the wire whisk attachment of your stand mixer or using your hand mixer.

When it begins to foam, add cream of tartar.

Keep beating till it reaches a shaving foam like consistency and then add the granulated sugar. Beat more till the egg whites develop stiff peaks and are shiny.

Fold in the almond flour-powdered sugar mixture into the egg whites using a spatula. Don't add the entire thing in one go, do it in 2-3 parts.

As you start mixing, the batter will be tough at first but will loosen up as you proceed. Do not undermix and do not overmix either.

The batter should not be runny but should still fall down from the spatula in a blob.

Transfer batter to pastry bag fitted with a ½ inch round tip. Add few drops of pink food color (optional) to the batter.

Pipe the batter onto the baking sheet lined with parchment paper making small blobs around an inch big.

After you have piped all the macarons, let them sit at room temperature for 30-45 minutes, do not bake them immediately. If you bake them immediately, they will not develop their trademark "feets".

As the macarons are resting, preheat your oven to 300 F degrees.

Bake at 300 F degrees for 15 minutes [time may vary depending on your oven].

Remove the pan from oven and let the macarons cool completely. Do not try to remove them before that.
Peppermint buttercream
To make the frosting beat butter using your stand or hand mixer till it turns pale, around 3 minutes.

Add powdered sugar ½ cup at a time, mixing well after each addition.

Add vanilla extract, peppermint extract and mix till well combined.

Add cream or milk, 1 tablespoon at a time till you get the desired consistency. I kept the frosting thick so didn't add too much milk, just enough to spread it.
Fill the macaron shell
Pipe the peppermint buttercream into piping bag fitted with round/star tip and fill the macarons shells. Don't overfill.

Crush few candy canes using a mortar & pestle or simple place them in a ziplock and give a nice whack with a rolling pin.

Roll the filled macarons over the crushed candy canes.

Enjoy peppermint macarons, they taste even better the next day!
Nutrition
Calories:
101
kcal
Carbohydrates:
19
g
Protein:
1
g
Fat:
2
g
Sodium:
6
mg
Potassium:
12
mg
Sugar:
18
g
Calcium:
11
mg
Iron:
0.2
mg
Peppermint Macarons