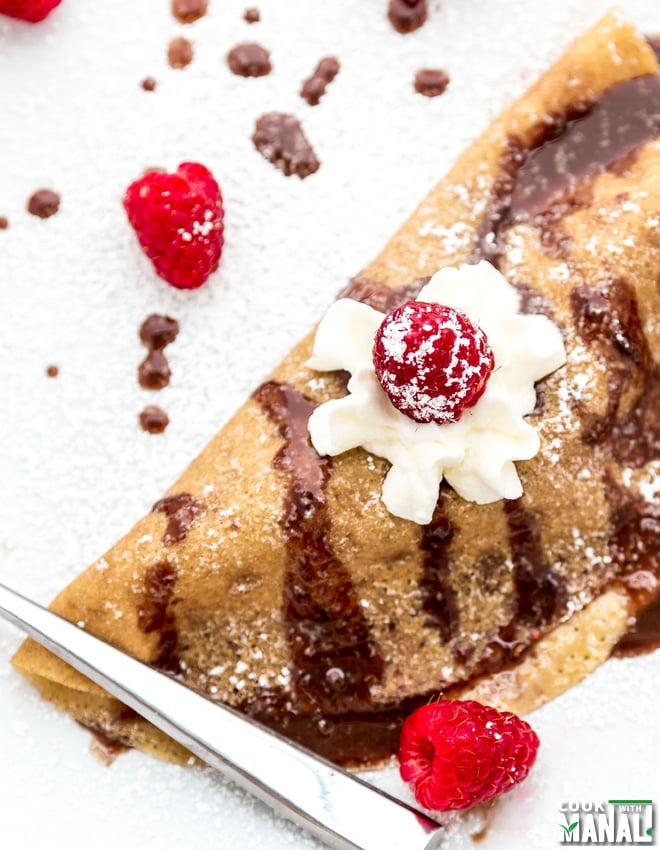 Oh how I love spring! The sun, pretty flowers, the lovely breeze they all make me happy and cheerful and when I'm happy the first thing I want to do it, yes you guessed it – cook! So while the sun was out in its full glory over the weekend, I decided to whip up some french crepes. Think about it, can there be a better Sunday brunch then these delicious crepes loaded with nutella and fresh raspberries. I don't think so!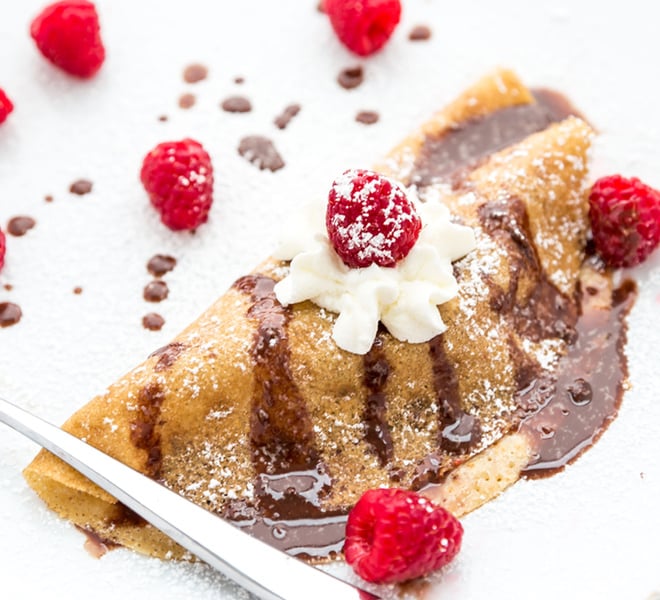 There's a little french cafe here and whenever we go there we always order a sweet crepe and a savory crepe. Hubby likes the strawberry nutella crepe and I love the spinach, cucumber crepe. So we both end up eating half-half of each, balancing the savory and sweet flavors. If you haven't tried the nutella crepes you are seriously missing out on something. You don't need to go to a french cafe to eat crepes anymore, just follow this recipe and you will be able to make fresh crepes in your own kitchen.
You know what else is good about this recipe? I used 100% whole wheat flour for making these crepes and they turned out so darn good. I used my regular whole wheat flour which I get from the Indian store to make my chapatis/roti [Indian whole wheat tortillas]. If you want you can use all purpose flour or a combination of whole wheat and all purpose but honestly these whole wheat crepes tasted so good that I don't see a reason why you should be using the white flour.
For the batter I just mixed everything together in a blender until smooth, that's it. It was that easy!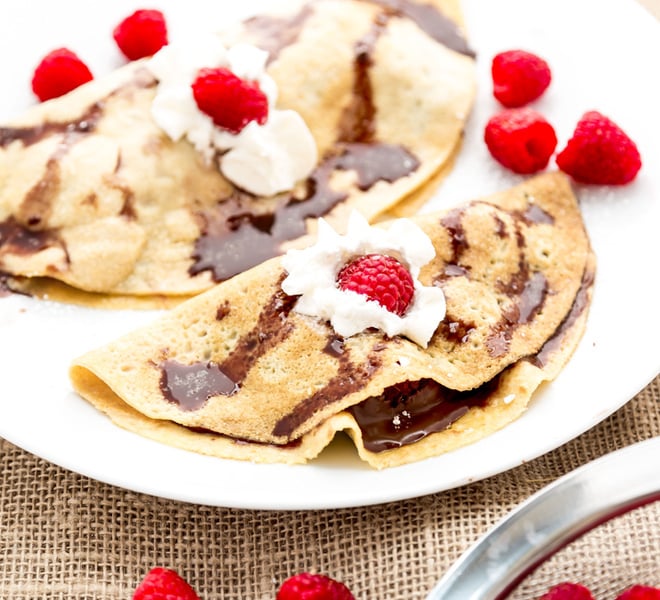 I used a regular pan to make the crepes and so they didn't have clean edges. Ideally crepes should be made in a pan which doesn't have a rim. To make them look perfect I placed a bowl (which is little smaller than the crepes) over the crepe and trimmed off the edges. You can do that too if you wish to make your crepes look perfect like me! : ) I used 1/4 cup of batter for making each crepe, you can use 1/2 cup for a bigger size. Don't worry if you break 1-2 crepes initially while trying to flip them. You will get better with time.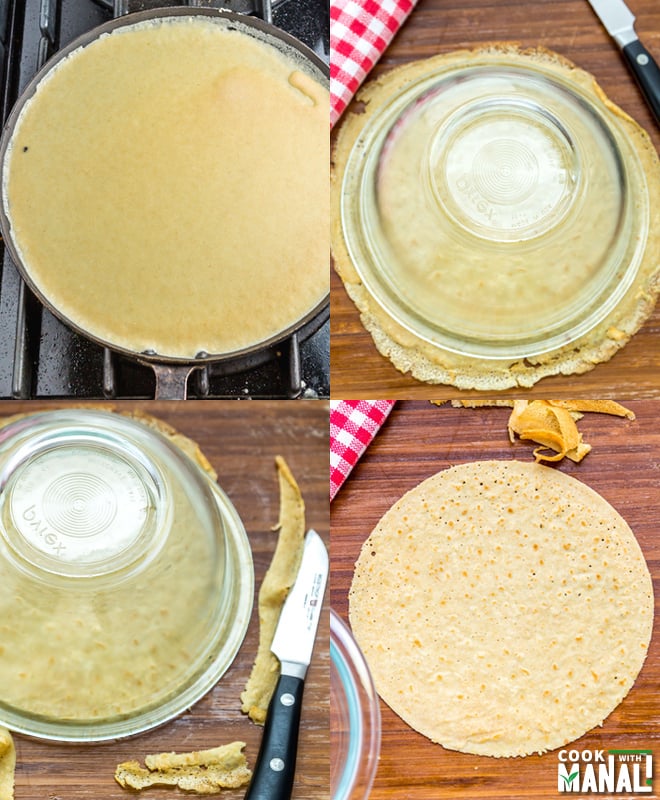 Once the crepes are done, fill them lots of nutella and lots of raspberries. See the reason I didn't write the quantity for these 2 in the recipe is because it depends on your taste. Someone might like only 1 tablespoon of nutella on their crepe while someone like me might not mind even 5 tablespoons! Dust the crepes with powdered sugar and serve with some whipped cream on top.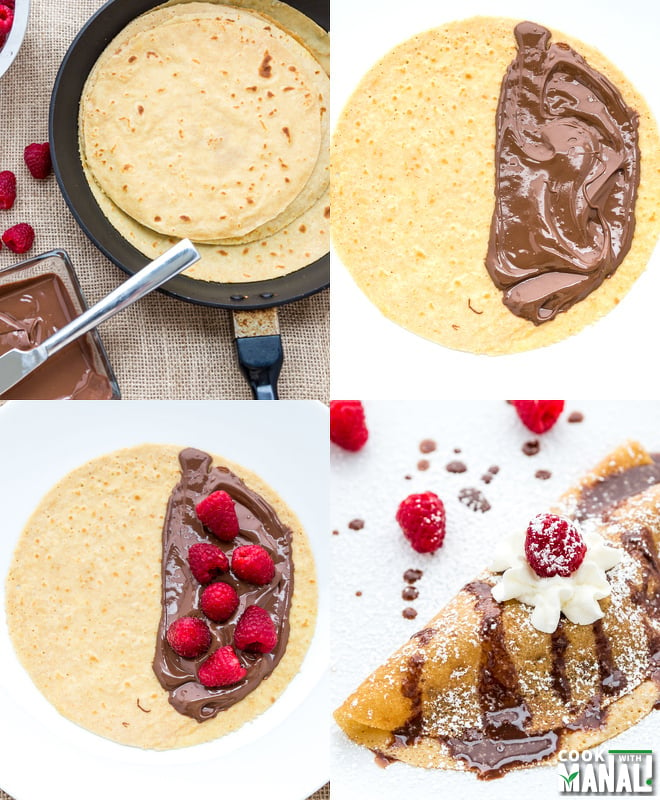 Eat these crepes for breakfast or as dessert, they taste great either way and with Mother's Day just around the corner this might just be the perfect brunch option that you were looking for.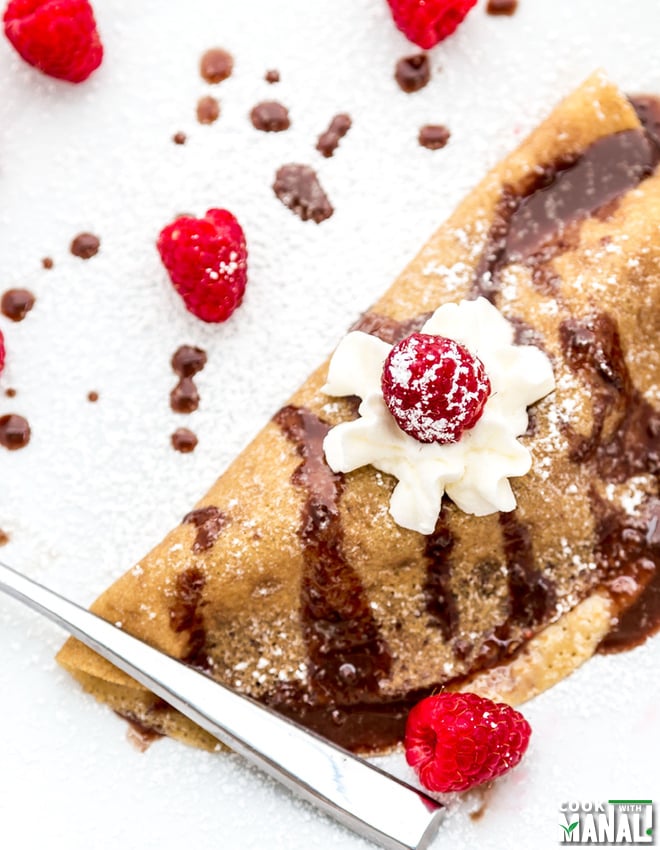 * This will make 13-14 crepes if you use 1/4 cup batter per crepe.
* You can use a combination of all purpose and whole wheat flour if you want to. I used 100% whole wheat flour.
* You can make the batter a day in advance. If you are planning to make these crepes for breakfast, make the batter at night and place it in the refrigerator. In the morning just take it out let it sit for some minutes and you are ready to make the crepes.
* Freeze the leftover crepes by placing parchment paper between each crepes and then packing them in a zip-lock bag.
Raspberry Nutella Crepes
100% Whole wheat French crepes filled with generous amount of nutella & fresh raspberries. Great for breakfast or dessert!
Ingredients
1

cup

whole wheat flour

1

cup

skimmed milk

1

cup

water

2

eggs

2

tablespoon

butter

melted

1

teaspoon

sugar

½

teaspoon

vanilla extract

pinch

of salt

raspberries

nutella
Instructions
Put the first 8 ingredients listed above (flour, milk, water, eggs, melted butter, vanilla, sugar and salt) in a blender.

Blend till mixture is smooth. Pour the batter in a bowl and place it in the fridge for 1/2 an hour.

Heat a round pan on medium heat. Brush it with some oil.

Take 1/4 cup of the batter (or 1/2 cup for bigger crepes) and pour in the center of the pan.

Immediately swirl the pan in a clockwise direction so that the batter gets evenly spread throughout the pan [see pictures].

Cook for around 30-45 seconds and then carefully flip the crepe. Cook the other side also for the same duration.

Once all the crepes are done stack them on a plate.

Melt the nutella in a microwave bowl so that it's easily spreadable. It might seize so stir after every 15 seconds.

To serve take 1 crepe [you can trim the edges to make it look perfect at this point] and pour dollops of nutella on one side of the crepe.

Place some fresh raspberries on top of the nutella.

Fold the crepe in half, like a half-moon. Drizzle some nutella on top.

Dust powdered sugar on top, place whipped cream, fresh raspberries and serve immediately.
Nutrition
Calories:
93
kcal
Carbohydrates:
12
g
Protein:
5
g
Fat:
2
g
Saturated Fat:
1
g
Cholesterol:
31
mg
Sodium:
78
mg
Potassium:
219
mg
Sugar:
5
g
Vitamin A:
305
IU
Vitamin C:
0.7
mg
Calcium:
131
mg
Iron:
0.5
mg