Reindeer Bark
Dec 22, 2016, Updated May 07, 2023
Easy and festive Reindeer Bark. 15 minutes of prep time & 5 ingredients!
Reindeer Bark – easy and festive bark for the holidays!
We are just 2 days away from Christmas! Hard to believe that in just few days 2016 will be over. This time of the year is always very exciting. There's a festive atmosphere and also everyone is looking forward to a better tomorrow. There's hope that the next year will be better than the one we are leaving behind. And I always believe that hope is what keeps you going. As I look back at 2016, it's been one of the worst years of my life. Since April of this year, I have been totally engrossed with my mom's treatment. So much has happened, so much is still happening, in fact last week was probably the worst ever. So I don't even know how this year passed by, because I feel like it just started before life happened.
I had lot of dreams for Cook With Manali for 2016, which I wasn't able to achieve. Not even one. I did not have the time or energy to do anything for the blog. I worked really hard whenever I got time, so that I can keep this blog running somehow. The fact that I have constantly posted recipes here all year long is a miracle in itself. I hope that 2017 gives my family some respite and that I am able to get focus back on my blog. I want to take a moment and thank all of you – my readers, blogger friends, friends & family for sticking around. I truly appreciate it.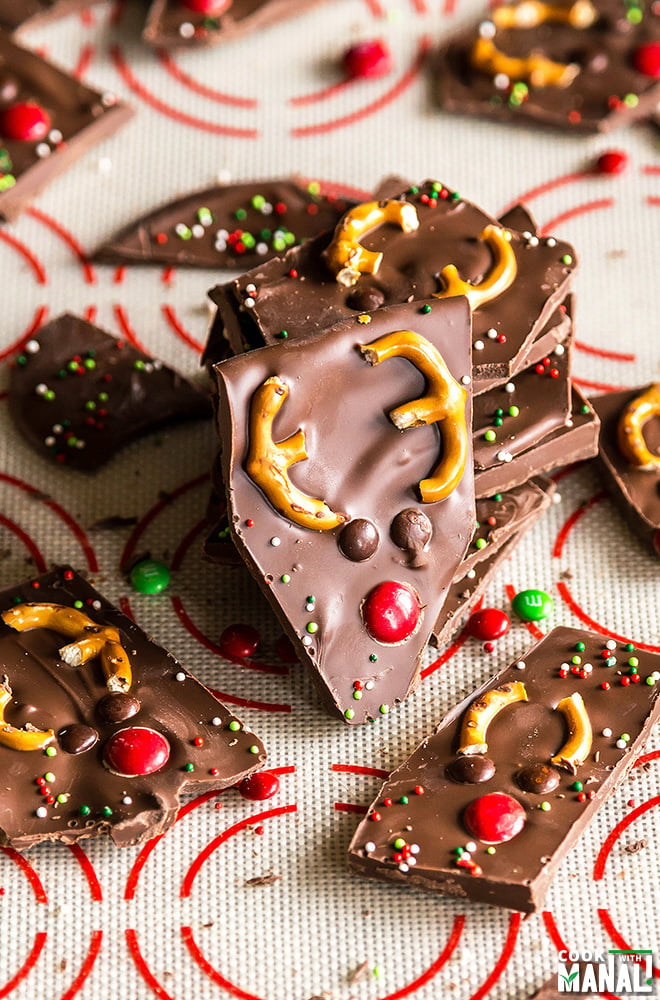 Anyway other than all the personal stuff, I am sharing with you guys one last and easy Christmas recipe – this Reindeer Bark. It's probably too late to share a holiday recipe now but since I made it, I wanted to share it with you guys. So what if I am sharing this when only 2 days are left for Christmas!
This Reindeer Bark couldn't be simpler to make and will make a great last minute holiday treat. You probably only need 10-15 minutes to make these. I always love holiday barks because there's so much you can do with them. Try different flavor, different sprinkles, decoration and the end result is always delicious.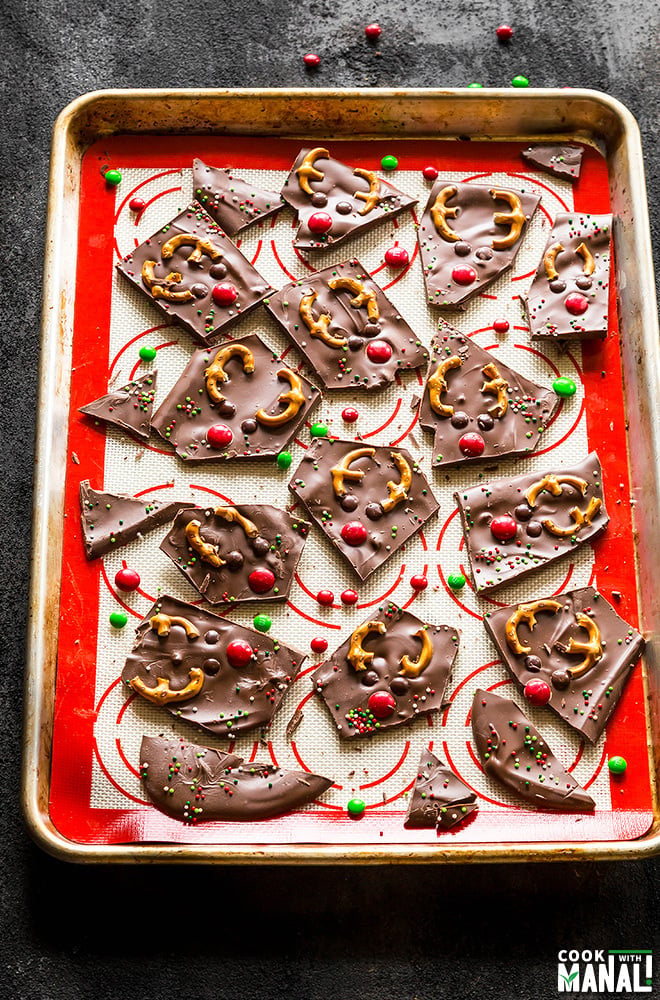 These reindeer bark are far from perfect. I didn't really use any scale or measuring tool to make them symmetrical. I just made the reindeer shape randomly and then cut the bark randomly too. To make the reindeer I have used – regular red M&Ms for the nose, mini black M&Ms for the eyes and pretzel halves for the antlers. I don't think I did a very good job here, but who cares. The bark looks cute (to me at least!) , festive and taste good! Also you can get your kids to help you make these. I am sure they will have lot of fun making reindeer faces. I know I did!
I used candyquik here because it sets quickly and easily. If you use chocolate, make sure to temper it. You may also use chocolate chips. I hope you all have wonderful holidays with your family. Merry Christmas! Stay healthy & happy! xoxo
* If using regular chocolate, please make sure to temper it! Candy melts do not need tempering.
Easy and festive Reindeer Bark. 15 minutes of prep time & 5 ingredients!
Ingredients
16

oz

Candyquik

black mini M&Ms

red regular M&Ms

pretzels

broken into halves

christmas sprinkles
Instructions
Melt candyquik chocolate in the microwave, according to instructions on the package.

Pour the melted chocolate on top of a baking sheet lined with silicone mat. Spread using a spatula.

Place two black mini m&ms for eyes on top of the melted chocolate, then place a regular red M&M for mouth below the eyes.

Place each pretzel halves above each eye to make it look like reindeer antlers.

Repeat the same sequence/process of making reindeer face all over the melted chocolate.

Once you are done with the reindeer faces, sprinkle with christmas sprinkles and let set.

Once the bark sets, break into pieces and enjoy!
Nutrition information is automatically calculated, so should only be used as an approximation.
Your feedback is valuable!
Please share your comments, ratings, and any suggestions or adaptations below to help us improve and make our recipes more successful.
Reindeer Bark