Spinach Pesto
Mar 13, 2015, Updated Jan 02, 2018
Spinach Pesto is a great sauce for pastas, sandwiches & so much more!
Happy Friday guys! So another week has come to and end, it's crazy how time is flying. It's mid March already and it will be Easter in no time. Sometimes I wish I had the power to stop time. If I did have that power I would totally stop the time because it's running way too fast for me to catch up! Anyway it's end of the week and by this time we all want to whip up something real quick for dinner, I mean elaborate dinners are reserved for weekends but on Friday, I am for sure looking for shortcuts!
Pasta is one dish which always comes to my mind when I think of making something quick. It's easy to throw together especially when you already have some pasta sauce in your refrigerator. I know everyone has pasta sauce in their refrigerator but not me. I used to buy them but then I realized that I do not make pasta every week and so I was never able to use these sauces before their expiry date and they would eventually end up in the trash can. To minimize wastage, I now make pasta sauces at home as and when needed plus homemade is always better just like this spinach pesto!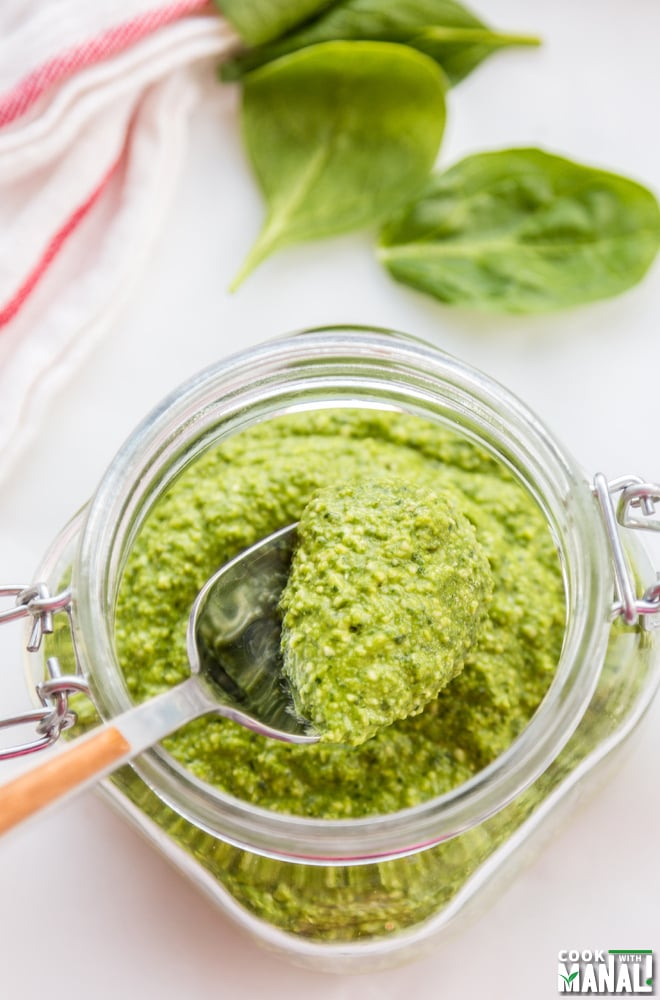 Pesto is my favorite pasta sauce, I fell in love with it the first time I tried it. I will confess that I had never tasted pesto in India and had it for the time first time in US. The very first pesto that I tried was obviously the most common basil pesto. I loved it so much that I wanted to smear the sauce over everything I could get hold of from breads to pasta to noodles to rice! Now I am out of that obsession phase but the love affair of course still continues.
Traditionally pesto is made with basil but you can make it with a lot of other things like spinach, cilantro, arugula, parsley, spring greens etc. The same applies to nuts, traditionally pine nuts are used but you can use walnuts, almonds, pistachios! I think pesto is one of the easiest sauces to make , I mean all you have to do is mix everything [except olive oil] together in a food processor, like this.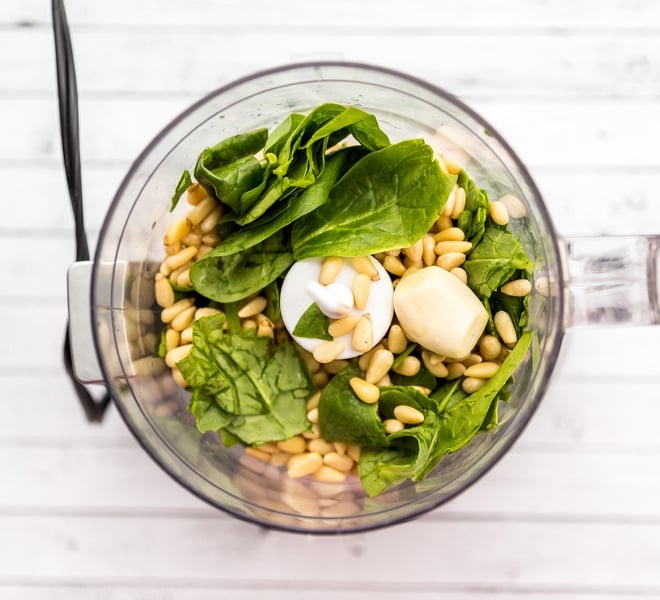 And then pulse while adding olive oil slowly to the mixture till everything comes together like this.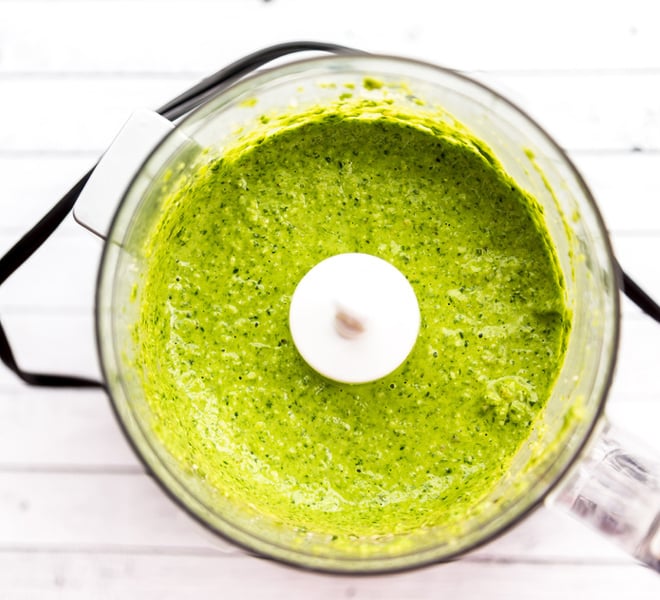 And that's it! Spinach pesto is ready to be tossed into anything you fancy!
And I just realized that this is once again a green recipe, perfect for St. Patrick's Day! 😀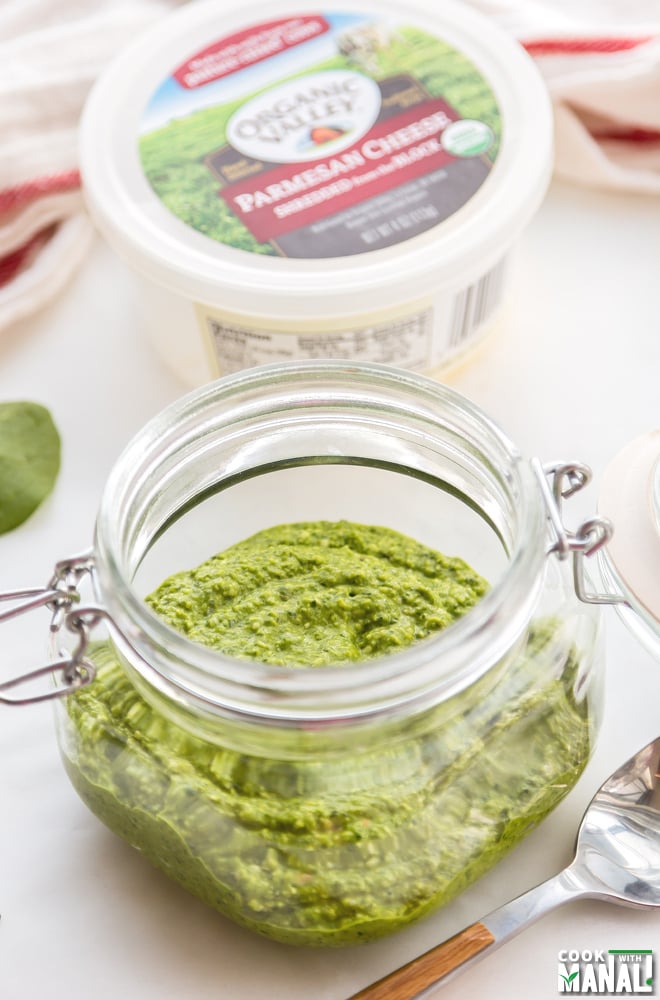 * You can use walnuts in place of pine nuts in the recipe.
* The leftover pesto can be frozen. Just thaw it before using in your recipes.
* The regular parmesan cheese that you get in stores in not vegetarian but since I'm a vegetarian I got the vegetarian version from Whole Foods. Just read the pack before buying.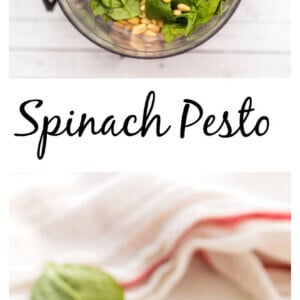 Spinach Pesto is a great sauce for pastas, sandwiches & so much more!
Ingredients
2

garlic cloves

big

⅓

cup

pine nuts

⅓

cup

parmesan cheese

shredded [i used vegetarian parmesan cheese]

⅓

cup

olive oil

1.5

teaspoons

garlic salt

⅛

teaspoon

white pepper

¼

teaspoon

ground black pepper

1

teaspoon

lemon juice

salt

to taste
Instructions
Wash the baby spinach leaves and let them dry.

In a food processor, add spinach leaves, pine nuts, parmesan cheese, garlic salt, white pepper, salt, black pepper and lemon juice.

Pulse to combine everything together.

With the machine running, add olive oil gradually into the mixture till it's all creamy and well combined.

Check seasoning and adjust to taste.

Transfer pesto to a bowl and refrigerate till ready to use.
Nutrition
Calories:
1101
kcal
,
Carbohydrates:
12
g
,
Protein:
20
g
,
Fat:
111
g
,
Saturated Fat:
17
g
,
Cholesterol:
22
mg
,
Sodium:
4092
mg
,
Potassium:
743
mg
,
Fiber:
3
g
,
Sugar:
2
g
,
Vitamin A:
8235
IU
,
Vitamin C:
27.7
mg
,
Calcium:
490
mg
,
Iron:
5.5
mg
Nutrition information is automatically calculated, so should only be used as an approximation.
Your feedback is valuable!
Please share your comments, ratings, and any suggestions or adaptations below to help us improve and make our recipes more successful.
 Spinach Pesto