Spinach Raita
Aug 19, 2015, Updated Jan 02, 2018
Healthy Spinach Raita is the perfect accompaniment to Indian meals.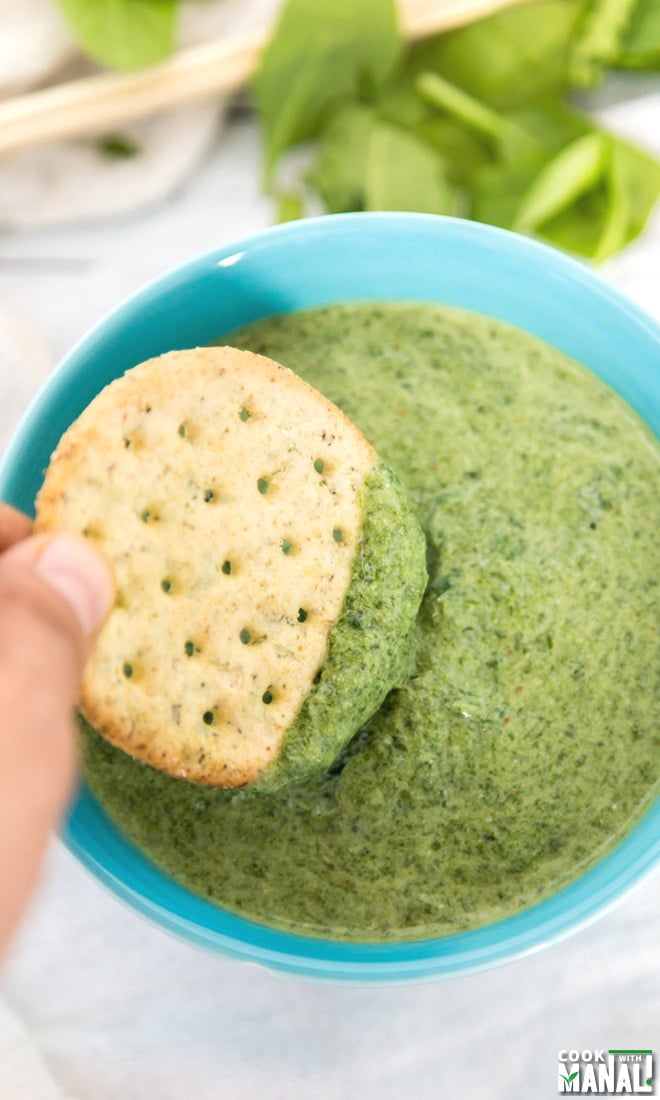 I have told you guys this before, we always had raita as a side dish in our home for lunch and it's still the same. Lunch at my place in India will always be roti, sabzi (any vegetable cooked with spices), rice, dal (lentil) and raita. Yes quite a meal and I ate it every damn day growing up. I think that spoiled me, having a luxurious lunch made from scratch everyday and where you had to do nothing but simply eat! I never cared for that lunch then because obviously I got to eat it every day and I had no idea how much effort it takes to serve your family fresh meal , 3 times a day every single day. Now that I understand it, I miss that food even more. I'll be honest no matter how much I try I hardly cook that kind of meal at my home. I mean making 5 things everyday from scratch? As much as I love cooking, when I cook Indian it's mostly just roti and sabzi or dal and rice. You know, not the entire thing! Plus I cook only once a day and my lunch is usually the leftovers from previous night's dinner. Sometimes I feel like making something more in addition to roti and sabzi and that's when I make raita.
Raita is refereed to any yogurt based Indian dip which is usually seasoned and a lot of ingredients are added to it. You can make onion raita, mixed raita and so on. Even sweet versions are quite popular like this pineapple raita. I think why every one makes it so often in India is because a) it's a great side dish b) it's super simple to make c) it's healthy. So there, we have to many reasons to make this everyday!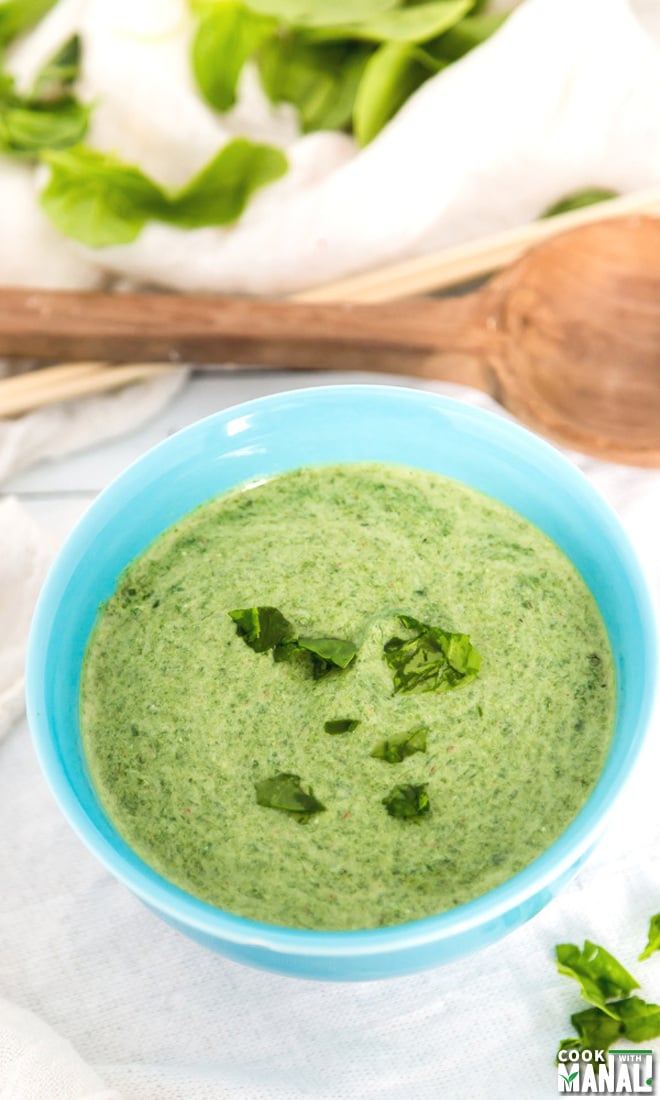 I like all types of raita, maybe because I love yogurt so there's no reason why I shouldn't like it but I have to confess my favorite is boondi raita and it's like the simplest raita you can make. Unfortunately I don't have the recipe for boondi raita on my blog, I never thought about clicking pictures because it's so damn simple. Boondi are deep fried puff balls made of chickpeas flour. You simply add them to yogurt, stir in some spices and serve. It's so easy and my absolute favorite but of course it's not very healthy. I mean boondi is deep fried so I need not say more. What is healthy though is this spinach raita or palak raita as we call it in Hindi!
By now you must have realized that I have quite a love affair with spinach. I have a lot of spinach recipes on my blog and be very sure that this number is going to only increase in the coming years. I love adding spinach to whatever I can and it also helps that tons of Indian recipes call for spinach 😀 This spinach raita is the perfect accompaniment to an Indian meal. Serve it along with roti and any sabzi like aloo gobi or paneer tikka masala.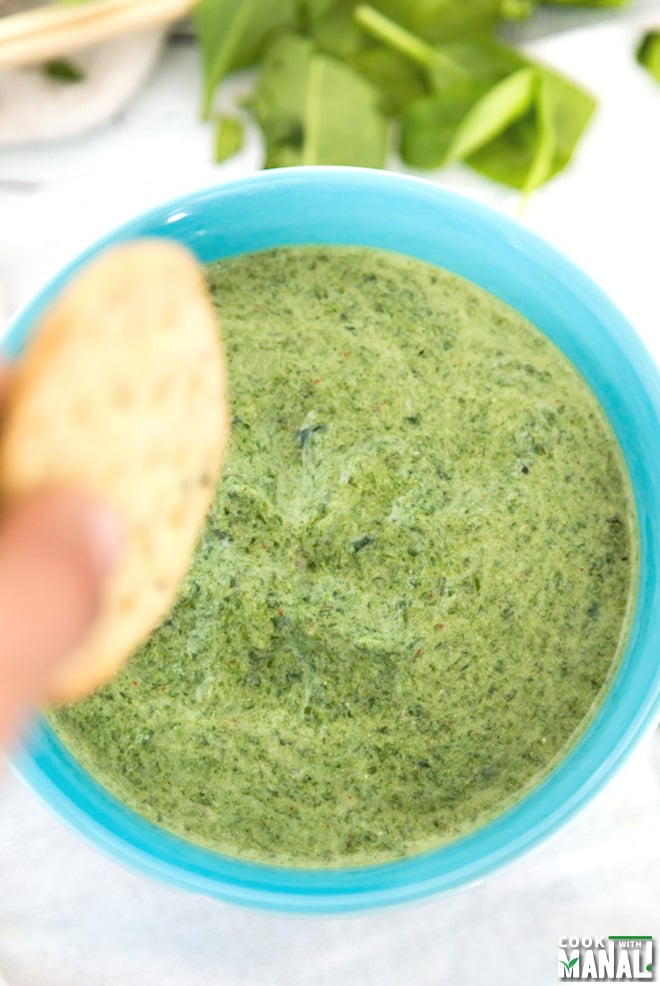 You can see from the pictures that I kept this spinach raita quite thick, now this is again a personal preference. Generally speaking, raita is usually on the thinner side because it's not a dip but rather an accompaniment to Indian meals. But somehow I like my spinach raita on the thicker side. You can adjust the consistency to preference.
Looking for more raita recipes? Check out these!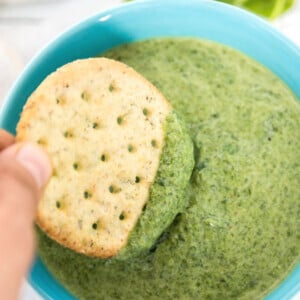 Healthy Spinach Raita is the perfect accompaniment to Indian meals.
Ingredients
250

grams

baby spinach

2

big garlic cloves

chopped

1

teaspoon

vegetable oil

½

teaspoon

cumin seeds

1

tablespoon

water

to blend
for the raita
1

cup

yogurt

⅓

cup

water or adjust to how thick or thin you want the consistency

¼

teaspoon

red chili powder

or adjust to taste

¼

teaspoon

cumin powder

⅓

teaspoon

black salt

kala namak

salt

to taste
Instructions
Wash the spinach leaves and set aside.

In a pan heat 1 teaspoon of oil. Once the oil is hot, add cumin seeds and let them crackle.

Add chopped garlic and saute for a minute or till garlic starts to turn light golden in color. Be careful not to burn it.

Add spinach leaves and cook till the leaves are wilted and there's no moisture left. Cook this for around 3-4 minutes or until the raw smell is gone.

Remove from heat, let the spinach cool down a bit and then blend to a fine paste by adding 1 tablespoon of water.

In a large bowl, whisk together yogurt, water, salt, red chili powder. cumin powder and black salt.

Add the spinach puree and mix.

Adjust the seasoning to taste and chill the raita in the refrigerator before serving.
Nutrition
Calories:
85
kcal
,
Carbohydrates:
7
g
,
Protein:
5
g
,
Fat:
4
g
,
Saturated Fat:
2
g
,
Cholesterol:
10
mg
,
Sodium:
367
mg
,
Potassium:
591
mg
,
Fiber:
1
g
,
Sugar:
4
g
,
Vitamin A:
7945
IU
,
Vitamin C:
24.4
mg
,
Calcium:
185
mg
,
Iron:
2.6
mg
Nutrition information is automatically calculated, so should only be used as an approximation.
Your feedback is valuable!
Please share your comments, ratings, and any suggestions or adaptations below to help us improve and make our recipes more successful.
 Spinach Raita