Vanilla Cupcakes With Buttercream Frosting
Feb 12, 2014, Updated May 07, 2023
So Valentine's Day is just around the corner and obviously that gives me a big reason to bake to my heart's content. Not that I need a reason to bake, but still if there's an occasion I get all the more excited to bake. So I made this simple vanilla cupcakes and topped them off with regular buttercream frosting. Nothing fancy, just regular tasty cupcakes!
Honestly speaking I'm not very fond of frosting, yes I do like to decorate cakes and cupcakes, but if you ask me to eat a cake, I would rather eat it minus the icing. I relish the texture and flavor of a cake more when it's not frosted. But of course if I'm baking a cake/cupcakes for special occasions then they cannot be complete without the frosting, my favorite is cream cheese, so yummy it is!
So let me talk about the flour and oil used in making these vanilla cupcakes.
Flour: I used cake flour in this recipe. Now cake flour has a lower protein content than regular flour and thus results in softer and crumbier cakes and cupcakes. However there are two things with cake flour, one it's not easily available everywhere and two it's more expensive. So you can very well use all purpose flour here, but the texture of the resulting cupcakes will definitely be different, just keep that in mind.
Oil: Canola oil was used in making these cupcakes, you can use vegetable oil or even light olive oil here. If you are not sure about using only oil for your cupcakes you can replace half of the oil with butter or use 100% butter. The reason I used oil was that it results in softer cupcakes which are also more moist.
For the frosting , I used 100% butter. Now, people use half shortening and half butter or 100% shortening for buttercream frosting. I hate the taste of shortening, I remember I once made buttercream using only shortening for a class that I took and me and my hubby didn't even touch the cake. The whole cake went into the dustbin! So I refrain from using it in my frosting but if you want you can do ahead and use shortening.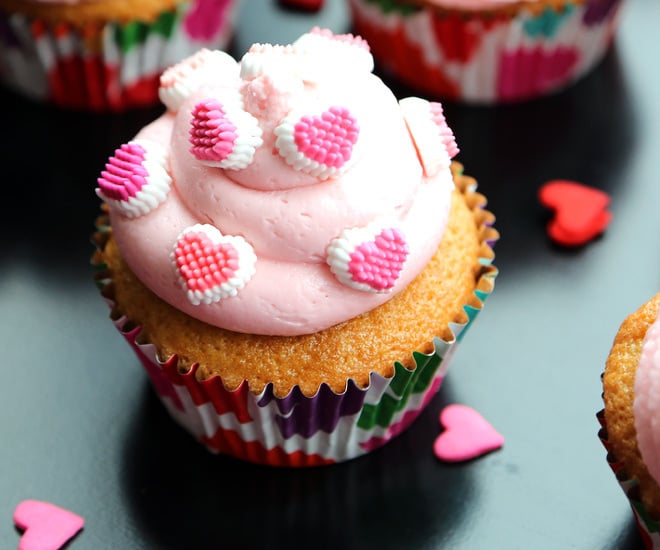 I colored my frosting pink after all it's valentine's day special!
Ingredients
For the vanilla cupcakes
Cake flour: 1 1/4 cups
Baking powder: 1 1/4 tsp
Baking soda: 1/2 tsp
Granulated white sugar: 3/4 cup
Salt: 1/4 tsp
Oil: 1/2 cup [I used canola oil, you can use vegetable oil and light olive oil too]
Vanilla: 2 tsp [use pure vanilla extract]
Eggs: 2 [at room temperature]
Buttermilk: 1/2 cup
For Buttercream frosting
Butter: 1 cup [2 sticks, unsalted, at room temperature]
Confectioners sugar: 3.5 cups, sifted
Vanilla extract: 2 tsp [use pure extract]
Almond extract: 1 tsp [use pure extract]
Whipping cream: 2-3 tbsp
Salt: 1/2 tsp
Food color:  light pink [optional]
Method
Vanilla Cupcakes
Preheat the oven to 350 F degrees. Line a muffin tray with cupcake liners. Set aside.
1. In a bowl sift together cake flour, baking powder, baking soda and salt. Set aside.
2. In the steel bowl of your stand mixer fitted with whisk attachment or using your hand mixer, whisk together the sugar and eggs.
3. Beat the mixture for 5-6 minutes till it becomes really pale in color. Also, when you drop the mixture , it should form a ribbon. That's when you know it's done. Add in the oil and vanilla and mix for another minute or so.
4. Start adding the flour and buttermilk into the egg-sugar mixture. Add the flour in 3 parts and milk in 2, starting and ending with the flour.
5. Mix till everything is well incorporated. The batter will be thin.
6. Pour the batter into cupcake liners, fill liners about 2/3 full. Bake the cupcakes for 13-15 minutes or till a toothpick inserted in the center comes out clean. Do not overbake the cupcakes.
7. Cook the cupcakes on wire rack.
8. Frost the cupcakes when completely cooled.
Vanilla Buttercream Frosting
1. In the steel bowl of your stand mixer fitted with paddle attachment or using your hand mixer, beat the room temperature butter till it turns pale and creamy, around 5-6 minutes.
2. Add 1 cup of confectioners sugar and beat the mixture at low speed till the sugar is well incorporated. Add in the vanilla and almond extract and mix.
3. Add the remaining confectioners sugar slowly, allowing it to mix well with the butter after each addition. Add the whipping cream, food color [if using] and mix. Beat till the frosting looks smooth.
Put the frosting into pastry bag and decorate the cupcakes!
Few points about the frosting.
* Adjust the consistency of the frosting according to your requirement. This was perfect for frosting cupcakes. If you want a thinner frosting [more spreadable], add more heavy cream/milk. If you want a thicker frosting, add more confectioners sugar.
* Use pure extracts to get the best flavor. I used vanilla and almond both because I like this combination, you can even add lemon extract here, tastes great.
* Taste your frosting, if it tastes too buttery/too sugary, you need to add more flavoring to it.
* Beat the butter at first till it turns pale, that's the first key step in getting the right frosting.
Recipe adapted from Glorious Treats.