Watermelon Jalapeño Limeade
Jun 01, 2016, Updated Jan 02, 2018
Refreshing Watermelon Limeade with a spicy kick!
Refreshing Watermelon Jalapeño Limeade – a perfect summer drink with a touch of spice!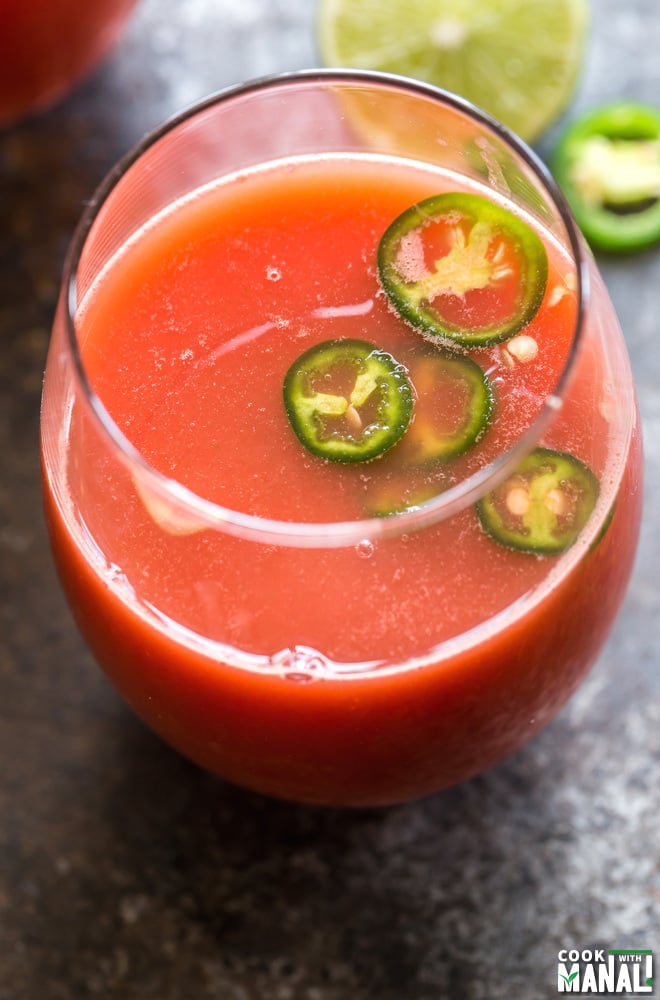 You guys already know how much my husband loves mangoes, like he is a mango fanatic and so obviously he's very happy that the mango season is here. Well I like mangoes too, but if you ask me which fruit I eat/love the most during summers, watermelon wins hands down! Nothing like fresh, juicy watermelon straight out of the refrigerator on a warm day. YUM!
We get through 2-3 watermelons per week in my house when they are in season. So it's like a summer ritual that we will buy watermelons every weekend. Last weekend we got 4 of them and while we of course ate most of it, I used 1 to make this Watermelon Jalapeño Limeade. This refreshing drink has fresh watermelon juice, fresh lime juice, mint and jalapeño for that extra kick.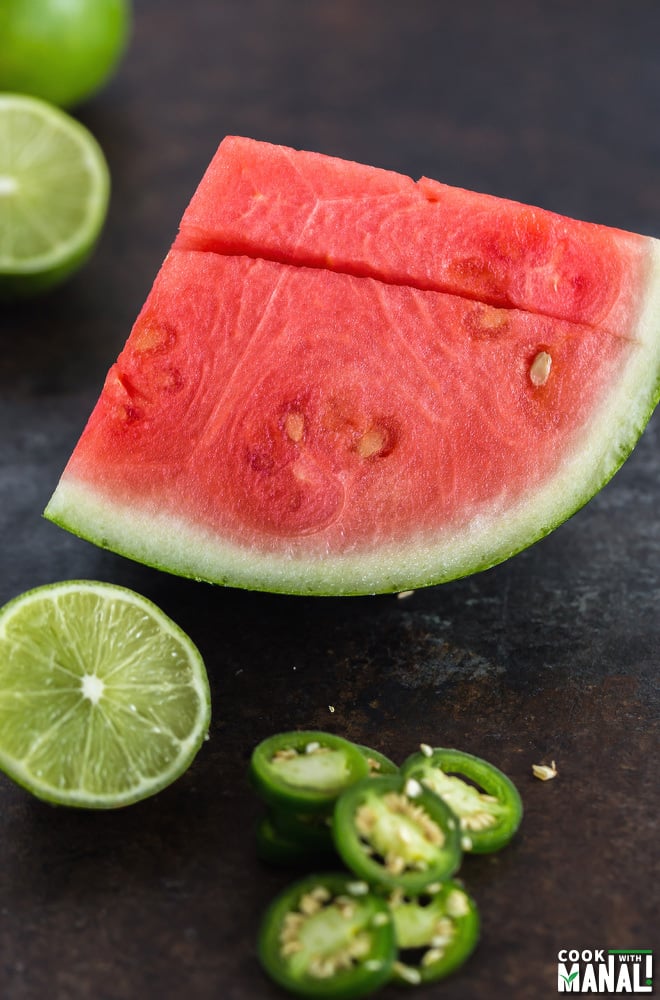 By the way, do you guys prefer lime over lemon? For me it's like I love both. They are irreplaceable. Places where I love lemon, I cannot substitute lime and vice versa. I will never add lemon to my guacamole, nope it doesn't work for me at all. However this is one recipe where you may use lemon if you don't have lime. Since we make a lot of lemonade with fruits anyway, the taste will be equally good. I used lime because a) I had lots of lime lying in my refrigerator and b) I'm on a lime kick lately and feel like adding it to everything I make!
You obviously don't need to do much to make this drink, it comes together super quickly. Cutting the watermelon probably takes the most time in this recipe. Once you have cut the watermelon, just mix up everything together in a blender (minus the jalapeños). Stir in the jalapeño at last and then keep the drink inside the refrigerator for a few hours before serving. I actually left it overnight and I have to say that the flavors were really stronger the next day. It was way more spicy when left overnight. So if you want the limeade to be little spicy, stir in the jalapeño and leave for few hours so that the spicy flavor really steeps in. Stir in some ice cubes and enjoy this Watermelon Jalapeño Limeade!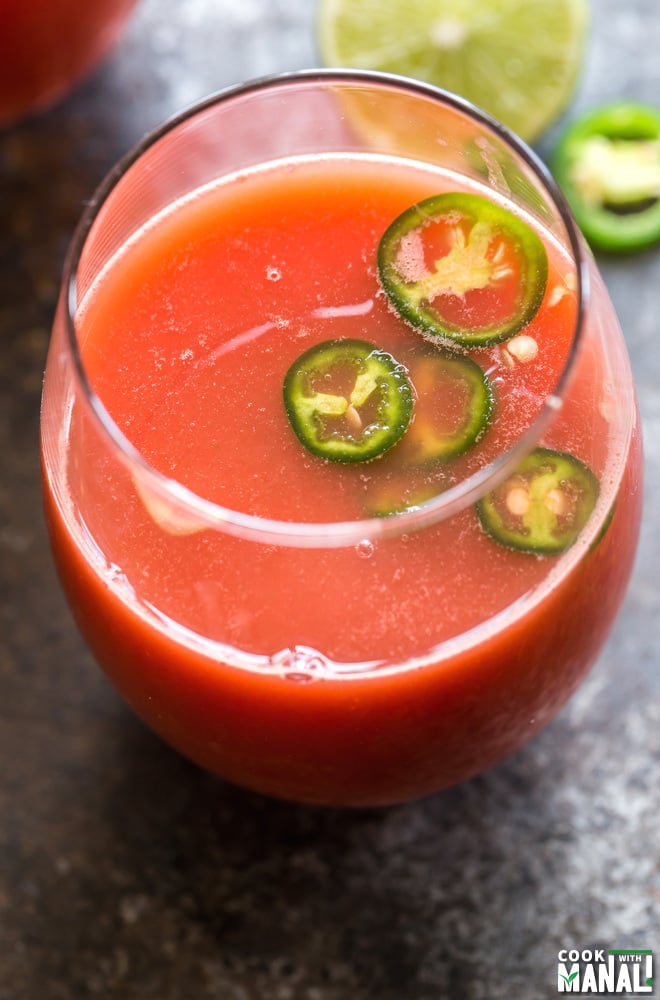 * You may add lemon in place of lime. It will then be Watermelon Jalapeño Lemonade!
* You may add an extra jalapeno if you want to really spice it up! Leave the jalapenos in the drink overnight for maximum flavor.
* This drink is naturally free of any refined sugar. The watermelons I used were very sweet so I didn't need to add anything. You may add sugar if your fruit isn't sweet enough.
Watermelon Jalapeño Limeade
Refreshing Watermelon Limeade with a spicy kick!
Instructions
Cut the watermelon and places the fresh chunks into the blender and blend until smooth.

Add sea salt, lime juice and mint leaves. Pulse to combine. Pour the limeade into a pitcher.

Stir in chopped jalapenos, ice cubes (if using) and let it sit in the refrigerator for few hours before serving.

Garnish with lime wedges and serve.
Nutrition
Calories:
4
kcal
,
Carbohydrates:
1
g
,
Sodium:
1
mg
,
Potassium:
28
mg
,
Vitamin A:
265
IU
,
Vitamin C:
7.1
mg
,
Calcium:
12
mg
,
Iron:
0.3
mg
Nutrition information is automatically calculated, so should only be used as an approximation.
Your feedback is valuable!
Please share your comments, ratings, and any suggestions or adaptations below to help us improve and make our recipes more successful.
Watermelon Jalapeño Limeade