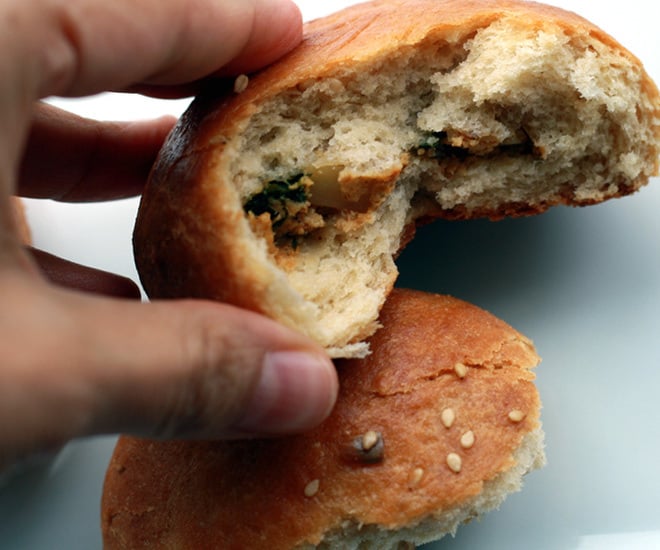 The best part about baking at home is that one can come up with healthier versions of things which aren't that healthy when purchased from the market. For example the buns which we buy from the grocery store are made using all purpose flour but when you bake at home you have the option to make them healthier. I have been thinking of making whole wheat buns for some time now and I finally got around making them.
Rather than making regular buns I stuffed them with some veggies. One can try all sort of stuffing here, I used onions, potato and paneer [Indian cottage chesse] but other veggies would taste great too. Also you can fill these buns with garbanzo beans or chickpeas, the options are endless.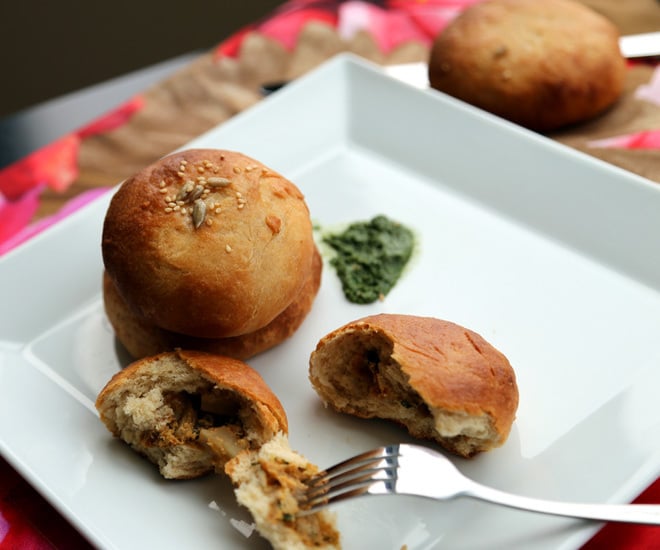 These spiced buns are also a great snack option when you want to munch on something healthy. Also a great way to make your kids eat the veggies!
Like with breads, use a good quality yeast for making buns too. I use instant yeast in my recipes directly, it saves time as I don't need to proof it but in case you use dry active yeast, proof it first by mixing it with warm water and some sugar. The yeast will take around 10 minutes to proof and it can then be added in the dough. But yeah you skip this step with instant yeast.
It's fine to use either warm milk or water in the recipe but if you want the buns to be really soft use milk. Water will work just fine but milk results in softer bread.
Again using egg is optional, it makes the buns softer and hence I use them in my recipe. If you don't eat eggs, simply skip and follow the rest of the recipe as it is.
Yield: 8 whole wheat veggie buns
Ingredients
For the buns
Whole Wheat Flour: 2 cups
Bread Flour: 1/2 cup [all purpose flour can also be used]
Milk/Water: 1 cup, warm [temperature around 110 F]
Instant Yeast: 1/2 tbsp
Sugar: 2 tbsp
Egg: 1, small
Salt: 1 tsp
Olive oil: 1 tbsp
Sesame seeds: 2 tsp + to sprinkle on top
Sunflower seeds: to sprinkle [optional]
Butter: melted, to brush on top of the buns
For the filling
Onion: 1, small, finely chopped
Potato: 1, diced into small cubes
Paneer:  1/2 cup, scrambled
Cumin seeds: 1/2 tsp
Coriander powder: 3/4 tsp
Red chilli powder: 1/4 tsp
Chaat masala: 1/4 tsp
Pav bhaji masala: 1/4 tsp [garam masala can also be used]
Paprika powder: 1/4 tsp [optional]
Salt: to taste
Oil: 1 tbsp
Coriander leaves: to garnish [finely chopped]
Steps
Making the filling
1. In a pan add oil, once hot add in the cumin seeds. When the seeds crackle, add in the chopped onions. Saute for 2 minutes on medium flame.
2. Add in the coriander powder, pav bhaji masala, red chilli powder, chaat masala, parprika powder. Roast the spices for a minute and then add the chopped potatoes and mix. Cover and cook the potatoes for 2-3 minutes. One can also use boiled potatoes here.
3. Once the potatoes are done, add the paneer and mix. Add in the salt and saute for a minute or two and switch off the flame. Garnish with coriander leaves. The filling is now ready, set aside and let it cool down to room temperature.

Making the buns
1. In a steel bowl of your stand mixer with paddle attachment, mix together whole wheat flour, bread flour, instant yeast, sugar, salt and oil.
2. Add egg and slowly start adding the warm milk/water so that it all starts coming together as a dough. Once the dough starts coming together, remove the paddle attachment and place the dough hook in stead. Let the dough hook knead the dough for 5 minutes till it becomes all smooth. Keep the speed of your mixer at 3-4. In case you are using hand mixer, mix in everything and then knead the dough with your hands till it's all smooth, around 10 minutes.
3. Once the dough is done, place it in a bowl and smear it with some oil. Cover with a plastic wrap and keep in a warm and enclosed space like an oven for 1 hour. You can preheat the oven to 200 F degree and then switch it off and then place the bowl inside for 1 hour. That's what I did and it worked well.

4. After an hour, the dough will rise, punch it with your hands and flatten it. Knead the dough for a minute using your hands or in the stand mixer.
5. Divide the dough into 8 parts, use a kitchen scale if you want the buns to be of equal size.
6. Roll the balls and using your thumb make a dent in the center for the filling.

7. Take 1-2 tsp of the filling and put in the center of the dough.
8. Pinch the dough from all sides to seal the filling.
9. Roll the dough in between your hands and make it as smooth as possible.
Preheat the oven to 375 F degree.
10. Apply butter/oil on the buns and sprinkle sesame and sunflower seeds on top. Cover them with a kitchen towel or plastic wrap and place them again in a warm and enclosed space for around 20 minutes.
11. After 20 minutes, the buns would rise though not double in size.
12. Place the buns in a baking tray and bake at 375 F degrees for 15-17 minutes. Bake till they appear golden brown in color. The buns when done will sound hollow when tapped at the bottom.
Apply some more butter on top of the buns before serving.
Enjoy these veggie buns with a cup of tea!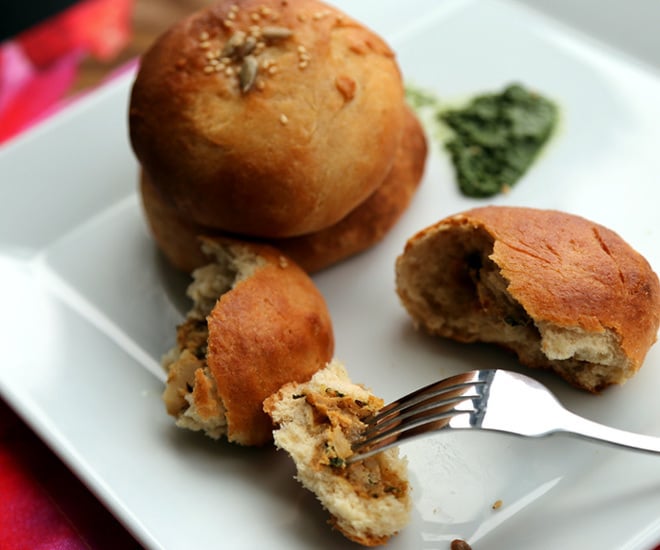 * You can use 100% bread flour or all purpose flour in stead of using a mix of whole wheat and bread flour.
* Use a good quality yeast, preferably instant yeast. If you are using dry active yeast don't forget to proof it.
* Get creative with the filling, there are way too many veggies that can be used here.
* Use milk for softer buns.
* Make sure that water/milk is not hot. It should just be warm enough.