Zesty Hummus
Jan 21, 2016, Updated Jan 02, 2018
This is only hummus recipe you will ever need! Flavorful Zesty Hummus makes a great dip and is also great on your sandwiches and wraps!
The best hummus ever! This recipe is just what you need to make the most creamy and smooth hummus with just the right amount of spices. Enjoy with pita bread or tortilla chips!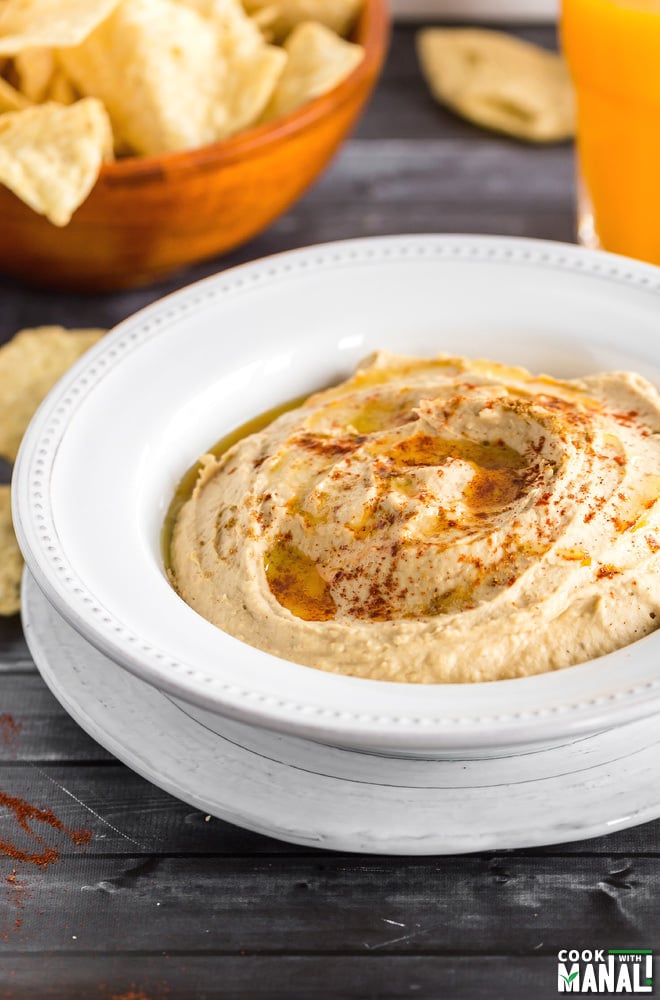 I am really making an effort to eat better these days. My workouts have been so messed up off late and that along with my eating habits is not doing me any good. But since this is the new year, I am trying to eat healthier and exercise regularly. I struggle most when it comes to snacking. Seriously when I am hungry in between my meals, I always want to grab a cookie or a chocolate (or both will do!) But recently I have found a new favorite – hummus!
Do you like it? I love it and these days I snack on hummus with carrot and celery sticks pretty regularly. Hummus is not something I grew up eating, but over the years it has become my top favorite. I mean what's not to love and it's so versatile. You can eat hummus with chips, pita, spread on your sandwich, wraps and so much more! It's not hard to guess why it's everyone's favorite dip to snack on. And if you love hummus as much as I do, then you gotta make my zesty hummus!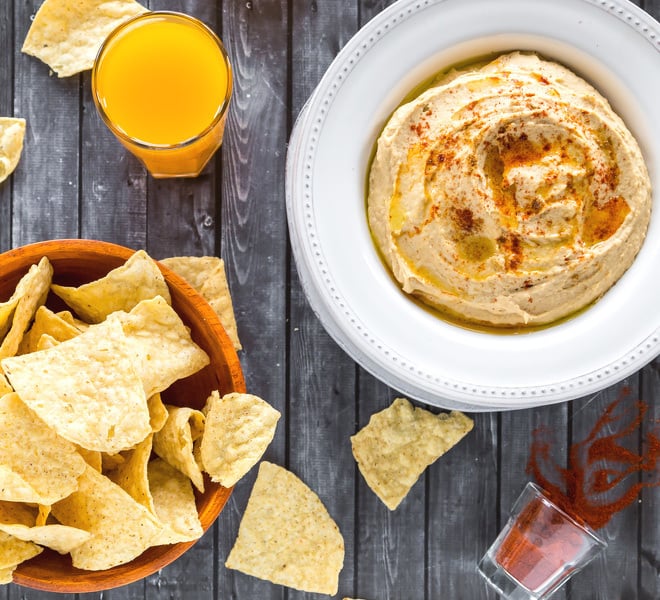 What makes this recipe for zesty hummus really amazing
1. Using raw chickpeas: I have never used canned chickpeas, okay maybe I have used it once in my entire life. I don't think we even get canned chickpeas in India. We only get the raw ones, which are soaked and then cooked the next day. That's what I saw my mom do her entire life and that has stayed with me. And trust me it makes a lot of difference to the final texture of hummus. Soak raw chickpeas and then cook them with little baking soda [1/4 teaspoon] till they are soft and nice. I used my pressure cooker to cook overnight soaked chickpeas and it took only 15 minutes! Once the chickpeas are cooked, let them cool down and then use in the recipe.
2. Using freshly ground cumin: this is so easy to do and we always do this at home. Pan roast cumin seeds till fragrant and then using a spice grinder, grind to a powder. Freshly ground cumin adds a lot of flavor to to your hummus.
3. Using lots of lemon juice: I go overboard with lemon juice in my hummus and recommend you do the same!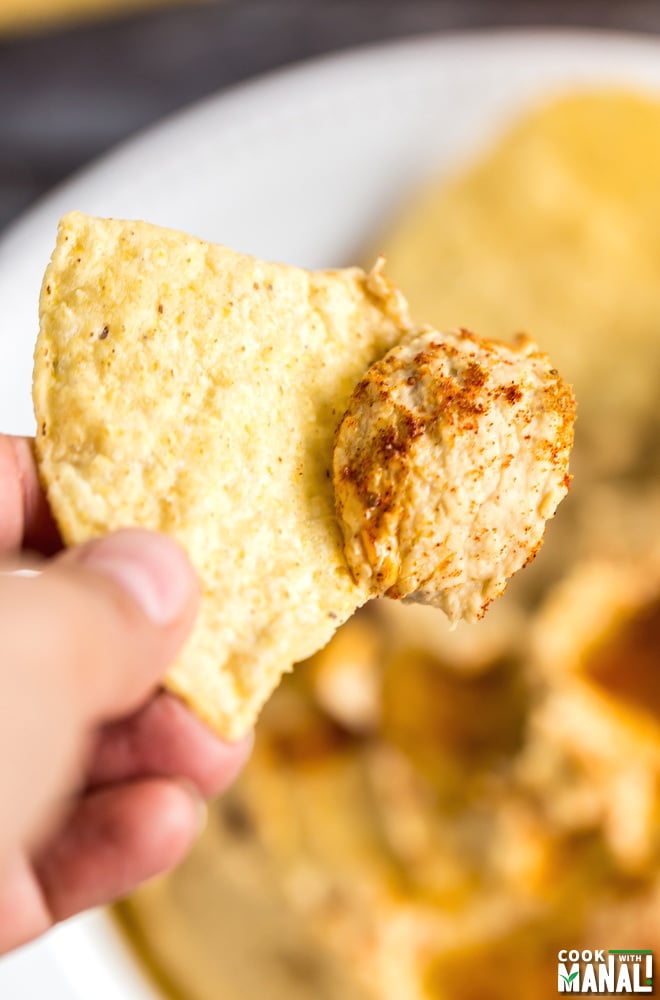 * The hummus should stay good for 5-7 days. I honestly finish it way before!
* You can use canned chickpeas if you want but I insist on using raw chickpeas.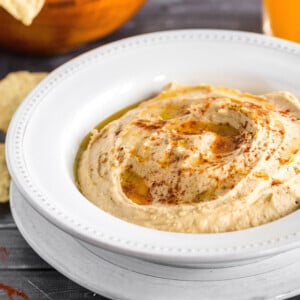 This is only hummus recipe you will ever need! Flavorful Zesty Hummus makes a great dip and is also great on your sandwiches and wraps!
Ingredients
2

cups

cooked chickpeas

1/4

cup

tahini paste

3-4

tablespoons

lemon juice [juice of 1 big lemon]

1/2

teaspoon

smoked paprika

1/4

teaspoon

cayenne + more to sprinkle on top

3-4

garlic cloves

3.5

tablespoons

olive oil

divided

salt

to taste

black pepper powder

to taste
Instructions
To a food processor add cooked chickpeas, tahini paste, cumin powder, smoked paprika, cayenne, garlic cloves, salt and pepper.

Blend till mixture becomes smooth.

With the food processor running add 3 tablespoons of olive oil and lemon juice.

Blend till smooth.

Transfer hummus to a serving plate and drizzle remaining 1/2 tablespoon of olive oil and cumin powder and cayenne before serving.
Nutrition
Calories:
679
kcal
,
Carbohydrates:
55
g
,
Protein:
20
g
,
Fat:
45
g
,
Saturated Fat:
6
g
,
Sodium:
25
mg
,
Potassium:
656
mg
,
Fiber:
14
g
,
Sugar:
8
g
,
Vitamin A:
395
IU
,
Vitamin C:
13.5
mg
,
Calcium:
138
mg
,
Iron:
6.8
mg
Nutrition information is automatically calculated, so should only be used as an approximation.
Your feedback is valuable!
Please share your comments, ratings, and any suggestions or adaptations below to help us improve and make our recipes more successful.
Zesty Hummus