Apple Pecan Salad
Oct 08, 2013, Updated Jul 03, 2015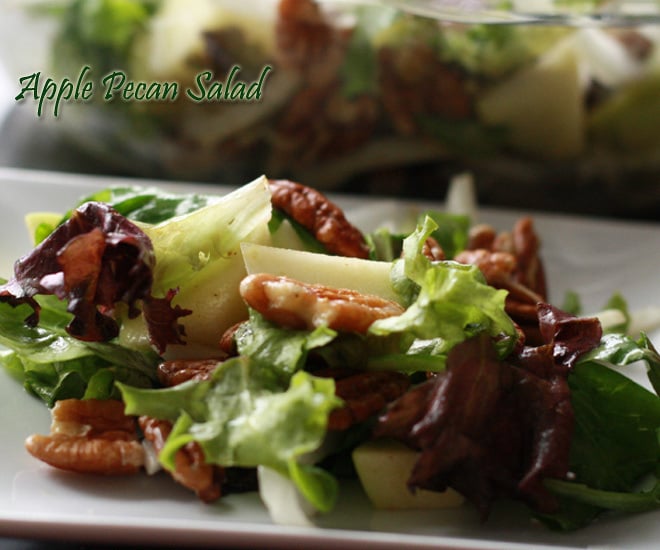 I remember eating an apple salad at The Cheesecake Factory for the very first time and I loved it so much that now I have to order it whenever I visit the restaurant. I love the crunchiness of apples in salad. The added pecans make it even more crunchier.
I am a fan of honey mustard dressing and that's why I used it in this recipe. You can use any dressing of your choice. Another thing which can be added here is cheese, I know people in US love their salads with mayo and cheese so if you love them too go ahead and use them for this salad too!
Apple Pecan salad is the easiest salad to make, takes less than 10 minutes. All you do is chop some apples and onions, throw everything in together and you're done.
Here's the recipe.
Ingredients
Granny Smith Apple: 1, diced
Spring Greens: 1 cup
Onions: 1/2 cup, thinly sliced
Pecan Halves: 1/2 cup
Dressing
Chaat masala: 1/4th tsp
Salt & Pepper: To Taste
Lemon Juice: 1tsp
Honey Mustard Dressing: 1-2 tbsp
Method
1. Dice the apple, if you want you can remove the skin of the apple.
2. Thinly slice the onions and keep aside.
3. In a bowl mix together the apple, onions, pecans and spring greens.
4. Now sprinkle some chaat masala, pepper, lemon juice, honey mustard dressing and salt to taste.
5. Toss everything together and enjoy the salad.