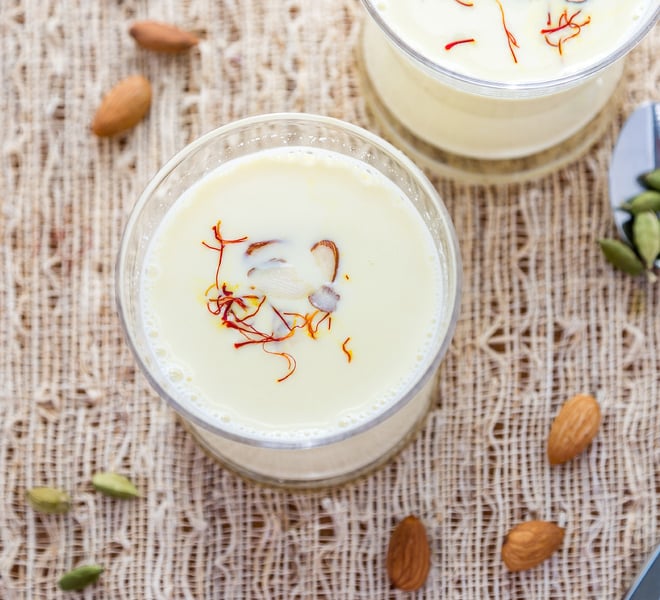 Badam or Almond milk is a popular Indian drink where almonds are blended with milk and flavored with saffron and cardamom. In all honesty, it's a very delicious drink but at the same time it's also very rich both in texture and also in calories. I mean it's nearly impossible for me to drink a big glass even though I really like badam milk. The drink is always served during weddings, special occasions, parties etc. so yeah it's not something that people in India drink every day.
The demand for most of the sweets (other than baking) that I attempt to make comes from my husband. He has a sweet tooth and this flavored milk is one of his favorites. He would often crib to me as to how he misses the delicious badam milk which we get in India and none of the restaurants here know how to make it. So one fine day I decided to give this a try so that hubby doesn't miss the Indian badam milk any more. And I was more than happy with the result. He had a big smile of his face the moment he took a sip and he said "this is even better than what we get at home". That made all the effort worth it! : ) The flip side though? now he wants it all the time, ha ha!
Method 
To make the recipe we first soak the almonds in water for 2-3 hours. It then becomes very easy to remove their skin, just pinch the almond from one side and the skin will come off.  Mix the silvered almonds with 1/4 cup milk and blend till to a paste.
Mix saffron strands with 1 tablespoon of milk and set aside.
Now heat the remaining milk, once it is hot add the almond paste. Once the milk comes to a boil, lower the flame and keep stirring for 15-20 minutes or till the raw smell goes away and the milk thickens slightly. Then add the sugar and mix until dissolved.
Add the soaked saffron strands to the almond milk and finally add the crushed cardamom seeds and switch off the flame. Serve hot or pour into glasses and chill in the refrigerator before serving.
I personally love cold badam milk, tastes so good.
*Do not use cardamom powder that you get in the Indian store. Use the real green cardamom seeds, just crush them using a mortar & pestle and add to the milk. Believe me, it makes all the difference. I have tried both and the powder is no match to the real seeds.
* Please use whole milk for best results and taste.
* There will be some almond pieces in the milk, if you do not want to bite into them while drinking the milk simply strain and serve. I did not strain the milk since I love the little almond pieces in the milk.
Badam Milk - Almond Saffron Milk
Indian almond milk flavored with cardamom & saffron - tastes great when chilled!
Ingredients
1

litre milk

25

almonds

5-6

green cardamom

6-7

tablespoon

sugar or to taste

generous pinch saffron

, dissolved in 1 tablespoon milk

¼

teaspoon

rose water

, optional
Instructions
Soak almonds in a cup of water for 2 hours.

After 2 hours, remove their skin and set aside.

Soak saffron strands in a tablespoon of milk and set aside.

Blend almonds with 1/4 cup of milk. The mixture will have a grainy consistency.

Heat the remaining milk and add the badam mixture to it.

In the meanwhile peel the cardamoms and crush the seeds using a mortar and pestle. Set aside.

Once the milk boils, reduce the flame and keep stirring for around 15-20 minutes till the milk thickens slightly.

Add sugar, saffron and mix.

Finally add the crushed cardamom seeds, rose water (if using) and switch off the flame.

Serve hot or pour in glasses and chill before serving. [I prefer cold badam milk]
Nutrition Facts
Badam Milk - Almond Saffron Milk
Amount Per Serving
Calories 151
Calories from Fat 36
% Daily Value*
Total Fat 4g 6%
Sodium 1mg 0%
Potassium 96mg 3%
Total Carbohydrates 28g 9%
Protein 2g 4%
* Percent Daily Values are based on a 2000 calorie diet.