Kick start your mornings with this Berry Oat Smoothie. It's super filling, nutritious and good for you!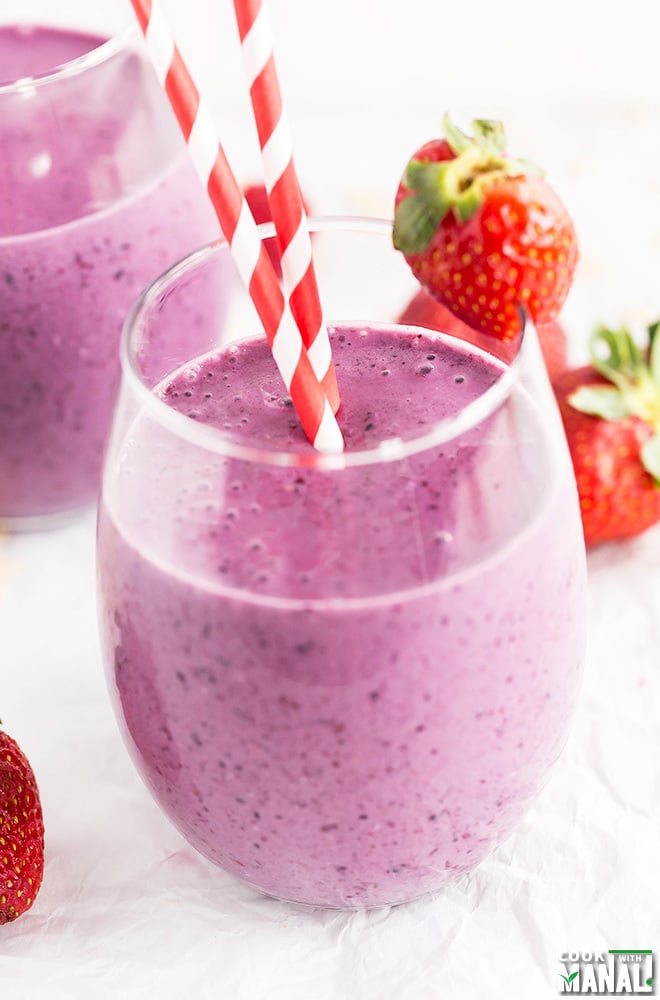 So I realized that I don't have too many smoothie recipes on the blog! In fact this is only the 2nd smoothie recipe that I am sharing with you guys! How did that happen? I really don't know. I think it has to do with the fact that  a) my husband isn't very fond of smoothies, not of any kind [except mango milkshake but that isn't really a smoothie!!] so I don't really make it every other day and b) and when I make them, I always forget to click picture or take notes.
But seriously I will try to share them more often because they are so easy to make and also everyone needs a nice filling drink to kick start their mornings. If you ask me, a glass of smoothie is probably the best way to start your day. You only need like 5 minutes to make it and it keeps you full for hours, especially when there are oats involved like in this Berry Oat Smoothie.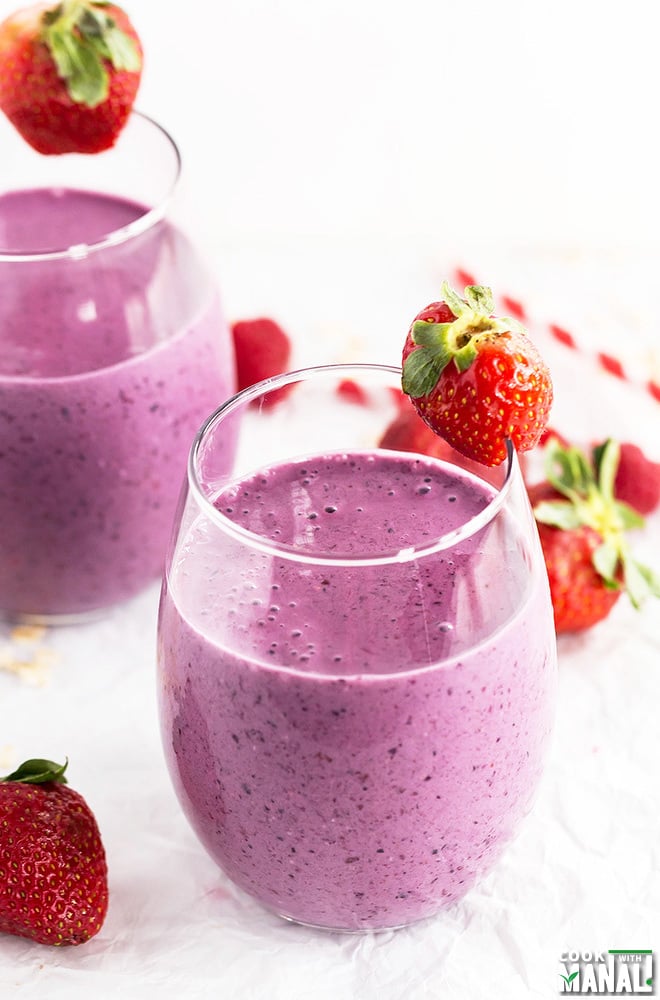 The first time I heard of oats in a smoothie, I was like "hmm, that's weird! why would anyone add oats in a smoothie, how would it taste?". You actually need to make one to get answers to all those questions and that' what I did. Adding oats to your smoothie is a very good idea because it not only adds to the nutritional value, but also makes it more filling. It also gives the smoothie a nice texture, which I really liked. So it's a win-win situation!
This berry oat smoothie is one of my favorite oat based smoothie. It tastes amazing and comes together in 5-10 minutes. How's that for a nice breakfast? I used a frozen banana to make the smoothie creamier. If you don't like banana flavor, you may skip it. Frozen bananas are really the best to give smoothies that nice thick texture. So whenever you have those super ripe bananas, never throw them. Either bake with them or freeze them and use in smoothies.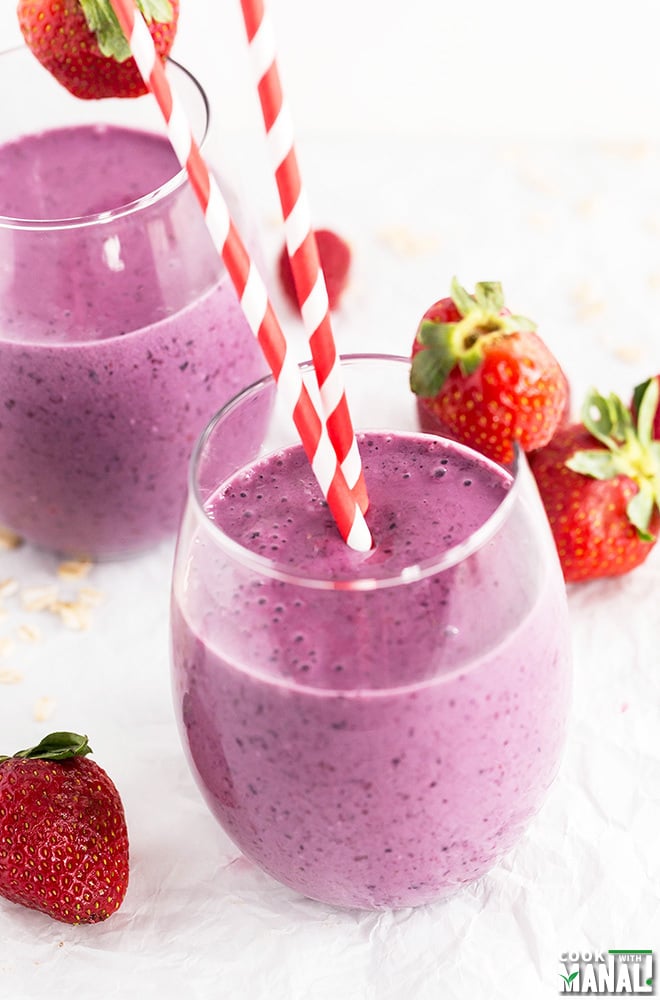 * You may use fresh berries here but again just like frozen banana, frozen berries make the smoothie creamier too. I used a mix of frozen strawberries, raspberries and blueberries.
Berry Oat Smoothie
A nutritious and filling smoothie to start your day! This Berry Oat Smoothie is nutritious and keeps you full for hours!
Ingredients
1.25

cups

frozen berries

I used a mix of strawberries, raspberries and blueberries

1.5

cups

milk

1/2

cup

rolled oats

1

frozen banana

2-3

teaspoons

maple syrup

1/4

cup

water

1/2

teaspoon

vanilla extract
Instructions
Pulse oats in a food processor.

Transfer the pulse oats along with all other ingredients to a blender.

Blend till everything is well combined and smooth.

Pour the Berry Oat Smoothie into glasses and enjoy!
Nutrition
Calories:
312
kcal
Carbohydrates:
52
g
Protein:
9
g
Fat:
8
g
Saturated Fat:
3
g
Cholesterol:
18
mg
Sodium:
83
mg
Potassium:
578
mg
Fiber:
6
g
Sugar:
29
g
Vitamin A:
380
IU
Vitamin C:
7.6
mg
Calcium:
233
mg
Iron:
1.2
mg
Berry Oat Smoothie