Blueberry Chutney with Almonds
Nov 12, 2015, Updated Apr 22, 2018
This post is sponsored by The Blueberry Council. All opinions are my own.
Blueberry Chutney flavored with garam masala, cayenne pepper and almonds will be the perfect accompaniment to your Thanksgiving dishes. Enjoy it as such or over turkey, sandwiches and much more!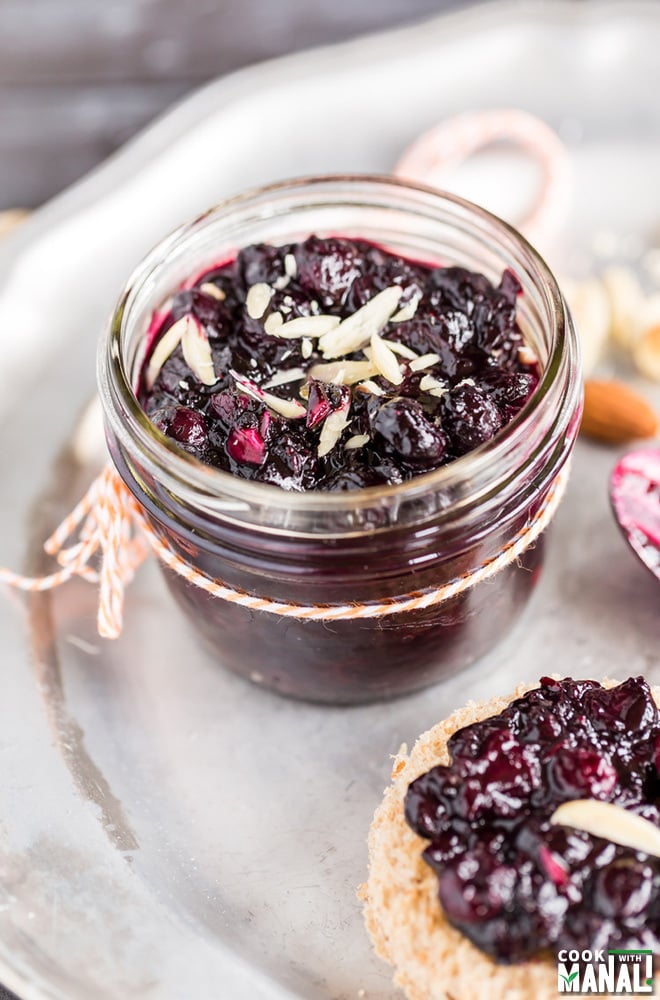 It has suddenly become so cold, like I don't even know what happens to the weather as soon as the daylight saving ends. As I am writing this post, it's 42 degrees outside. I mean that's so cold and it's only November right now! I really don't like when it starts to get cold, it just makes everything tough. Like getting up in the morning becomes so tough and getting out of the comforter even tougher! The only thing that gets me through this time is of course hot chocolate ❤ and lots of baking and cooking. Isn't cooking the most fun part about the holidays?
Which reminds me that Thanksgiving is less than 20 days away. What are you guys planning to make this year? If you are up for a little change, then I have the most perfect recipe for you today – my extremely flavorful Blueberry Chutney with Almonds. So so good you guys!
This chutney is one of my favorite recipes that I have made this fall. Sometimes a little change, a little twist to your recipes really make a huge difference. And that's exactly what adding a handful of blueberries does to this chutney. I absolutely adore blueberries and while they are great in desserts, they taste equally amazing in savory recipes too.
Did you know that blueberries are available year-around in the frozen and fresh produce sections? Adding blueberries to your holiday cocktails, stuffing, sauces can make a big difference in flavor, making the season just a little merrier. If you happen to make this chutney for your Thanksgiving dinner, I bet your guests will think you spent a lot of time in the kitchen, when in reality, adding blueberries is simple.
To make this chutney is really easy. You have to heat the oil, add the seasoning and then add the onion and the ginger. Once that is cooked, add the frozen blueberries. And the apple juice, balsamic vinegar, white vinegar and all the spices. After adding the salt and brown sugar , you have to let the chutney cook uncovered on medium-low heat for 25-30 minutes. The chutney is done when it has thickened but still has some liquid. And you finally top the chutney with some almonds. And that's it your delicious chutney is ready to be enjoyed with just over anything and everything!
This blueberry chutney  flavored with garam masala, cayenne pepper and spices like fennel and mustard seeds will be a great addition to your Thanksgiving menu. You can put it over your sandwich, crepes, pancakes, granola, parfaits or eat it as such. Your taste buds will thank you for this, trust me!
The complete recipe for this Blueberry Chutney with detailed instructions can be found on the Blueberry Council website.
And don't forget to enter the U.S. Blueberry Council's sweepstakes here, for a chance to win $500 or a weekly blueberry gift bag.
Blueberry Chutney with Almonds