Broccoli Sriracha Omelette
Mar 28, 2015, Updated Jan 02, 2018
Broccoli Sriracha Omelette is the perfect breakfast to start your day!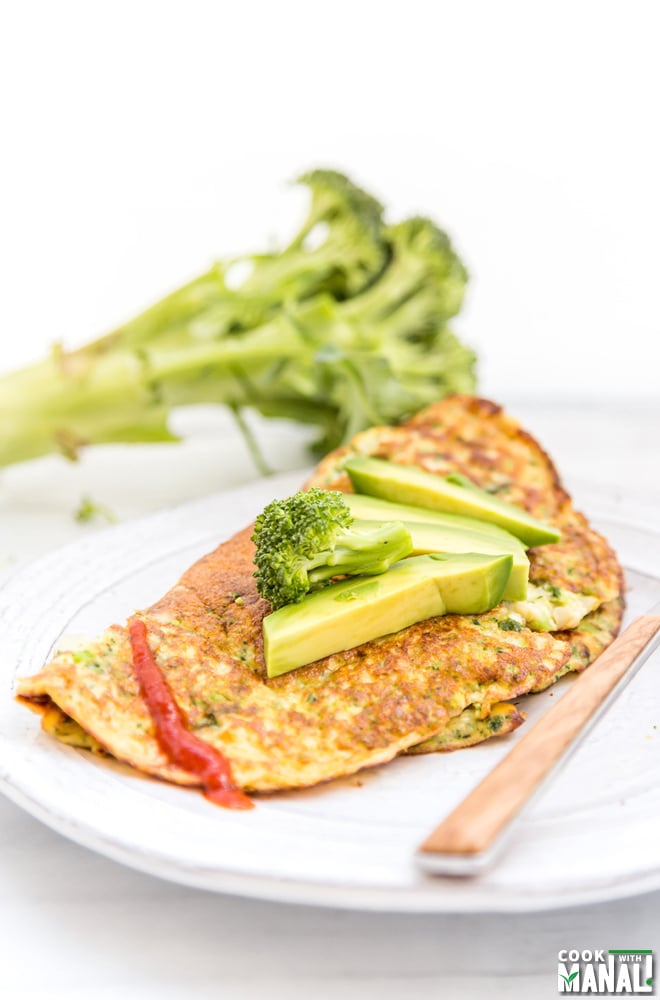 What do you think people around the world eat for breakfast? I mean the most common stuff? Cereals, toast, eggs are few things which come to my mind immediately. These are universally popular, of course it helps that they are all super simple to make with minimal prep work. I do eat cereals and toasts on a regular basis especially on days when I get up late and have no time to prepare parathas or other Indian breakfast. But if there's one thing I do not make often, it has to be eggs. Husband is not too fond of eggs, I mean he is okay with them in baked goods, he would even eat hard boiled eggs but omelettes? He hates the smell so I make them only when I am alone at home and have to make something quick for breakfast or lunch.
Omelettes are easy to make, healthy and also very versatile. Since I love my veggies, I like my omelettes loaded with all veggies possible. Spinach, onions, mushrooms, you name it and I would want it in my omelette. The latest veggie that I added to my omelette is the wonderful broccoli in this broccoli sriracha omelette.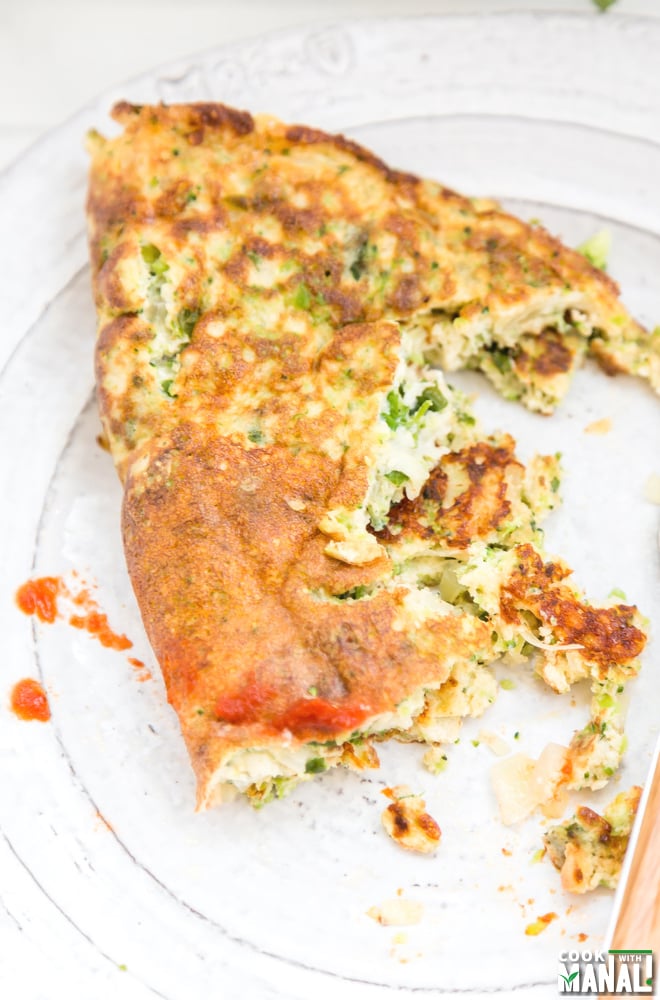 It's so funny that I tasted sriracha so late in my life. I don't know why am I always the last one to catch up on the trend, anyway better late than never I guess? Sriracha has become quite a craze in US, in fact you now get small sriracha bottles as keychains so that you always have access to the hot sauce even if you are on the move. That's some level of craze alright!
To make this omelette is super simple, mix all the ingredients together till well combined and then pour the mixture over hot pan. Add in some cheese if you like and then cook the omelette till well done. Here I would like to mention that in India we generally eat "well done" omelettes, we cook them really long if you compare them to American omelettes. So cook it according to your preference.
This broccoli sriracha omelette is full of flavors and very easy to make. So next time you feel like eating something delicious and you don't really have a lot of time to cook, you know what to make!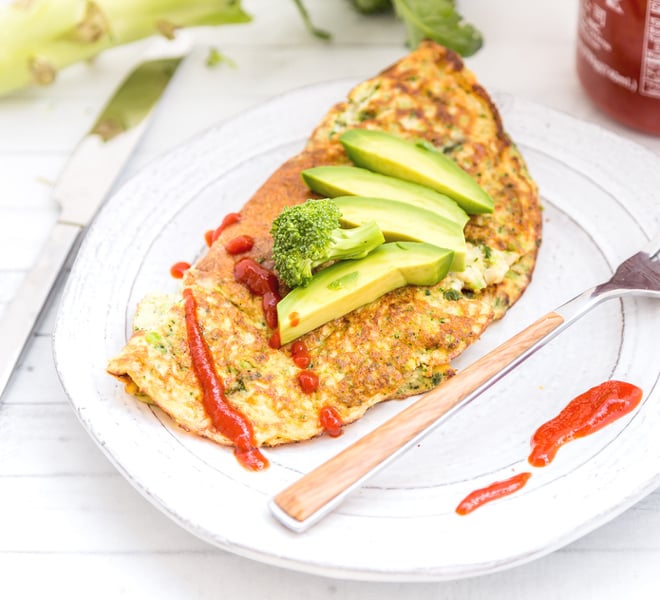 * You can adjust the quantity of sriracha sauce to taste.
Broccoli Sriracha Omelette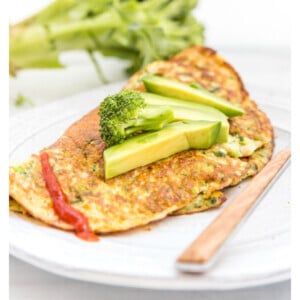 Broccoli Sriracha Omelette is the perfect breakfast to start your day!
Ingredients
2

eggs

large

3

tablespoons

broccoli

finely chopped in food processor

2.5

tablespoons

onion

finely chopped

1

tablespoon

sour cream

¾

teaspoon

sriracha sauce or to taste

1

tablespoon

cilantro

finely chopped

2

teaspoons

milk

1-2

teaspoons

oil or butter

2-3

tablespoons

shredded cheese

pick your choice of cheese - i used mozarella

pinch

of white pepper

salt

to taste

pepper

to taste
Instructions
Chop broccoli florets very fine using your food processor. Set aside.

In a bowl, break 2 eggs and then add finely chopped broccoli, onion, cilantro and sour cream.

Add sriracha sauce, milk, white pepper and salt & black pepper to taste.

Whisk the eggs mixture till everything is well combined.

Heat oil or butter in a pan on medium heat.

Once butter is hot & melted, pour the egg mixture on the pan and swirl the pan around so that omelette covers the whole pan.

Cook for 2-3 minutes, add shredded mozarella cheese on top.

Now flip the omelette to cook the other side for another 2-3 minutes.

Transfer omelette to a serving plate and enjoy. You can additionally drizzle some more sriracha on the omelette if you want to.
Nutrition
Calories:
304
kcal
,
Carbohydrates:
7
g
,
Protein:
19
g
,
Fat:
21
g
,
Saturated Fat:
8
g
,
Cholesterol:
357
mg
,
Sodium:
419
mg
,
Potassium:
298
mg
,
Fiber:
1
g
,
Sugar:
3
g
,
Vitamin A:
1025
IU
,
Vitamin C:
43.6
mg
,
Calcium:
244
mg
,
Iron:
1.9
mg
Nutrition information is automatically calculated, so should only be used as an approximation.
Your feedback is valuable!
Please share your comments, ratings, and any suggestions or adaptations below to help us improve and make our recipes more successful.
 Broccoli Sriracha Omelette