Cookbook Announcement!
Jan 18, 2018, Updated Apr 28, 2018
Hey guys!
I have been hinting on sharing some big news on the blog for the last few weeks. I am so excited to be finally sharing the news with you guys!
Wow, I never thought I'd be writing this post one day.
You guys I am writing a cookbook! *insert faint emoji*.
Never in my weirdest dream had I imagined being a cookbook author! It was never something I even thought about. But life has its own strange way of doing things. I got this cookbook deal in summer of 2017. I still remember it was one hot day in India, mom was in the ICU, I was in another room in the hospital, unable to sleep and at around 2 am I saw this email from the publishing company.
My first reaction was – this is a joke right? But after few minutes it hit me that it was real. I was humbled and so thrilled but at the same time I wasn't sure if I could do it. As you guys know, I was travelling between Delhi-Seattle every month during those days and with mom's health, I didn't think I could manage.
I remember telling this to mom first thing in the morning. She was so weak, in the ICU but still she had a big smile listening to the news. When I hugged her for the last time in June, she told me to go back and do the book.
Today I just want to say that I did it mumma! She was always so proud of my blog and I hope whenever she is, this book would make her proud. I never thought I would be able to write a book during the toughest phase of my life, right after losing her but her blessings kept me going. Also when you have an incredible husband like Sarvesh things become a little easier to handle.
There were weeks where I couldn't get any work done just because I would just sit and cry the entire day. But the next day, I would get up, wipe my tears and work for 12 hours non-stop.
And that's how I was able to finish the first draft. Yeah, the first draft of the manuscript has already been submitted, I am working on finalizing it now and also working on the pictures. There are way too many to edit!
It's been crazy amount of work and innumerable grocery trips! Every weekend Sarvesh would prepare the timetable, grocery list so that I could work on the recipes throughout the week.
This is the reason that I haven't been that regular on the blog or on the social media. I thought I could manage both but towards the end, it got really crazy with all the recipe testing and photography and so I had to give my blog a little break. Let's talk a bit about the book.
What is the book about?
Its about Vegetarian & Vegan Indian Food made in the Instant Pot! You guys know I love my Instant Pot and I also know that you guys love all the Instant Pot recipes that I share so it just made sense for me to write a book on this topic. Here are some of the chapters in the book-
Favorite Indian Take Outs
Indian Street Food
Lentils & Beans
Hearty Meals
& of course Desserts!
There are also short chapters on Indian spices, pantry essentials and basics of Instant Pot!
Here's a little sneak peak only for you guys 🙂
Paneer Tikka Masala
Eggless Tutti Frutti Cake
How many recipes are there in the book?
There are 75 recipes in the book, over 95% of them are new recipes which I have never shared on the blog before! Other than the 75 recipes, there are also few other recipes which aren't made in the Instant Pot but are an essential part of Indian cuisine like Cilantro Mint Yogurt Chutney!
All recipes have measurements in cups and grams. Each recipe is accompanied with a picture. So yeah, there are more than 75 pictures in the book!
When will the book get released?
The book will release in fall of 2018. I can't wait for you guys to see it!
Spinach Dal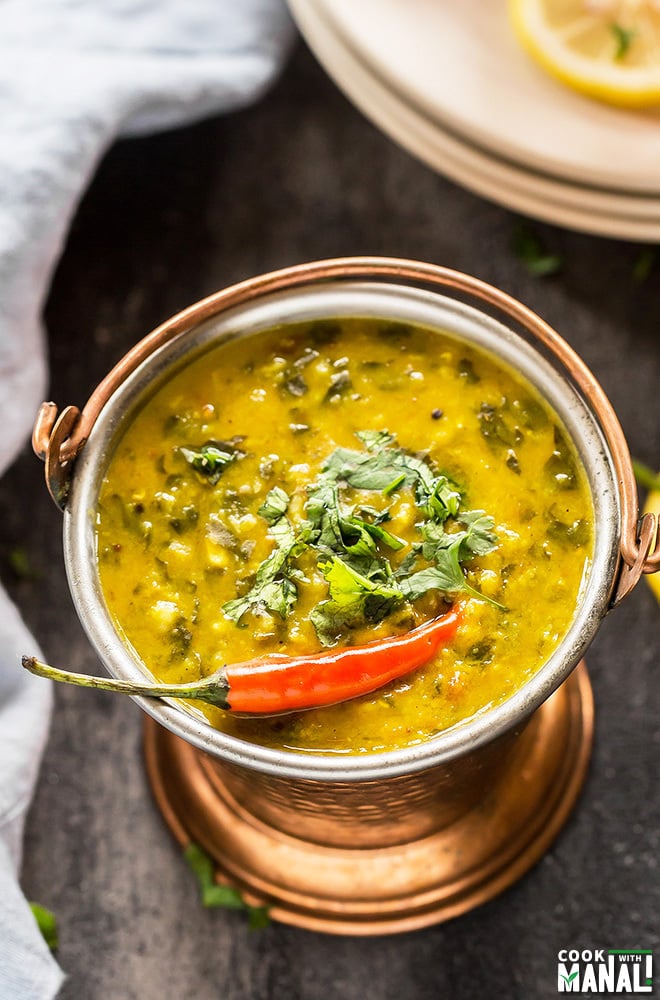 Where will you be able to buy the book?
Anywhere where books are sold – Amazon, Barnes & Nobles, IndieBound, Books-a-Million!
I want to thank all of you for the constant support and encouragement!
This book exists because of the blog and this blog exists because of you guys. Without you, my readers this would have never been possible. It still feels like a dream! Thank you all so much! I hope the books lives up to your expectations and helps you in making delicious Vegetarian/Vegan Indian Food in your Instant Pot!