Rotimatic Review + Video
Feb 16, 2017, Updated Jul 23, 2018
I am really excited for today's review about Rotimatic - a machine that makes roti in just 90 seconds. Read about my Rotimatic Review and experience here.
My Rotimatic Review – world's first robot for fresh rotis!

 
Hello everyone! I am really excited for today's post and this time I am not excited for a recipe rather the excitement is for a product called Rotimatic. If you are an Indian living outside India, I am pretty sure you must have heard about this robot machine which makes rotis by itself!
For my non-Indian readers, roti is a whole wheat flatbread which is made pretty much everyday in Indian households across the country. We eat it with dal, curries and all kinds of sabzis. I grew up eating roti everyday for lunch and dinner, I think the only time mom did not make it was when we ate out. Other than that we ate roti every single day of the year!
My Life Before Rotimatic
Roti is made using only 2 ingredients – water and atta (durum whole wheat flour). Adding oil is optional but a lot of people do add it as it keeps the rotis soft. Making roti is quite a skill, it does take years of practice to get it right. And while the ingredient list is simple, the whole process of making roti is not that simple.
You first knead the dough, then roll it and then cook it. So it is time consuming and it really becomes difficult to make rotis on a daily basis when you are busy. In India, it isn't that difficult since house help is easily available but here in the US, where you have to do everything on your own, making roti can be a challenge.
My Personal Rotimatic Experience
I saw a video of Rotimatic couple of years back and remember being so fascinated by it! I mean a machine which can make roti with the touch of a button? Was it even possible? So imagine my excitement when I was given the opportunity to finally try Rotimatic!
And after using it for 2 weeks, I am happy to share my rotimatic review with you guys! I have structured my rotimatic review in a question-answer format and have tried to answer most questions which I keep reading on social media. If there's anything that I might have missed, please ask in the comments section below.
Rotimatic is a flatbread making machine which makes rotis with the touch of a button. You have three containers which you fill with flour, water and oil. Once you have done that, you are ready to make rotis. It really is that simple.
Anyone can make rotis with rotimatic, since I have had it, my husband has made them twice! And trust me he hasn't rolled a roti in his life so he gets pretty excited to make them!
Does it make home style rotis?
Probably the most important question for everyone who wants to buy rotimatic.
My answer – If you are a pro at making rotis, you can definitely make better rotis than rotimatic. In India, phulka or roti is made on a gas burner and that taste is unique. The rotis made from rotimatic obviously aren't same since they are not cooked directly on fire.
Are the rotis made from Rotimatic soft?
Oh yes, they are totally soft. When the rotis come of the machine, they are a little crispy. So you cover them with a cloth or put them in a casserole and within a minute they are super soft and ready to be eaten!
The rotis in the picture below are made with Rotimatic.
Are the edges of the roti uncooked?
I keep reading this on social media so I thought I should answer this. No, the edges are not uncooked. All rotis are perfectly cooked.
How quickly does it make rotis?
With rotimatic you can make 1 roti every 90 seconds. It takes 5-6 minutes to heat up initially, so I usually switch it on when I start heating my sabzi. While I heat everything else and cut salad, the rotis are done.
What is the size of rotis made from Rotimatic?
Around 6 inches in diameter.
How easy it is to use Rotimatic?
Like I said, super easy! Can you beat the fact that you can make rotis by pressing a button? You have three containers which you have to fill with flour, oil and water. You then choose the thickness, roast level and oil level of your rotis and then simply press the start button.
The machine will beep if any of the three compartments need a re-fill.
Is cleaning easy?
Yes really easy. I clean it once a day after I am done making rotis and it hardly takes 5 minutes. The rotimatic comes with these brushes which makes cleaning very easy. The flour, oil and water containers can be washed in the dishwasher.
Does it make a lot of noise?
Yes it does! I think this is one major drawback of Rotimatic. It makes more noise than a microwave but probably same or less than your blendtec/vitamix or dosa grinder.
Any health issues?
None that I know of or has been documented.
Cost & availability
You can check everything at the official website – Rotimatic.com. Currently it's priced at 999USD.
Which brand of atta should I use with Rotimatic?
I have only used Sujata Gold Atta till now and it has worked well. I recommend it!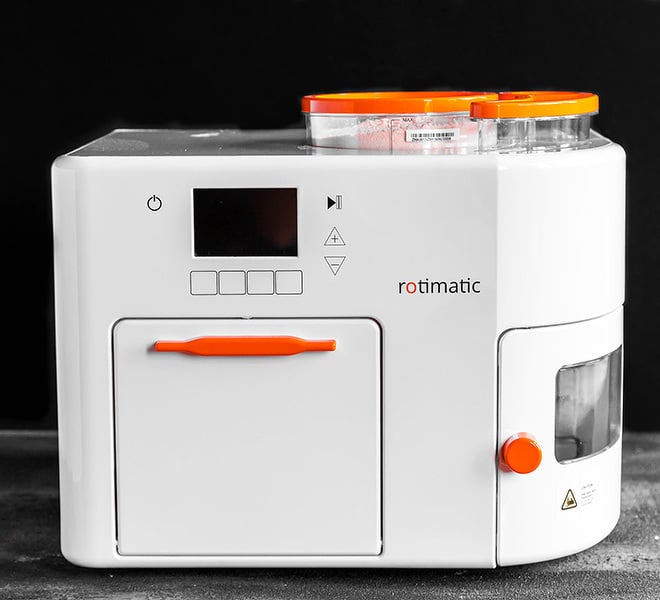 Final verdict – Rotimatic Review
Pros: ease of use, fresh homemade rotis, easy cleaning, quick turnaround of rotis, minimal wastage of flour
Cons: noisy, heavy & bulky – occupies space in kitchen (it's almost same size as a regular microwave), rotis do not taste like the ones made on tawa.
Rating: 8/10
So should you buy it? If you have a busy life and can afford it, then definitely YES!  It will make your time in kitchen much easier. You may be able to make better rotis yourself and it's true that these rotis are not a match for the ones your mom made but the convenience part of it is unbeatable. The machine eliminates all the steps involved in making rotis and makes the whole process literally a child's play.
The rotis are nice and soft, made fresh using your own atta – now that is so much better than eating frozen rotis or buying it from outside. If we compare the taste, the rotis made from Rotimatic taste a whole lot better than any frozen roti that you would buy at the grocery store.
I have included a small video with this post on rotimatic review, which will you give an idea about how this machine works. If there's any questions/concerns about my rotimatic review , please drop me a message and I will respond at the earliest.
I know when I was away in India, my hubby was literally buying rotis everyday from a nearby restaurant. Now when I leave him alone, I don't have to worry about this. I am definitely enjoying my fresh rotis with Rotimatic!
Disclosure: I received this product for review from Zimplistic. All opinions expressed are my own.
I am really excited for today's review about Rotimatic - a machine that makes roti in just 90 seconds. Read about my Rotimatic Review and experience here.
Ingredients
whole Wheat Flour

water

oil
Instructions
Add whole wheat flour/atta to the flour container. Add water and oil to their respective containers.

Select number of rotis, flour type and also the thickness, roast and oil level for the rotis. Press the start button.

Machine will take 6 minutes to warm up. After it warms up, rotimatic makes one roti every 90 seconds.

Store rotis in a casserole lined with a kitchen towel to keep them soft. You may also apply some ghee on top.

Serve fresh rotis with curry/dal or any dish of choice!
Nutrition information is automatically calculated, so should only be used as an approximation.
Your feedback is valuable!
Please share your comments, ratings, and any suggestions or adaptations below to help us improve and make our recipes more successful.