This giveaway is now CLOSED!
Vegetarian Indian Cooking with Your Instant Pot releases on 9th October and is now available for pre-order.
Scroll to the bottom for a fantastic GIVEAWAY! I am giving away 5 Instant Pots!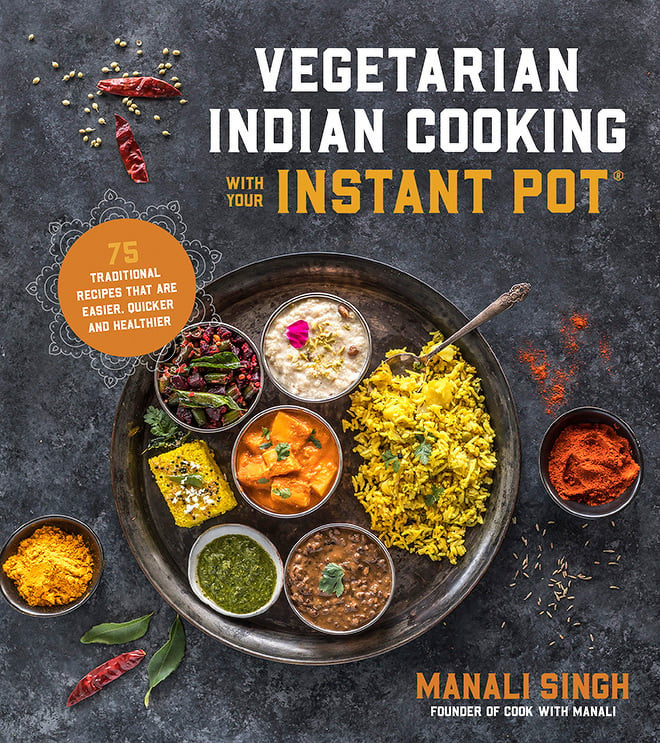 Disclosure: This post contains affiliate links. For more information on my Affiliate and Advertising Policy, please click here.
Wow I can't believe it's almost time for all of you to see my cookbook. This has been a roller-coaster ride.
Writing a book under any situation can be hard but when you do it right after losing your mom, it becomes all the more challenging. I was not sure if I was ready for the challenge but my husband, family and friends encouraged me to take the leap of faith and just do it.
Well 1.5 years later, the book is about to release and I can finally say that I am glad I did it!
I received the first copy of my book couple of weeks back and that feeling of holding your book in your hands cannot be described in words. I literally slept with my book for 2 days,  it was just very hard to part ways with it!
I can't believe that my first cookbook is about to release worldwide in just under a month!
Vegetarian Indian Cooking with Your Instant Pot -What Is It About?
The cookbook has 75 brand new Indian Vegetarian & Vegan Recipes made in the Instant Pot!
Whether's it your favorite Indian takeouts or the regular lentils and beans, I will show you how easy it is to cook your favorite Indian meal in the Instant Pot.
This book has full color photos and clear step-by-step instructions for every single recipe. It has an easy and approachable way to cook Indian food at home.
Matar Paneer
Dhokla
Majority of the recipes in the cookbook are vegan or can be made vegan by few simple substitutions.
Cookbook Chapters
The chapters in the book and few of the recipes from each chapter!
Favorite Takeouts – includes favorites like

palak paneer

,

dal makhani

!
Lentils & Beans – has comforting

spinach dal

,

kashmiri rajma

,

butternut squash dal 

Hearty Meals –

aloo gobi

, 

vegetable khichdi

. Also

Paneer Lasagna

– fun Indian take on the classic!
30 Minutes or Less – childhood favorite like

matar paneer

,

tehri

&

turmeric masala doodh (golden milk)

Snacks & Sides –

masala hummus

,

tomato & dates chutney

,

masala chai

!
Indian Street Food- my favorites like

pav bhaji

,

momos

,

mushroom garlic fried rice

Delectable Desserts –

kheer

,

kalakand

& so much more!
Basics of Indian Cooking – how to make

paneer

,

ghee
Writing a cookbook or becoming an author was never my dream.
But life is full of surprises and I received one of the biggest surprises of my life when my publishers contacted me for this cookbook. It was such an honor and it has been truly an enriching experience.
This whole journey of writing a book taught me a lot, like how to be more organized, more focused and above all it taught me how to work hard and give your best under adverse circumstances. I am so thankful for this journey and also the opportunity.
This book would not have been possible without the support of my family, friends and my readers. I am eternally grateful to each one of you for being a part of this journey. I am also very thankful to my publishers who trusted me completely with this book.
I hope it lives up to everyone's expectations. I am very grateful for all the support so far, thank you from the bottom of my heart. Please continue to support me on this journey by pre-ordering the cookbook.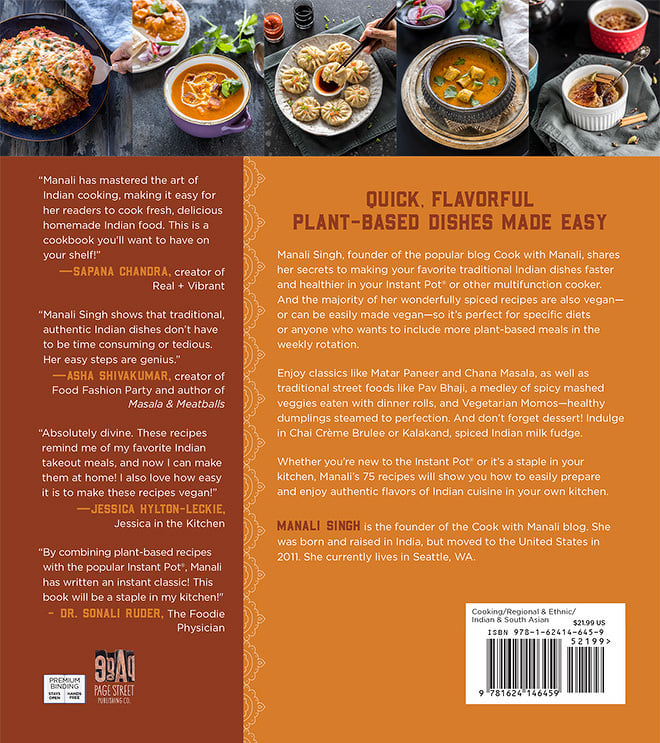 Available for Pre-order On
The book will be available worldwide 9th October 2018. You will be able to buy it wherever books are sold.
GIVEAWAY!
Here's some exciting news! I am giving away 5 Instant Pots to lucky winners!
To enter the giveaway all you have to do is pre-order my cookbook and then send the receipt of your purchase to me at manali@cookwithmanali.com
I will choose 5 winners randomly and they will all win an Instant Pot each! ! If you have already pre-ordered the book just email me your receipt to enter. Who's excited??
Giveaway is open worldwide. Good luck everyone and thanks for all the support!
(This giveaway is now CLOSED!)