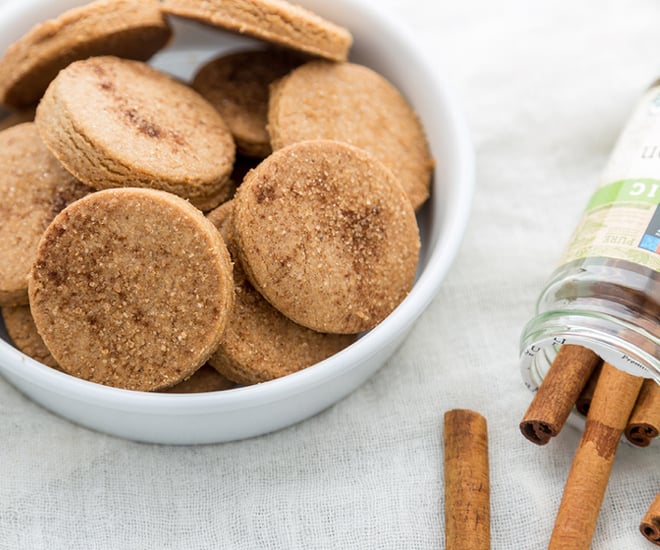 It's been a while since I posted a cookie recipe. Cookies are one of my favorite things to bake and my mind is constantly churning out ideas for new cookie recipes so I feel weird if I don't post a cookie recipe for a week! The last cookie recipe that I shared on my blog was on 6th July so that's almost a month, wow that's so unlike me!
I love to bake all kinds of cookies – crispy, chewy, with eggs, without eggs etc. etc. One of my favorite things to do is bake tea time cookies, simply because I love to dunk homemade cookies in my morning cuppa of chai. Homemade is always better, always! You know what you are putting in, there are no preservatives plus there's always an option to make them healthier just like these whole wheat crispy cinnamon cookies.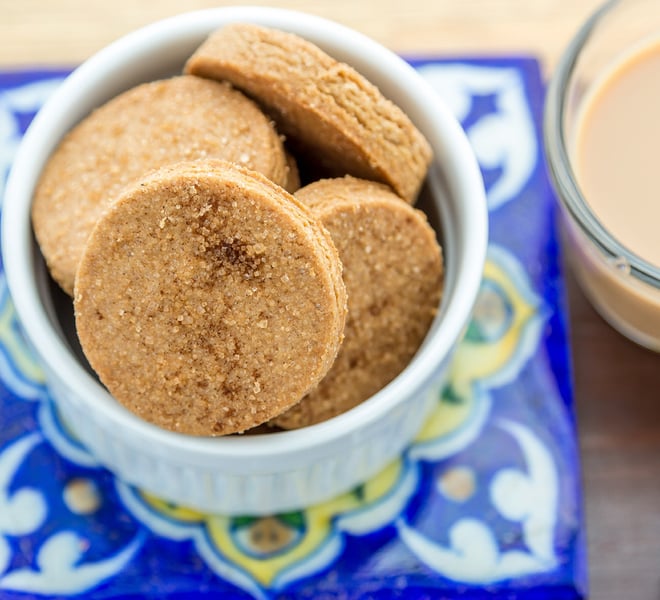 Made with 100% wheat flour (atta) these cookies are spiced with cinnamon and nutmeg and are lightly sweetened which makes them perfect for tea time. They are also a great snack for kids, so much better than store bought cookies which are very sugary and almost always have all purpose flour.
I have no step-by-step pictures of this recipe but it's exactly similar to my cumin cookie recipe. So in case you want to see the step pictures just click on the link for cumin cookies. I added a little milk as the dough wasn't coming together. Don't add milk straightaway let your mixer run at low speed and see if it all comes together as a dough. If it doesn't add the milk and it should be fine. You will know the dough is done when it sticks to paddle attachment of your mixer. In case you don't have a stand or hand mixer, simply use your hands to form a dough.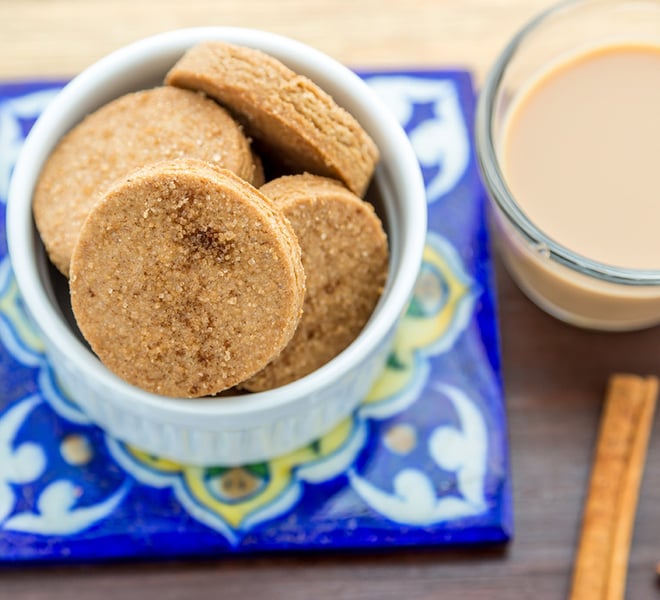 * You can cut down on the spices if you want. Use 1/2 teaspoon of cinnamon powder in place of 3/4 teaspoon.
* These are really crispy cookies so I baked them for 30-35 minutes. You can bake them for less amount of time for softer cookies.
* These cookies are 100% whole wheat so it takes them more time to bake compared to the ones made with all purpose flour. If these were made with all purpose they would have achieved the desired crispiness in around 20 minutes.
* Store cookies in an airtight container once they have cooled down.
* Sprinkling the cookies with sugar before baking is optional but it adds to the texture and flavor. You can sprinkle them with cinnamon sugar, vanilla sugar, turbinado sugar or bake them as such and sprinkle them with confectioners sugar once they are baked.
* Keep an eye on the cookies after 20 minutes. These cookies took 30-35 minutes in my oven they might take more or less in your oven. It's always a good thing to own an oven thermometer which can tell you if your oven temperature if off by few degrees which can cause changes in the baking time. You don't want to burn them so be careful after 20 minutes or so.
Crispy Cinnamon Cookies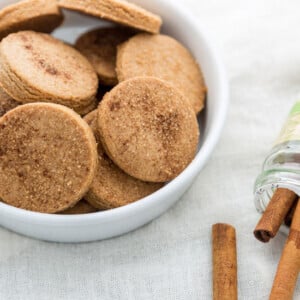 Crispy Cinnamon Cookies- whole wheat cookies, lightly sweetened and flavored with cinnamon & nutmeg. Great for tea time!
Ingredients
1.25

cups

whole wheat flour [Atta]

½

cup

salted butter

at room temperature

¼

cup

+ 1 tablespoon granulated sugar

½

teaspoon

+ ¼ teaspoon cinnamon powder

¼

teaspoon

nutmeg powder

1

teaspoon

vanilla extract

1.5

tablespoons

milk
Instructions
In a bowl whisk together whole wheat flour, cinnamon powder and nutmeg powder. Set aside.

In the steel bowl of your stand mixer fitted with paddle attachment or using your hand mixer beat together the butter and sugar till creamy and smooth. Add in the vanilla and mix.

Start adding the flour mix slowly, add in 2 parts beating well after each addition till it's well incorporated.

Add milk and continue to mix at low speed till the mixture comes together as a dough.

Wrap the dough in a cling sheet and place in the refrigerator for 15 minutes.

While the dough is chilling preheat the oven to 350 F degrees.

Shape the dough like a disc and then roll it to 1/4 inch thickness.

Cut into shapes using cookie cutter.

Transfer the cookies onto a baking tray line with parchment paper and sprinkle with cinnamon sugar or turbinado sugar (optional).

Bake at 350 F degrees for 20-25 minutes and then reduce the temperature to 300 F and bake for 10 more minutes.

Take out the cookies from the oven and let them cool completely.

Store in an airtight container.
Nutrition
Calories:
77
kcal
Carbohydrates:
8
g
Protein:
1
g
Fat:
4
g
Saturated Fat:
2
g
Cholesterol:
12
mg
Sodium:
41
mg
Potassium:
27
mg
Sugar:
2
g
Vitamin A:
140
IU
Calcium:
5
mg
Iron:
0.3
mg
 Crispy Cinnamon Cookies