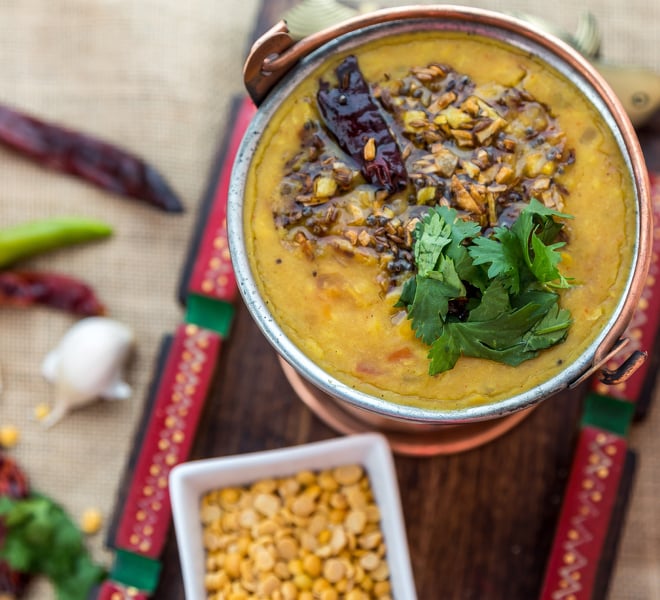 Finally finally I'm sharing a dal (lentil) recipe on my blog. Just few days back I was talking to my hubby and he casually asked "you don't have any dal recipes on your blog? you make it everyday!" and that got me thinking! It is true that I make dal almost every other day and still there isn't a single dal recipe on the blog. I do not know the reason behind this, maybe I thought it's too simple to share or maybe I was plain lazy clicking something which I make very often. Anyway so finally here it is – the first dal recipe on the blog and it happens to be my absolute favorite- Dal Tadka.
I grew up eating dal every day, yes everyday of my life, 365 days a year. I belong to a state called Uttar Pradesh in India and there in every household yellow dal has to be made everyday. So we ate 1 bowl full of plain yellow dal everyday for lunch and by yellow dal I mean only toor dal (split pigeon pea lentil) simply cooked with salt and turmeric, no tempering, nothing! However now that I manage my own kitchen, I like to add some tempering to my dal and that is the reason I love dal tadka so much. It's light, delicious and pretty easy to make.
Dal Tadka can be made using only toor dal or using a combination of other lentils. For this recipe I combined 3 of them – toor (split pigeon pea), chana (split garbanzo beans) and mung (split mung beans). People use different combinations, some also use masoor dal (split pink lentils). So you can mix and match as per your taste. This is the combination that I like the most for dal tadka.
I first cooked the dals with little turmeric and salt in a pressure cooker. You can alternatively also cook in a pan but it will take more time and Indians can't just do without a pressure cooker anyway! After the dal is cooked it's mixed with the "masala" which is essentially onions and tomatoes cooked with dry spices. The final step which is "tempering" or what we call "tadka" is the most important step in my opinion for making a good dal fry. I'll be honest here, ghee in tempering = great dal tadka! I used 50% oil and 50% ghee to temper but I highly recommend using all ghee, it is what makes this dal so delicious!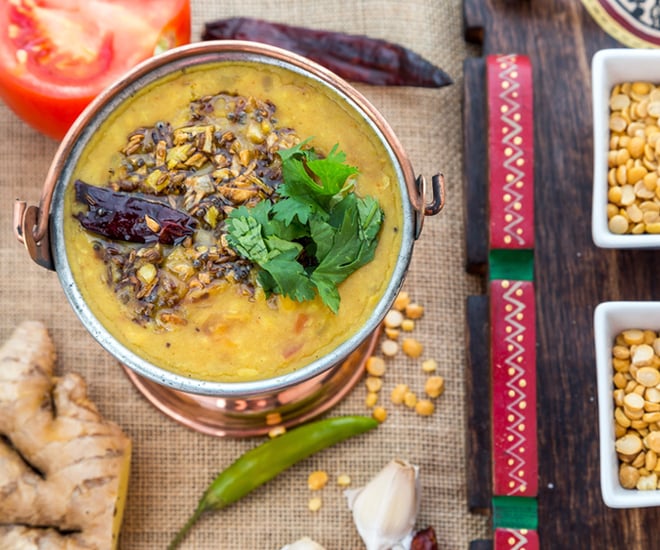 Method
Take all the three dals in a pressure cooker – toor dal, chana dal and mung dal.
Rinse and add 3.5 cups of water, turmeric powder and 1/2 teaspoon of salt. Close the cooker and cook on high heat for 1 whistle, then lower the flame to medium and cook for another 6-7 minutes.
Once the pressure has come off, open the cooker. The dals will be cooked by now, if you want you can mash them using a ladle. Set aside.
In a pan heat oil on medium heat. Once the oil is hot add black peppercorn and cloves. Saute for 30 seconds.
Add the chopped onion and green chilli. Saute till onions are translucent, around 2 minutes.
Add the chopped tomatoes and cook for a 2 minutes.
Now add the dry spices – coriander powder, cumin powder, garam masala and salt and give a good mix.
Cover and the cook the onion-tomato masala for around 8 minutes or till there's no raw smell and spices are well incorporated in the masala.
Once the masala is done, add the cooked dal to it and mix. Also add paprika powder (optional) and water and let it come to a boil. Adjust consistency of the dal according to preference (thick or thin). I added 1  cup of water at this stage. Also check the salt and adjust accordingly.
In another small pan, heat ghee or oil on medium heat. Once hot add the cumin seeds and mustard seeds first. Once they crackle, add whole red chillies, chopped ginger and garlic.
Saute till garlic and ginger is light golden brown in color. Be careful not to burn it.
Add the tempering to the dal and give a good mix. Also add the lemon juice (optional).
Garnish with chopped coriander leaves and serve the dal tadka hot with rice or naan.
* Please adjust the spice level to taste. Me and hubby do not enjoy spicy food hence my recipes have minimal usage of green and red chillies.
* You can use any combination of dal that you like, I prefer using these 3.
* For tempering, you can also add curry leaves, hing (asafoetida) etc.
* Using lemon juice is optional, if you love tang in your dishes – go for it, however use fresh lemon juice only.
* This recipe is all vegan except the last tempering bit where we use 1 teaspoon of "ghee" (clarified butter). Just use oil in place and follow the rest of steps as it is for a 100% vegan version.
Dal Tadka
Restaurant style Dal Tadka (lentils) tempered with ghee and spices! This dal has a smokey flavor which makes it all the more special!
Ingredients
1

cup

toor dal

, 200 grams, also known as arhar dal/split pigeon peas lentil

1/2

teaspoon

turmeric powder

1.5

teaspoon

salt

, divided, adjust to taste

3.5

cups

water

, divided

4

large

garlic cloves

, divided

1

inch

ginger

1

green chili

1.5

tablespoons

ghee

, 22 ml, also known as clarified butter or use oil

1

teaspoons

cumin seeds

1

tablespoon

coriander seeds

, crushed in mortar pestle

2

cloves

1

medium

red onion

, 150 grams, chopped

2

medium

tomatoes

, chopped

1/2

teaspoon

coriander powder

1/4

teaspoon

garam masala

1/4

teaspoon

kashmiri red chili powder

1/8

teaspoon

red chili powder

, or adjust to taste

2

tablespoons

chopped cilantro

1

teaspoon

kasuri methi

, crushed, dried fenugreek leaves
Tempering/Tadka
2

teaspoons

ghee

, 10 ml

2

large

garlic cloves

, chopped

1/4

teaspoon

hing

, also known as asafoetida

2

dried

red chilies

1/4

teaspoon

kashmiri red chili powder

, optional
piece of charcoal, for dhungar method, optional
Instructions
To a pressure cooker add toor dal along with turmeric, 1 teaspoon salt and 3 cups water.

Pressure cook for 4 whistle on high heat then lower the heat and let it cook for 3 to 4 minutes. Let the pressure release naturally. If using an Instant Pot, cook on high pressure for 8 minutes with natural pressure release. Set it aside.

Meanwhile crush 4 large garlic cloves, 1-inch ginger and green chili in a mortar pestle and set it aside.

In a heavy bottom pan, heat ghee on medium heat. Once hot, add the cumin seeds, crushed coriander seeds and cloves. Saute for few seconds until fragrant.

Then add onions, cook for around 3 to 4 minutes until they are soft and start changing color.

Add the crushed garlic-ginger-green chili. Cook for 1 to 2 minutes until the raw smell goes away.

Add the chopped tomatoes along with 1/2 teaspoon salt and mix. Cover and cook for 7 to 8 minutes until tomatoes are very soft and cooked.

Then add the coriander powder, garam masala, kashmiri red chili powder, red chili powder, cilantro and kasuri methi. Stir the spices with the masala for few 30 seconds.

Add the boiled dal to the pan and mix. I also added 1/2 cup water here as dal looked very thick to me. Let the dal simmer for 3 to 4 minutes.

For the tempering/tadka, heat 2 teaspoons ghee in a small pan. Once the ghee is hot, add 2 chopped garlic cloves. Also add hing and dried red chilies.

Cook for one minute until the garlic starts changing color. Add kashmiri red chili powder remove pan from heat.

Pour tempering over the dal and mix.

This last step is optional but recommended.

For the dhungar method - place a steel bowl on top of a trivet placed inside the dal. Then heat a piece of charcoal over direct heat until its red hot.

Place hot charcoal in that steel bowl on top of the trivet. Pour ghee on top of charcoal. You will immediately see fumes coming out of charcoal.

Immediately close the pan with a lid. Let it remain like this for 15 minutes. After 15 minutes, remove lid and remove the bowl from dal.

The longer you keep the lid closed, the smokier dal will get, so don't do more than 10 to 15 minutes.

Garnish dal tadka with more cilantro and serve!
Recipe Notes
Use oil in place of ghee to make this vegan.
Skip hing (asafoetida) to make this gluten-free or use gluten-free hing.
You may use a combination of lentils to make dal tadka. Commonly used- toor dal + moong dal or toor dal + masoor dal (red lentils).
Nutrition Facts
Dal Tadka
Amount Per Serving
Calories 282
Calories from Fat 81
% Daily Value*
Total Fat 9g 14%
Cholesterol 20mg 7%
Sodium 935mg 39%
Potassium 681mg 19%
Total Carbohydrates 37g 12%
Protein 13g 26%
* Percent Daily Values are based on a 2000 calorie diet.
Dal Tadka