Eggless Easter Sugar Cookies
Apr 16, 2014, Updated May 07, 2023
Eggless Easter Sugar Cookies decorated with Eggless Royal Icing!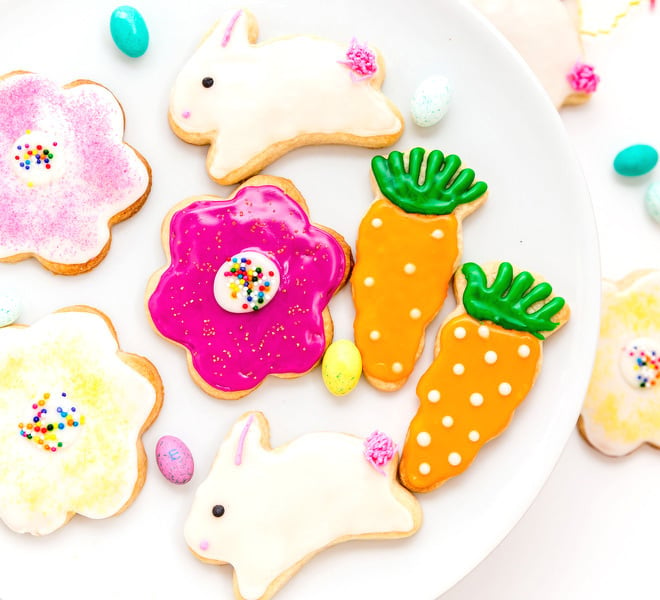 Easter is here and celebrations can't be complete without the festive sugar cookies. The regular sugar cookies here are made with eggs and decorated with royal icing which gives them a perfect finish. Royal icing is made with powdered sugar and egg whites, you can see here> my Indian Republic Day cookies which I decorated using this icing. Egg whites used are either fresh or used in powdered form (meringue powder).
Royal icing is perfect for cookie decoration because it sets well, dries out in few hours and gives the cookies a sheen. It gives a very smooth look which is difficult to achieve with any other icing. Because of the egg whites, the icing sets very well and this is the reason it's also often used to make flowers while decorating wedding cakes.
But I know people who are not very comfortable with the idea of eating raw eggs. I have decorated sugar cookies before and my main problem with them is not the raw egg, it is their taste. I do not mind eggs at all in my other cookies like chocolate chip cookies or my oatmeal cookies but somehow when it comes to sugar cookies, I dislike the egg flavor in them. Top of it the royal icing uses egg whites and all that makes it not very palatable for me. So this time around I wanted to decorate eggless sugar cookies with eggless royal icing.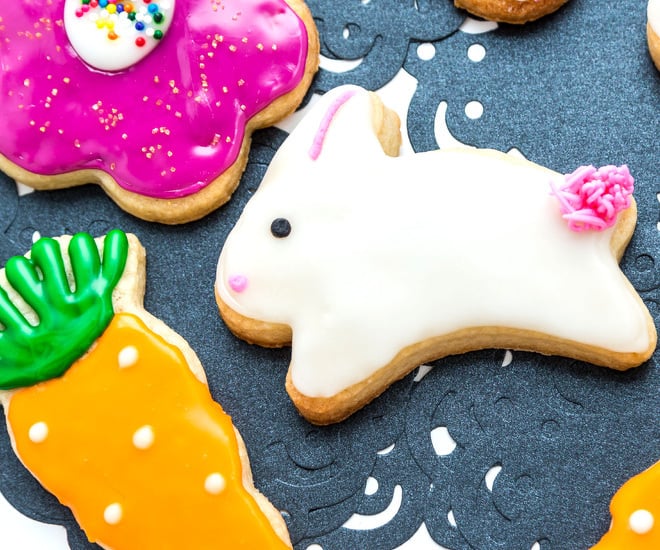 I looked around for few eggless royal icing recipes and finally decided to try the one with corn syrup in it and it turned out quite well. Obviously you need to play around with the consistency and it's not as smooth as royal icing but if you look at the cookies, I think it did a decent job. Also making the eggless royal icing took lesser time than making the regular royal icing, so that's also a plus. You can practically make it in no time, all you need is – confectioners/powdered sugar, milk, light corn syrup and vanilla extract. Just mix in everything together till there are no lumps. Adjust the consistency according to your preference by adding water. I think i'll be decorating my cookies with this eggless royal icing more often now just because it's easier to put together.
These sugar cookies are great if you are allergic to eggs or do not like the taste of egg in sugar cookies (like me!).
I hope you enjoy these cookies. Happy Easter! : )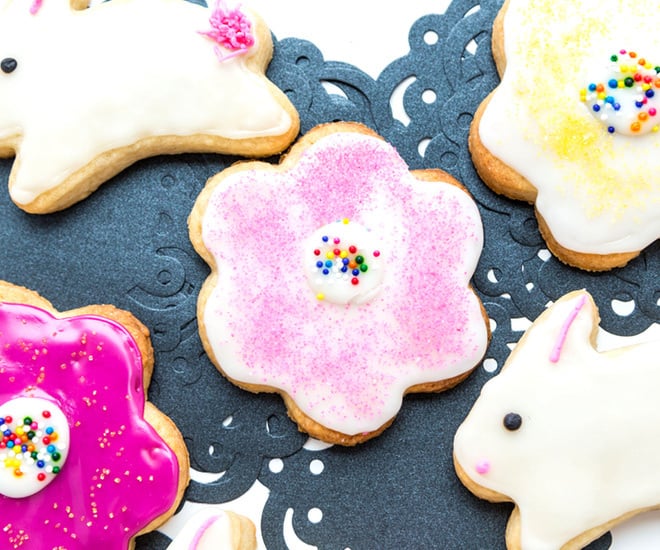 Flower Cookies
I mostly use Wilton tip 2 and 3 for flooding the cookies. Ziploc bags with a very fine cut works well too.
For the center of the flower, pipe rounds of equal size on parchment paper using white royal icing. Cover them with some nonpareil sprinkles immediately. Let them set overnight. Once they have set, you can easily peel them off. This step can be done in advance.
Take the flower cookie and outline with color of your choice. Flood the cookie using royal icing, spread using a toothpick. Using a tweezer carefully place the center flower part that you previously prepared in the middle. Sprinkle some sugar dust on the flower.
Easter Bunny Cookies
Outline and flood the bunny cookie with white royal icing. Let is dry.
Once the royal icing has set, pipe the eyes with stiff black buttercream frosting. Then using stiff pink buttercream frosting pipe the nose and the tail. For the tail I used Wilton tip 233. I ran out of royal icing and hence used buttercream here but you can use thick consistency royal icing here and it would work just fine.
Easter Carrot Cookies
Flood the lower part of the cookie using orange royal icing. Then use green to fill the upper part. As you can see I was trying to be creative here but didn't really succeed. My icing wasn't very stiff else I could have used the leaf tip to make beautiful leaves. I guess I was just lazy to get up and add more sugar to my frosting so filled it whatever consistency I had. Let the cookie dry.
Once it dries, pipe small dots on the carrots using thick white royal icing.

Your colorful and eggless Easter sugar cookies are ready for the party!
Eggless Easter Sugar Cookies
Eggless Easter Sugar Cookies decorated with Eggless Royal Icing!
Ingredients
Eggless Sugar Cookies
1.5

cups

all purpose flour

¾

cup

granulated sugar

½

cup

unsalted butter

at room temperature

½

tsp

salt

1

tsp

vanilla extract

½

tsp

almond extract

¼

cup

milk
Eggless Royal Icing
2

cups

powdered sugar

5

tsp

milk

4

tsp

light corn syrup

1

tsp

vanilla

food colors

nonpareil sprinkles

for decorating the cookies

sanding sugar

for decorating the cookies
Instructions
Cookies
Sift together all purpose flour and salt. Set aside.

Using a mixer, beat together the butter and sugar till smooth and creamy, around 2-3 minutes.

Add the vanilla and almond extract and mix.

Slowly add the flour and milk in parts, starting and ending with flour.

Mix till it comes together and forms a dough. You will know it's done when the dough sticks to the paddle attachment of your stand mixer.

Cover with a cling sheet and refrigerate the dough for 2 hours.

Preheat the oven to 400 F degrees and line a baking tray with parchment paper.

Take the dough out of the fridge and let it sit for some time till it can be rolled easily.

Dust the surface with some flour and roll the dough to 1/4 inch thickness.

Cut into shapes using cookie cutters.

Transfer the cookies to the prepared baking tray and bake at 400 F degrees for 8-10 minutes or till the edges begin to get brown. Larger cookies might need to be baked for a longer time.

Transfer on to a wire rack to cool completely.
Eggless Royal Icing
In a bowl mix together powdered sugar and milk. Mix till there are no lumps.

Add the vanilla extract and corn syrup. Mix till smooth. Also add the food color (if using).

Add water to thin out the frosting, add more sugar for a thicker consistency.

Decorate the cookies once they have cooled completely.
Nutrition
Calories:
267
kcal
,
Carbohydrates:
47
g
,
Protein:
1
g
,
Fat:
8
g
,
Saturated Fat:
5
g
,
Cholesterol:
21
mg
,
Sodium:
104
mg
,
Potassium:
23
mg
,
Sugar:
35
g
,
Vitamin A:
245
IU
,
Calcium:
13
mg
,
Iron:
0.7
mg
Nutrition information is automatically calculated, so should only be used as an approximation.
Your feedback is valuable!
Please share your comments, ratings, and any suggestions or adaptations below to help us improve and make our recipes more successful.
Eggless Easter Sugar Cookies