How To Throw A Roti Party With Rotimatic
Fun and delicious Saffron Mango Cheesecake Roti Bites - these easy bites are great as a snack or even dessert!
This is a sponsored post written by me on behalf of Zimplistic. All opinions expressed are my own.
It's so fun to throw a Roti Party at your home with Rotimatic! Get your kids involved and have them make their own rolls/bites with different toppings!
Get $100 Off Rotimatic by using the link HERE.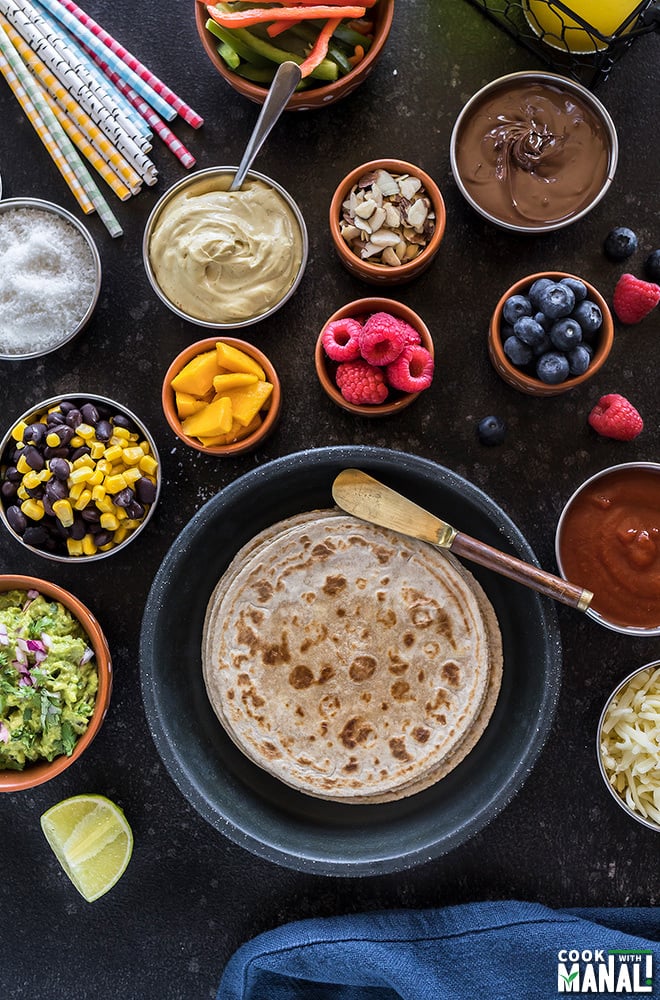 It's been quite a while since I shared the Rotimatic review on my blog. I keep getting questions week after week about Rotimatic, clearly people are very interested in this cool gadget. For those unaware, Rotimatic is a fully automatic machine which makes rotis (the staple Indian flat bread) every 90 secs at the touch of a button.
Roti making has always been quite a long and tedious process. Almost everyone I know (Indian!), thinks that making roti takes the most time in the kitchen. So it's not surprising that Rotimatic got everyone's attention when it was launched.
Ever since I got the rotimatic, my life in the kitchen has definitely changed for the better. I can relax and spend more time with my family when they are visiting me as they can make rotis themselves by pressing a button. Rotimatic is easy to use for all age groups and you don't even need a user manual to use it.
I can also invite people for dinner and not have to worry about making rotis!
In fact few days back I had this idea of throwing a Roti party and thanks to my Rotimatic, it was quite a breeze.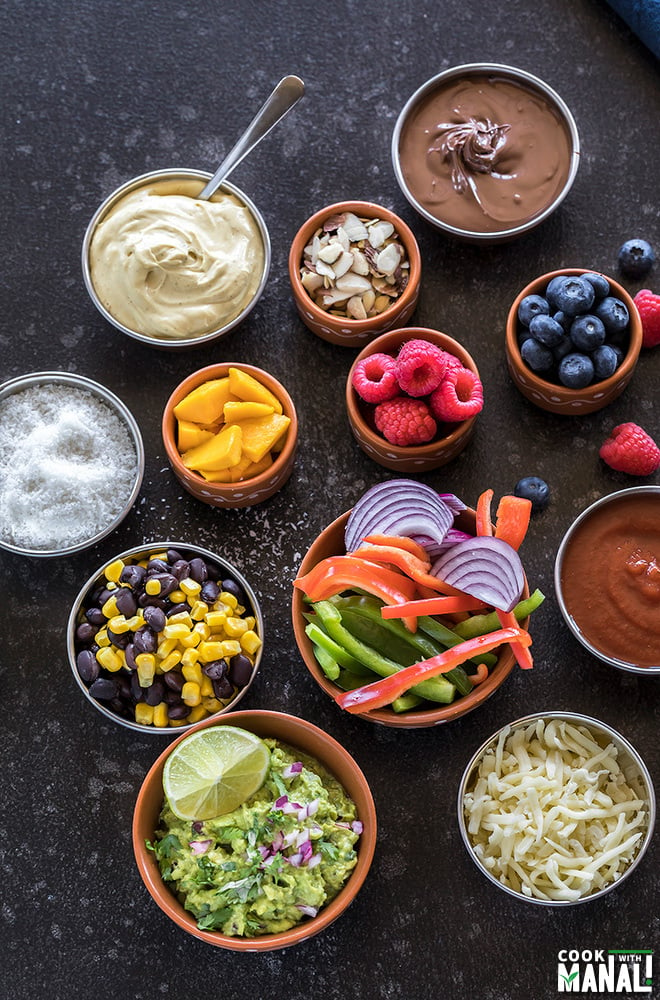 The idea was to make lots of rotis and then have everyone choose their own toppings to make fun meals and desserts!
I divided the toppings into 2 main categories- savory and sweet and this way it was easy for me to organize and prep everything. And then I made meals/recipes out of those toppings. Here's what was on the menu!
Savory Roti Rolls
Pizza Roti Rolls
Beans & Corn Guacamole Roti Rolls
Sweet Roti Bites
Nutella & Berries Roti Bites
Saffron Mango Cheesecake Roti Bites
I did all the prep work – chopping, plating ingredients into bowls etc. while Rotimatic was making me fresh rotis. I literally had to do no work except chopping and prepping few ingredients.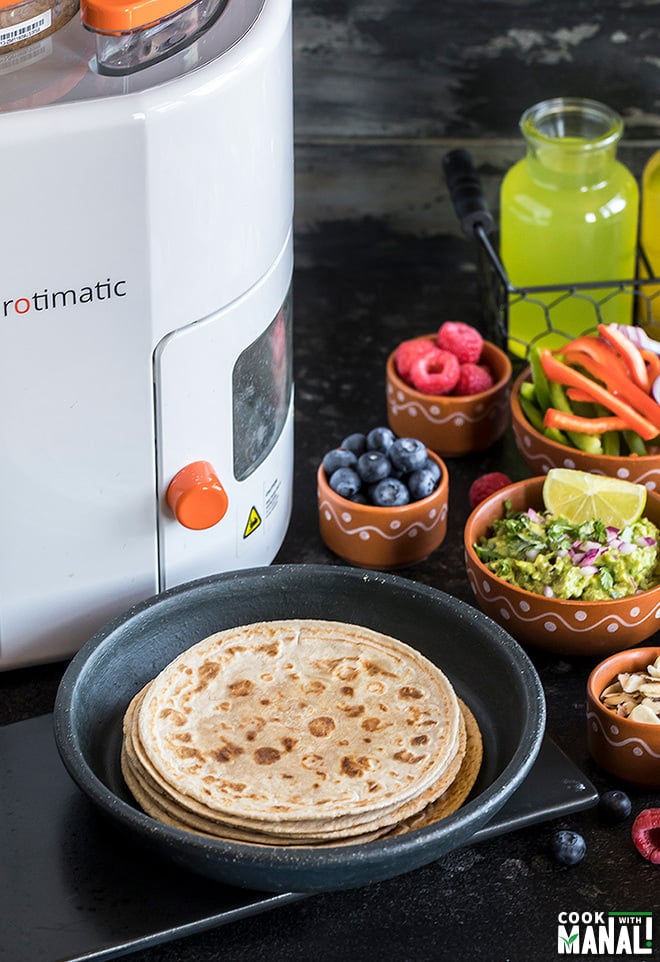 And then once everything was done, I just set the table and let everyone make their own rolls/bites! It was so easy and so fun. Here are the toppings that I used for the different rolls and sweet bites for my Roti Party.
Pizza Roti Rolls – with onions, bell peppers, pizza sauce, cheese and oregano and chili flakes to finish it off
Beans & Corn Guacamole Rolls – with fresh homemade guacamole, black beans and sweet corn.
Nutella & Berry Bites – nutella, blueberries, raspberries, almond flakes
Saffron Mango Cheesecake Bites – saffron cardamom infused cream cheese, mangoes, desiccated coconut
While everything was a hit, the clear winner was the Saffron Mango Cheesecake Roti Bites. The combination of mangoes and coconut went so well with the cardamom saffron infused cream cheese. Forget about the kids, I was having real trouble keeping my hands off them!
Rotimatic also recently launched it's pizza update. That's the cool part about it, there's one hardware but multiple software updates. These updates are sent to your rotimatic remotely for free.
After the roti, they have launched the puri and pizza update. Updates for tortilla, gluten-free flour rotis are in the works!
You're can check out the reviews from Rotimatic owners HERE.
Because it's so easy to use, I also ended up making some pizzas for the party. These are small pan sized pizzas and you can get crazy with the toppings. I used the same toppings for my pizza. Look at all that cheese!
I often get asked that is Rotimatic worth the investment? To answer this question, you have to see and weigh the benefits of eating out or eating frozen rotis compared to the fresh one made from rotimatic.
The fresh rotis are made with simple ingredients right in front of eyes, there are no added preservatives. You know what you are adding to your food-  the ingredients, their nutritional value and that makes them so much healthier and better for you and your family.
Rotimatic really pays off for itself in few months!
I had so much fun organizing this roti party at home. There was something for everyone and it was also a great way to get the kids involved. I asked them to spread the Nutella and cream cheese on the rotis and they sure had fun making their own sweet roti bites.
Hope you guys like the idea of a roti party and consider throwing one at your home too!
And don't forget to avail the special offer! Folks at Rotimatic are giving $100 off on purchase of Rotimatic for my readers. So if you are planning to buy a Rotimatic, don't miss it! Avail the discount HERE.
Saffron Mango Cheesecake Roti Bites
Fun and delicious Saffron Mango Cheesecake Roti Bites - these easy bites are great as a snack or even dessert!
Ingredients
8

oz

cream cheese

at room temperature

2-3

tablespoons

honey or sugar

adjust to taste

1/4

teaspoon

cardamom powder

few

saffron strands

soaked in 1 tablespoon warm water or milk

2

large

ripe mangoes

diced

desiccated coconut powder

8

small

rotis
Instructions
Using a blender, beat room temperature cream cheese until smooth and creamy.

Stir in the honey,

soaked saffron strands (along with the milk) and cardamom powder. Mix until well combined.

Spread the prepared cream cheese on rotis, top with diced mangoes and desiccated coconut.

Cut each

roti into 4 pieces and serve the saffron mango cheesecake roti bites immediately.
Nutrition information is automatically calculated, so should only be used as an approximation.
Your feedback is valuable!
Please share your comments, ratings, and any suggestions or adaptations below to help us improve and make our recipes more successful.