Indian Masala Chai
Jun 22, 2013, Updated Jul 03, 2015
They say "there's nothing that a good cup of chai cannot fix". How true for millions of Indians [including me] who find comfort and solace in this spiced hot drink every day. Masala Chai is a mix of various spices brewed with milk and black tea. Each spice brings a unique flavor to the chai making it one of the most popular drinks worldwide. In fact "chai" has become so popular that you will now find it everywhere whether in USA or UK. Of course it's not made the way we in India make it but it has the spices and is brewed with milk.
Growing up in northern part of India, I always saw my parents waking up to chai. But usually in the north, chai is made up of only 4 basic ingredients: sugar, milk, water and tea. Ginger and Cardamom were added to make the special chai sometimes especially during winters. But somehow I can't have the usual chai everyday, I need my dose of spices!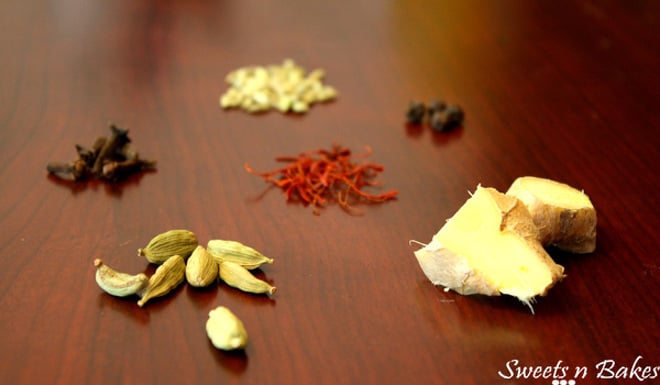 There is no fixed recipe or measurement to make masala chai. Almost every household will have their own way to make it and here I'm sharing my version.
This recipe will make 1 cup.
Ingredients
1. Water: 3/4th cup
2. Milk: 1/2 cup
3. Loose Tea Leaves: 1-2 tsp
4. Sugar: 1/2 tsp or to taste
5. Spices:  Cardamom Pods [1-2], Black Peppercorn [1-2], Fennel Seeds [3-4], Saffron strands [2-3], Cloves [1-2]
6. Ginger: 1/2 inch
Method
1. Get all the ingredients ready. Put water to boil in a pan. In the meanwhile, crush some ginger or grate it and add to the water. Crush the cardamom pods a little and add to water along with all other spices. Let the water boil for 2-3 mins till you start getting a nice aroma of the spices.

2. Now add the milk and wait for it to boil. Once it boils again wait for 2 mins so that it gets little thickened and absorbs the flavor of all the spices. Next step is to add the tea. I use the regular black society tea but you can use any brand of your choice. Let it simmer for 2 minutes. Switch off the flame and pour the chai into a cup. Add sugar as per your taste.

Sip on to your hot cup of masala chai with some cookies on the side.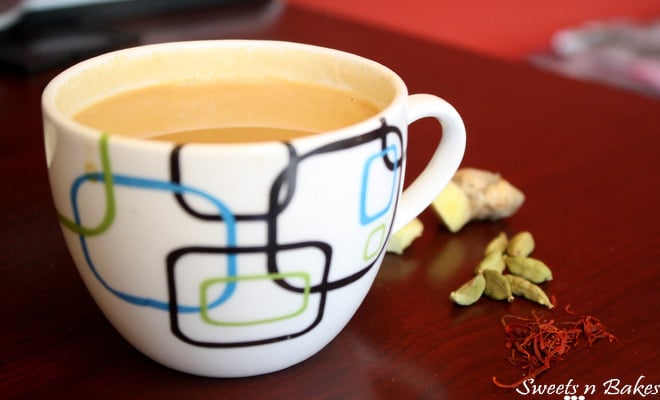 Tips
– You can add more spices to your chai like cinnamon stick, nutmeg.
– I used 1/2 cup milk since I used 1% milk, but you can reduce the amount of milk in case you are using whole milk. Also a lot of people like 'milky' chai hence they will use more milk, so it's an individual choice.
– If you want a stronger chai, let it boil for some more time after you have added the tea leaves in the pan.