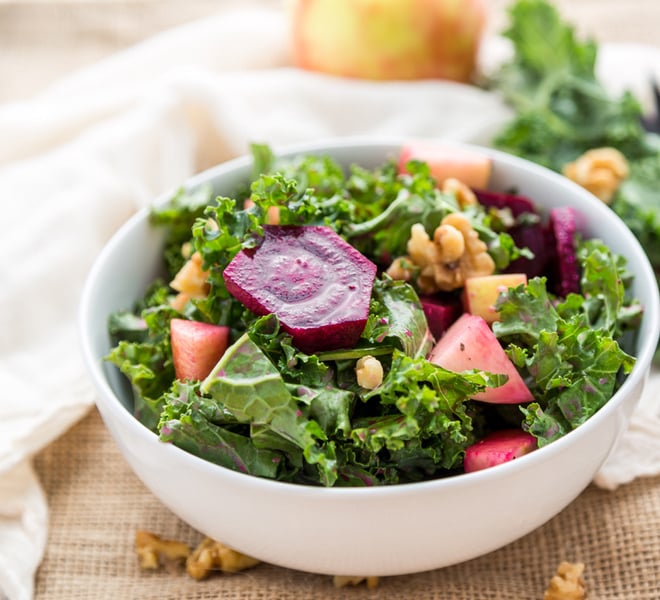 Even though I really like salads I do not make them very often at home. I don't know the reason behind it, maybe I am just lazy to chop everything up? But this weekend when I went for grocery shopping I made sure to pick up stuff to make a good salad which I can eat for lunch and so the first thing that I picked was Kale. I always eat Kale salads in restaurants, no idea what was stopping me from buying them from the stores until now! Along with kale, I also picked up some beets. The beets along with kale, apple and walnuts made a wholesome and filling salad, one which I enjoyed eating.
Did you know that eating Kale on a regular basic decreases the risk of developing cancer. It also lowers cholesterol, reduces risk of heart diseases and is rich in antioxidants, it's because of these health benefits that Kale has become so popular these days.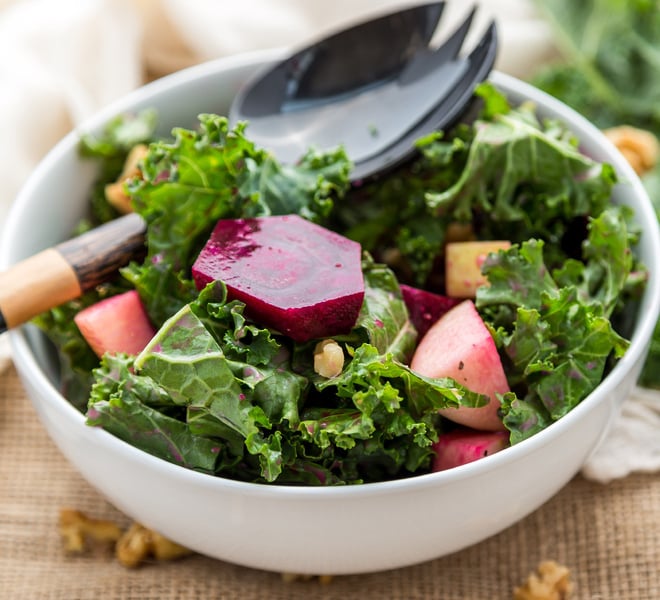 Coming to the salad, like I said I added beets to it but here's the problem – this was the first time I was working with beets, even though I had eaten them before I have never had a first hand experience working with them. And so I read online a bit and figured out that my best bet was to roast them and seriously it was so easy. So if you are new to beets like me, here's how you cook it –
1. Chop off their stem and wash the beets thoroughly with water.
2. Preheat your oven to 400 F degrees.
3. Wrap individual beets in separate aluminium foils. There's no need to dry them before and there is also no need to smear them with olive oil.
4. Place the wrapped beets on a baking sheet and set the time to 30 minutes.
5. After 30 minutes, take out the baking tray and insert a knife in the center of one of the beets [preferably the biggest one]. If the knife can go inside easily, they are done. If not cook for 10 more minutes. Mine were done in 30 minutes but it also depends on the size of the beets, the once I used for this recipe were on the smaller side.
6. Let them cool down, unwrap and cut into any shape you want.
And that's it, they are now ready to be used in your recipe.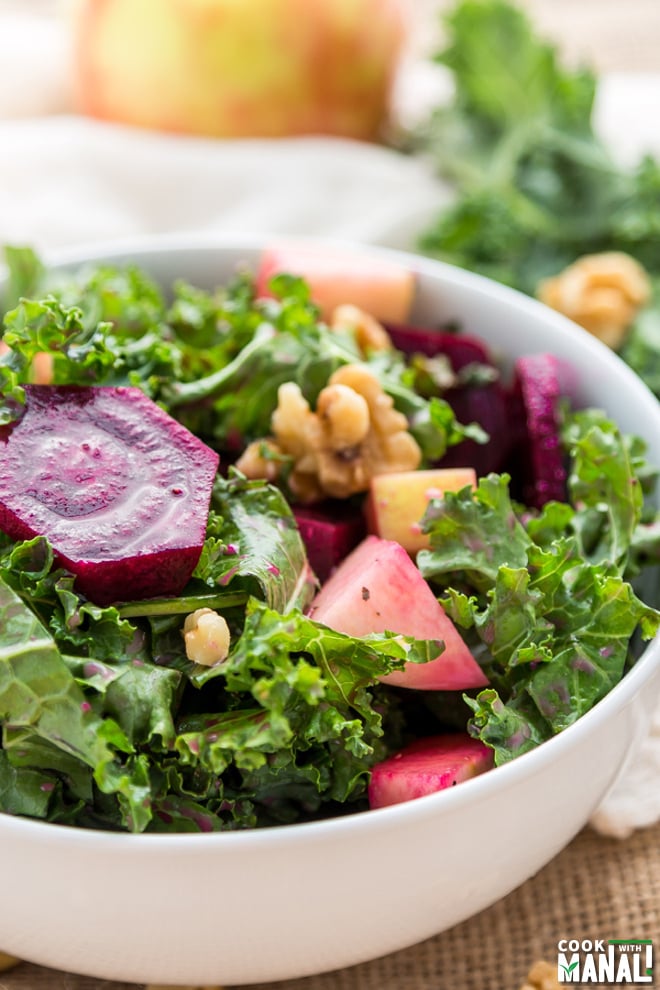 Coming to the dressing, I tried a yogurt based dressing for this salad and the flavors paired quite well. I used a vanilla bean yogurt, you can use any vanilla yogurt of your choice. Also any nuts, seeds can be added to the salad, I like walnuts in my salad and so added them here. But now when I think about it maybe I should have toasted them before adding in the salad, would have tasted even better!
I love how my apples turned all pink, thanks to the beets!
* I would suggest starting with 3 tablespoons of vanilla yogurt for the dressing and add the remaining 1 tablespoon if needed.
* Use any vanilla yogurt of choice, I used a vanilla bean yogurt and it tasted wonderful in the salad.
* Chaat masala is a spice blend from India, it's little tang & spicy and I LOVE it. Adding chaat masala to this salad is optional, if you love Indian spices, then you might want to add it!
* Use fresh orange juice for better taste and flavors!
Kale Salad with Roasted Beets, Apple & Walnuts
Kale salad with roasted beets, apple & walnuts! Topped with a yogurt dressing.
Ingredients
1

bunch of kale

chopped

4

beetroots

small

1

apple

cut into cubes

¼

cup

walnuts

broken into 2
Dressing
3-4

tablespoons

vanilla bean yogurt

2

tablespoon

orange juice

fresh

1

teaspoon

maple syrup

1

teaspoon

olive oil

salt

to taste

pepper

to taste

¼

teaspoon

chaat masala [optional]
Instructions
Preheat oven to 400 F degrees.

Wash the beets and chop off their stalk.

Wrap each beet in a separate aluminium foil and place on a baking sheet.

Bake for 30 minutes or till the beets are cooked. You know they are done when you can easily slide a knife in the center.

Take out from the oven. let cool and then cut into slices. Set aside.

In a bowl mix together chopped kale, sliced beets, chopped apples and walnuts.

In another bowl prepare the dressing by whisking together vanilla yogurt, fresh orange juice, maple syrup, olive oil, salt, pepper and chaat masala [if using].

Add the dressing to the salad and mix till well combined.

Serve immediately.