Mango Yogurt Popsicles
Apr 28, 2014, Updated Jan 02, 2018
Refreshing mango yogurt popsicles made with mangoes and yogurt.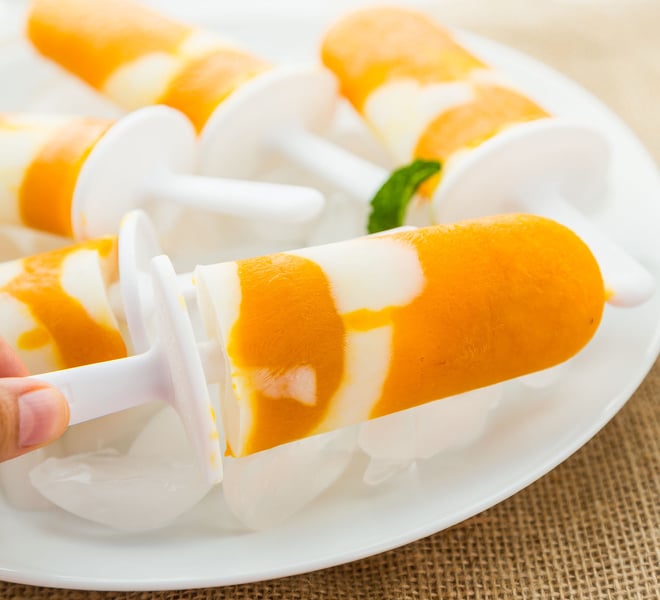 Summer is here and what better time to make some popsicles! The other day I got this popsicle maker and the first thing that I thought of making was a mango popsicle. Why mango? because in my opinion summer=mango. Summers are terrible in Delhi, it gets really really hot but if there's one reason why everyone looks forward to it – it has to be the mangoes! During the mango season, the fruit is used to make several desserts, ice cream, shakes etc. but this particular popsicle has to be the easiest mango recipe that you will come across.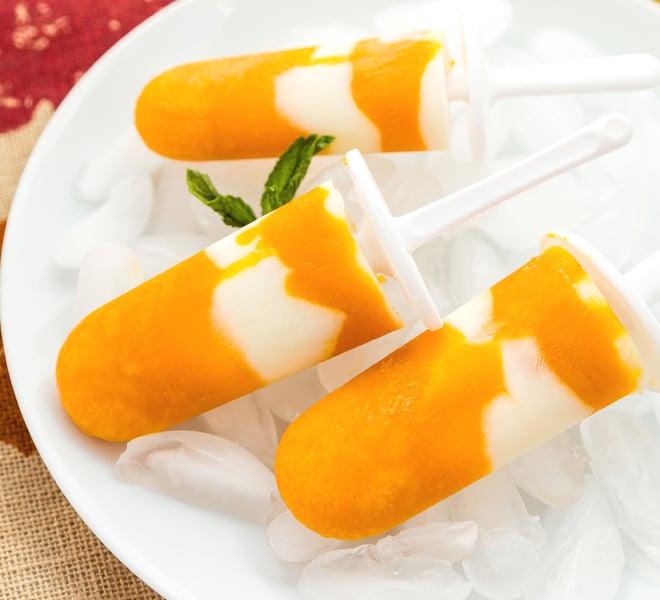 This was very easy to put together, I only needed 2 ingredients for making these popsicles – mango pulp and yogurt. You can either use canned mango pulp or use fresh mangoes and then puree them. I would prefer using fresh mangoes as they taste amazing but for this recipe I used the can because fresh mangoes are still not available here. For the yogurt you can either use plain yogurt or vanilla yogurt. The vanilla gives a nice taste to these popsicles so in case you are using plain yogurt, add 1/2 teaspoon of pure vanilla extract to it. The sugar can be adjusted to taste, just remember that items upon freezing taste less sweet compared to when they are in liquid form.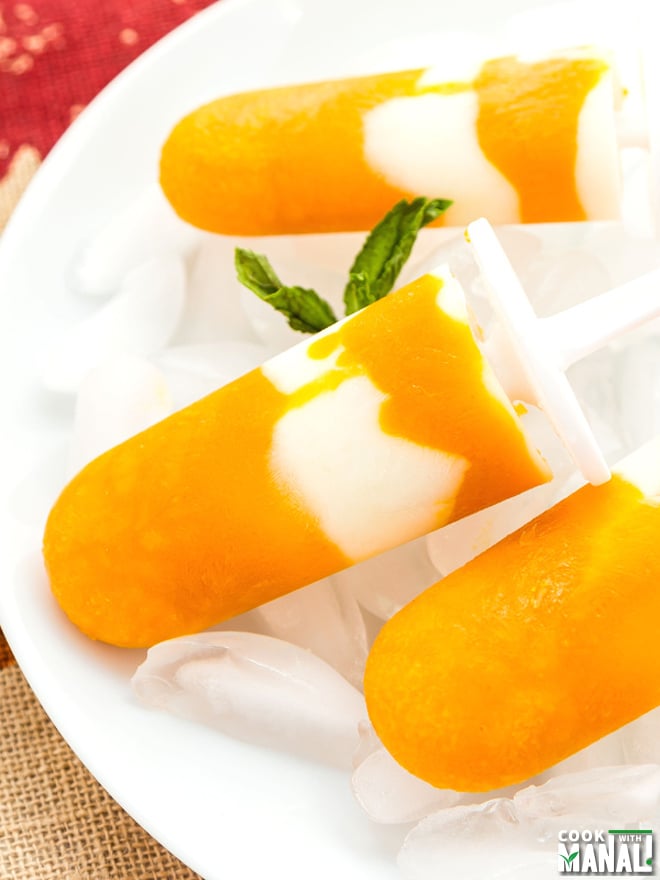 In case you are wondering why these popsicles look orange and not yellow, that's because I used the canned mango puree. If you use fresh mangoes, your popsicles will look bright yellow : -) These mango yogurt popsicles are full of mango flavor, refreshing and can be put together in minutes – make these today!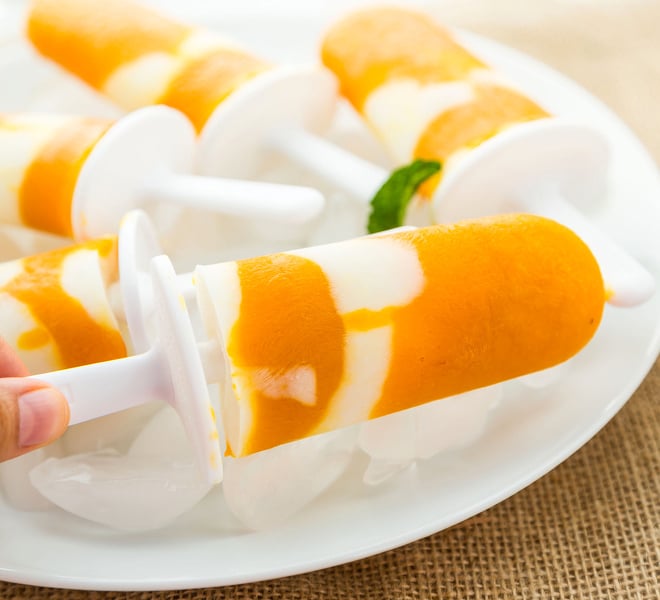 * Adjust sugar according to taste. In case the mangoes that you are using are very sweet, cut down on the sugar or you can also totally skip it.
* Use 1/2 teaspoon of vanilla extract in case using plain yogurt.
* For better flavor use fresh mango pulp.
* In case you don't have popsicle mold, you can use small bowls to freeze the mixture.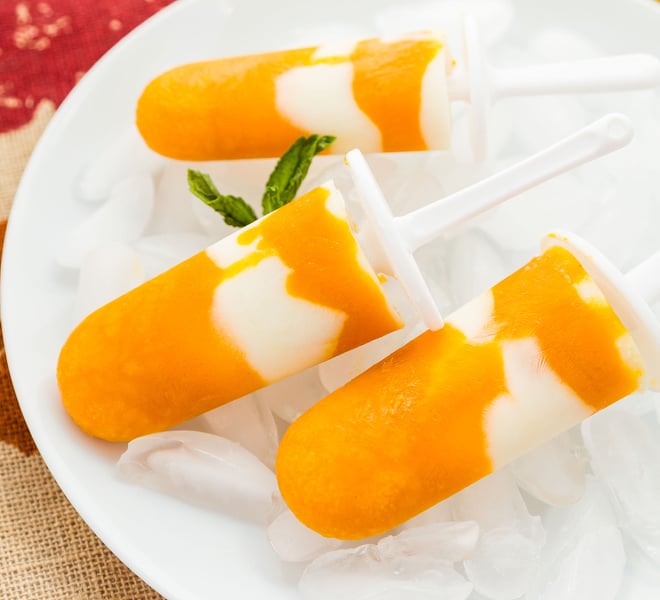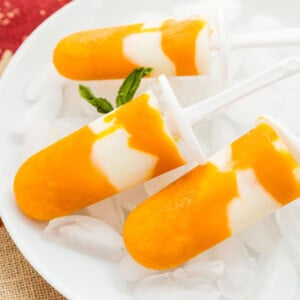 Refreshing mango yogurt popsicles made with mangoes and yogurt.
Ingredients
1.25

cups

mango pulp

1

cup

vanilla yogurt

3

tablespoon

sugar or to taste

½

teaspoon

vanilla extract

if using plain yogurt
Instructions
In a bowl whisk together the mango pulp with 2 tablespoon of sugar. If using fresh mangoes, peel and blend the mangoes to a puree and then add sugar to taste and whisk it. Set aside.

In another bowl whisk the yogurt and 1 tablespoon of sugar and set aside. If using plain yogurt you can add 1/2 teaspoon of vanilla here.

Take your popsicle molds and fill then with mango puree till they are 25% full, then pour 2 tablespoon of yogurt and alternate with mango and yogurt layer till the molds are 3/4th full (or till their fill line).

Keep the popsicles in the the freezer overnight or for a minimum of 8 hours.

To take out the popsicles, put the molds under hot water for 30 seconds and then pull. The popsicle should come out easily.

Enjoy the mango yogurt popsicle before it melts!
Nutrition
Calories:
106
kcal
,
Carbohydrates:
22
g
,
Protein:
2
g
,
Cholesterol:
2
mg
,
Sodium:
38
mg
,
Potassium:
89
mg
,
Sugar:
21
g
,
Vitamin A:
1200
IU
,
Vitamin C:
7.1
mg
,
Calcium:
75
mg
,
Iron:
6.2
mg
Nutrition information is automatically calculated, so should only be used as an approximation.
Your feedback is valuable!
Please share your comments, ratings, and any suggestions or adaptations below to help us improve and make our recipes more successful.
Mango Yogurt Popsicles