Masala Chai Creme Brulee
Apr 04, 2016, Updated Jan 02, 2018
Masala Chai Creme Brulee, an Indian take on the classic dessert! This creme brulee has all the flavors of chai with a touch of coconut!
Raise your hands if you love chai! Raise your hands if you love creme brulee! Well, I see so many hands up for both, mine included! And if you also just raised both your hands, then you are in for a treat today! This Masala Chai Creme Brulee is my Indian take on the classic dessert. Creme brulee with all the flavors of chai and a hint of coconut. You wouldn't want to miss this!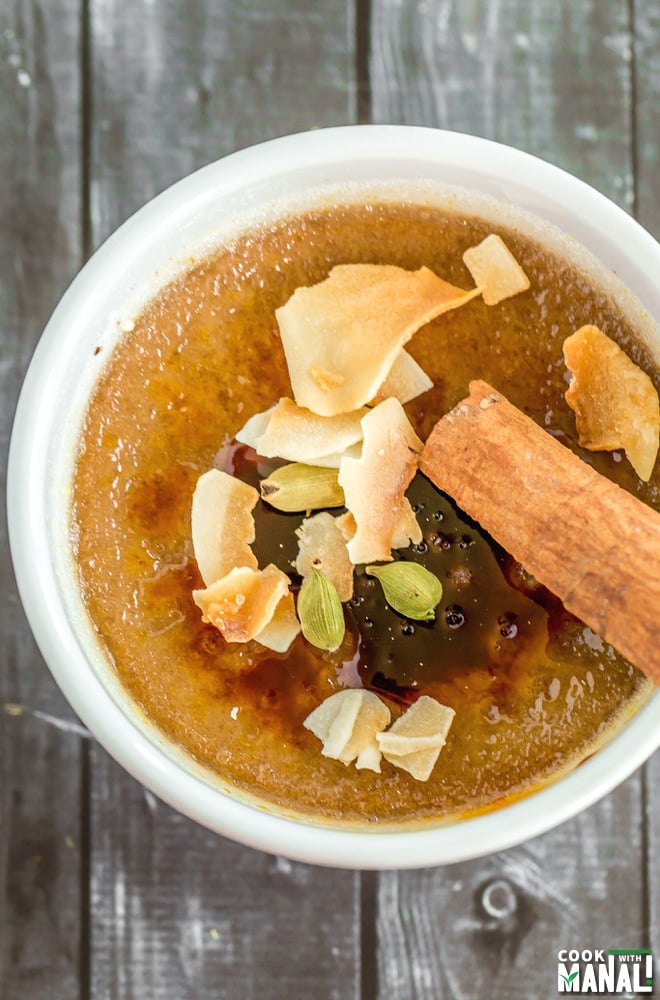 Sometimes the best recipes are unplanned just like this chai creme brulee. Usually I think about a recipe and then make it but sometimes I make them unplanned and it's so exciting when they turn out well! This weekend, I made some mini cupcakes for a charity foundation. For my vanilla cupcakes, I used a lot of egg whites and so obviously I was left with some egg yolks. Usually I would have thrown them because I was neck deep in work and didn't really have the mind to think of what to do with those yolks. But I don't know why I just left them at the counter while I baked some 150 mini cupcakes! When I placed my last batch of cupcakes in the oven, I looked at the yolks and suddenly out of nowhere I thought of making this masala chai creme brulee! It was that instant, no planning whatsoever! I really just worked with whatever I had on hand and I have to say this experiment turned out so well, way beyond my expectations!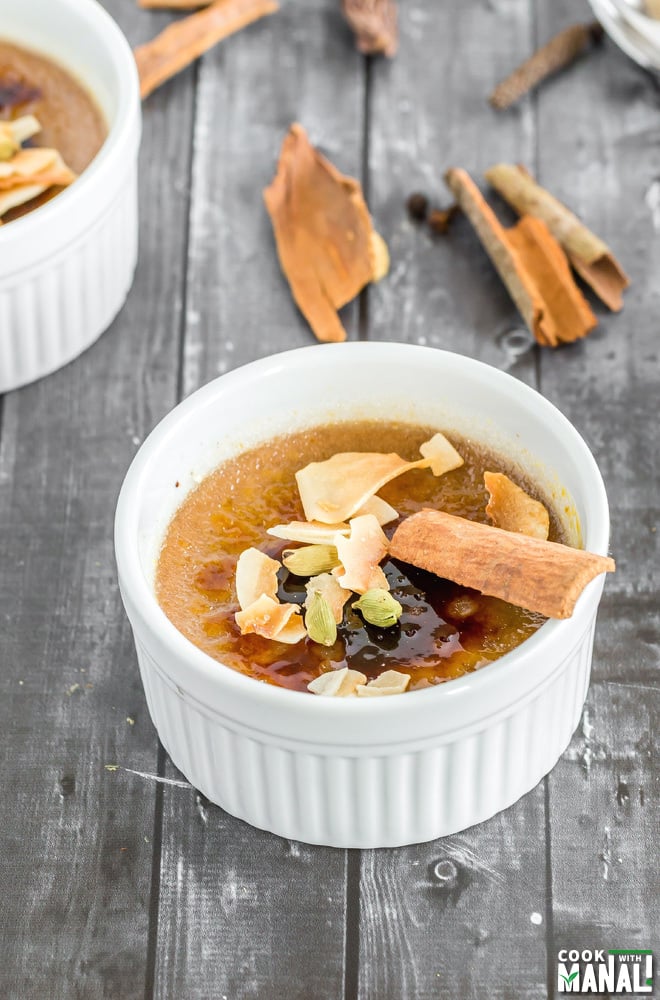 Creme brulee is such an easy dessert, yet it looks so fancy. The contrast between the hard sugar crust on top and creamy custad underneath it makes it really special. For this chai creme brulee I used heavy cream and coconut cream. You may use heavy cream only but I thought the coconut went so well with all the other flavors. Since I was making a dessert inspired by the very famous Indian masala chai, I used lot of spices like cinnamon, cardamom, ginger, cloves etc. The process is really simple, you just heat the cream and coconut cream together and then add the spices and black tea bags to it. Let it steep for 15 minutes at least so that all the flavors get absorbed by the cream and them simply combine it with the yolk-sugar mixture, pour the custard into ramekins and bake.
My favorite part about making creme brulee is always when I get to caramelize the sugar with my creme brulee torch. Oh it's a lot of fun ! I ended up caramelizing the sugar a bit too much at places but that's okay, not a deal breaker! Chai is an integral part of my culture and so obviously this creme brulee is special to me. I hope you guys give this very flavorful masala chai creme brulee a try! I topped these some store bought toasted coconut chips that I got from Costco but that's completely optional.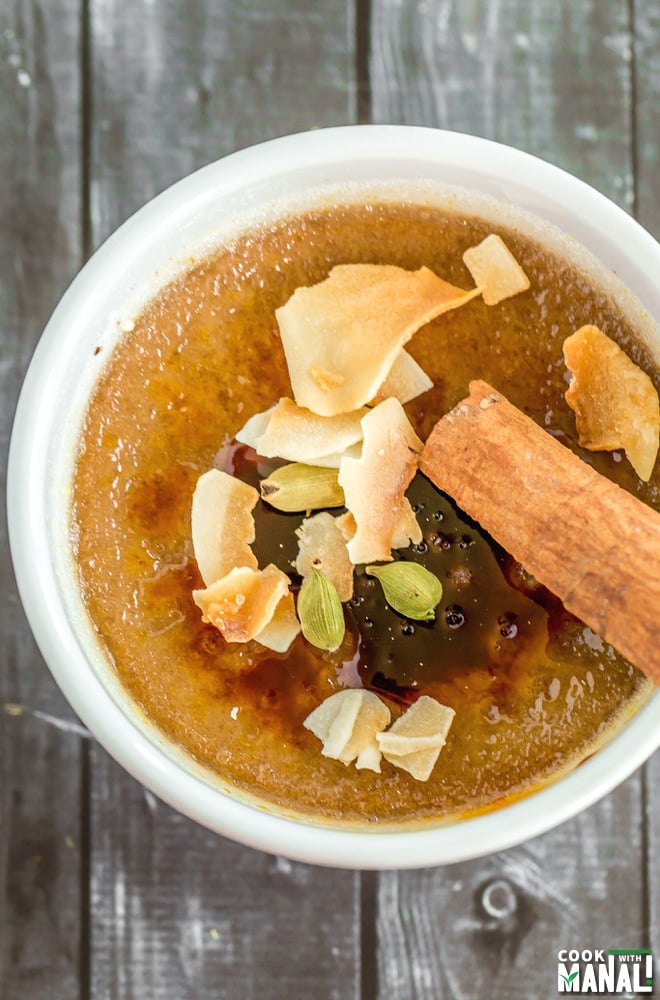 * I love using caster sugar on top of my creme brulee. It's superfine and hence caramelizes quickly.
* You may use coconut milk in place of coconut cream in this recipe.
PS: those cardamom pods on top of my creme brulee was for photographs only. Don't serve them like this!
PPS: Since I told you guys how busy I was when I made these, I didn't get the time to click step by step pictures. Sorry about that but almost similar to the steps pictures in this S'mores Creme Brulee.
Masala Chai Creme Brulee, an Indian take on the classic dessert! This creme brulee has all the flavors of chai with a touch of coconut!
Ingredients
1

cup

heavy cream

3/4

cup

coconut cream

or use full fat coconut milk

2

black tea bags

4

large egg yolks

4

tablespoons

granulated white sugar

1/2

teaspoon

vanilla extract
chai spices
1

teaspoon

cinnamon powder

5-6

green cardamom pods

4

black peppercorns

3

cloves

1/2

teaspoon

ground ginger

pinch

of nutmeg powder
Topping
1-2

teaspoons

of caster sugar per ramekin
To serve
toasted coconut chips

cinnamon stick
Instructions
Preheat oven to 300 F degrees.

Separate eggs and place the yolks in a bowl. Eggs separate best when cold.

Add granulated sugar to egg yolks and whisk for 2-3 minutes or till sugar is completely dissolved and mixture turns pale yellow.

Add vanilla extract, whisk till combined and set aside.

In a pan, put heavy cream and coconut cream on medium heat.

Meanwhile using your spice grinder, grind green cardamom pods (with the skin), peppercorn and cloves.

Once the cream mixture heats a bit, add 2 black tea bags.

Now add the ground cardamom-clove-peppercorn mixture. Add ground ginger, cinnamon powder and nutmeg. Mix to combine.

Bring the mixture to a point where it starts to simmer.

Switch off heat and let the spices and tea bags steep in for 10-15 minutes so that the cream absorbs the flavors.

After 10-15 minutes, remove the tea bags from the mixture [make sure you press the tea bags with a spooon while removing them so that more chai flavors gets incorporated into the custard] and then add the cream to the egg yolk-sugar mixture, little at a time, stirring continuously.

Divide the mixture equally among 4 round ramekins.

Transfer the ramekins to a pan and then fill the pan with boiling water till ramekins are half submerged in water.

Bake at 300 F degrees for 40 minutes or until the custard appears set but still jiggles a bit. if your ramekins aren't deep like mine, this will be done in 25-30 minutes.

Carefully remove the ramekins from the pan and let them cool completely. Once cooled, wrap and chill overnight or for a minimum for 4 hours.

Once the custard is chilled, take the ramekins out of the refrigerator and let it sit at room temperature for around 15 minutes.

Sprinkle around 1-2 teaspoons of sugar on each dish, making sure it's properly covered with sugar.

Using your kitchen torch, caramelize the sugar, it will turn hard and crispy. You can also do this step of melting the sugar in the oven, on broil.

Top with some toasted coconut chips and garnish with a cinnamon stick and serve!
Nutrition
Calories:
473
kcal
,
Carbohydrates:
20
g
,
Protein:
6
g
,
Fat:
42
g
,
Saturated Fat:
29
g
,
Cholesterol:
276
mg
,
Sodium:
34
mg
,
Potassium:
238
mg
,
Fiber:
1
g
,
Sugar:
13
g
,
Vitamin A:
1135
IU
,
Vitamin C:
2.1
mg
,
Calcium:
81
mg
,
Iron:
1.9
mg
Nutrition information is automatically calculated, so should only be used as an approximation.
Your feedback is valuable!
Please share your comments, ratings, and any suggestions or adaptations below to help us improve and make our recipes more successful.
Masala Chai Creme Brulee