Is it too late for a pumpkin recipe? I think the pumpkin season is still here at least till Thanksgiving, isn't it?. So now that I have convinced you (and myself) let's talk about today's recipe – Pumpkin Pecan Cupcakes with Chocolate Frosting.
First let me tell you about the amount of baking stuff I have in my kitchen. Wait, I can't even tell that because there's so much! It's not even funny. Yesterday while trying to figure out and sort my baking closet I noticed that I have one last can of pumpkin puree remaining and I couldn't possibly wait till next year to use it. Do you blame me? So as soon as I saw the can I knew I was going to make cupcakes. I adore baking cupcakes, for me they are easier to decorate than cakes and are cuter too. Don't you agree?
I love chocolate and I have grown to like pumpkin too. Honestly pumpkin isn't really a thing is India. Pumpkin is also not a popular flavor back home so all the baking that I have done with pumpkin has been in the last 2 years. Before that I didn't even know that we were supposed to bake with pumpkin, well as a matter of fact I didn't even know how to cook then! Anyway these moist pumpkin cupcakes are high on flavor and also filled with some chopped toasted pecans. I love adding nuts to my cupcakes, gives them a nice texture. I think it's always nice to bite into something crunchy in middle of a soft baked good. Just me?
I used all my favorite ingredients to make moist cupcakes – oil, buttermilk and brown sugar. You cannot go wrong with this trio provided you don't overmix your batter. I think I have repeated this so many times on my blog but I'll say again – never over-mix your cake/muffin/cupcake better. Overmixing will lead to more gluten formation and you will end up with a tough baked good. You have to mix the batter until just combined so always be gentle with the batter after you mix in the flour.
For the chocolate frosting I used simple butter, cocoa powder, confectioners sugar and heavy cream. Adding vanilla is optional, I did because I love it. I also added little cinnamon powder to the frosting, you can skip it but I loved the addition of little spice in the frosting too. I might be in minority but I do like using salted butter for my frostings, you can use unsalted butter in place.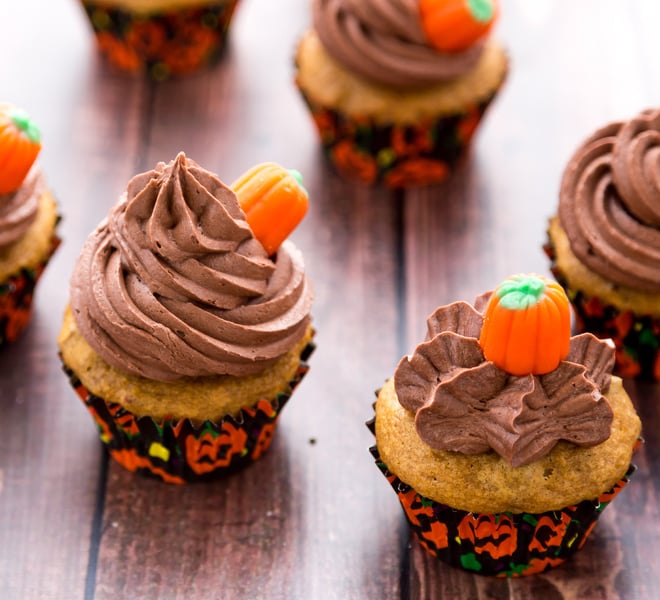 * You can use either heavy cream or milk in the frosting. I prefer cream because of the richness it gives to the frosting.
* The quantity of heavy cream can be adjusted in the frosting according to requirements. Add more cream for a spreading consistency.
* You can add more cocoa powder in the frosting for a more intense chocolate flavor.
PS: There's still some time to enter the Thanksgiving Giveaway! One lucky winner will win $50 Amazon Gift Card.
Pumpkin Pecan Cupcakes with Chocolate Frosting
Pumpkin Cupcakes with toasted Pecans and topped with a creamy Chocolate Frosting.
Ingredients
Pumpkin Cupcakes
1.5

cups

all purpose flour

1.25

teaspoon

baking powder

½

teaspoon

baking soda

¼

teaspoon

salt

1.25

teaspoon

pumpkin pie spice

½

teaspoon

cinnamon powder

½

cup

vegetable oil

½

cup

granulated white sugar

½

cup

light brown sugar

2

eggs

at room temperature

¾

cup

pumpkin puree

canned or fresh

1

teaspoon

vanilla extract

optional

⅓

cup

buttermilk

⅔

cup

toasted pecans

coarsely chopped
Chocolate Frosting
½

cup

salted butter

at room temperature

2¾

cup

confectioners sugar

5

tablespoons

unsweetened cocoa powder

3-4

tablespoons

heavy cream or milk

1

teaspoon

vanilla extract

¾

teaspoon

cinnamon powder
Instructions
Line a muffin tray with cupcake liners or spray it with a nonstick spray. Set aside.

Preheat oven to 350 F degrees.

Spray a baking sheet with oil and place pecans on it.

Toast the pecans at 350 F degrees for 6-7 minutes or till fragrant.

Take out of the oven and chop them coarsely. Set aside.

In a bowl whisk together all purpose flour, salt, baking soda, baking powder, cinnamon powder and pumpkin pie spice. Set aside.

In the steel bowl of your stand mixer or using your hand mixer beat together vegetable oil and both the sugars till well combined.

Add eggs, vanilla extract and mix till well combined.

Now add the pumpkin puree and mix.

Start adding the flour mix and alternate with buttermilk. Add the flour in 3 parts and buttermilk in 2 parts starting and ending with flour.

Mix till just combined. Do not overmix.

Fold in the chopped toasted pecans.

Fill the cupcake liners till 2/3 full with the batter.

Bake at 350 F degrees for 17 minutes or till a toothpick inserted in the center of a cupcakes comes out clean.

Cool cupcakes completely before frosting.
Chocolate Frosting
Using steel bowl of your stand mixer fitted with paddle attachment or using your hand mixer beat room temperature butter till smooth and creamy, around 3-4 minutes.

Now start adding confectioners sugar, 1/2 cup at a time. Beat at slow speed at first and once the sugar mixes in a little, beat at high speed for 30 seconds.

Add vanilla, unsweetened cocoa powder and mix till well combined.

Add heavy cream and beat till frosting is nice and smooth.

Frost the cooled cupcakes using the chocolate frosting.
Nutrition
Calories:
356
kcal
Carbohydrates:
48
g
Protein:
3
g
Fat:
17
g
Saturated Fat:
10
g
Cholesterol:
38
mg
Sodium:
148
mg
Potassium:
144
mg
Fiber:
1
g
Sugar:
36
g
Vitamin A:
2140
IU
Vitamin C:
0.5
mg
Calcium:
48
mg
Iron:
1.3
mg