If you are looking for an Indian inspired Thanksgiving menu to serve your guests, I have got you covered with these Indian vegetarian recipes. I got introduced to Thanksgiving only after I moved to the US. My favorite thing about this holiday has to be the food, and I love incorporating Indian flavors to almost everything I make.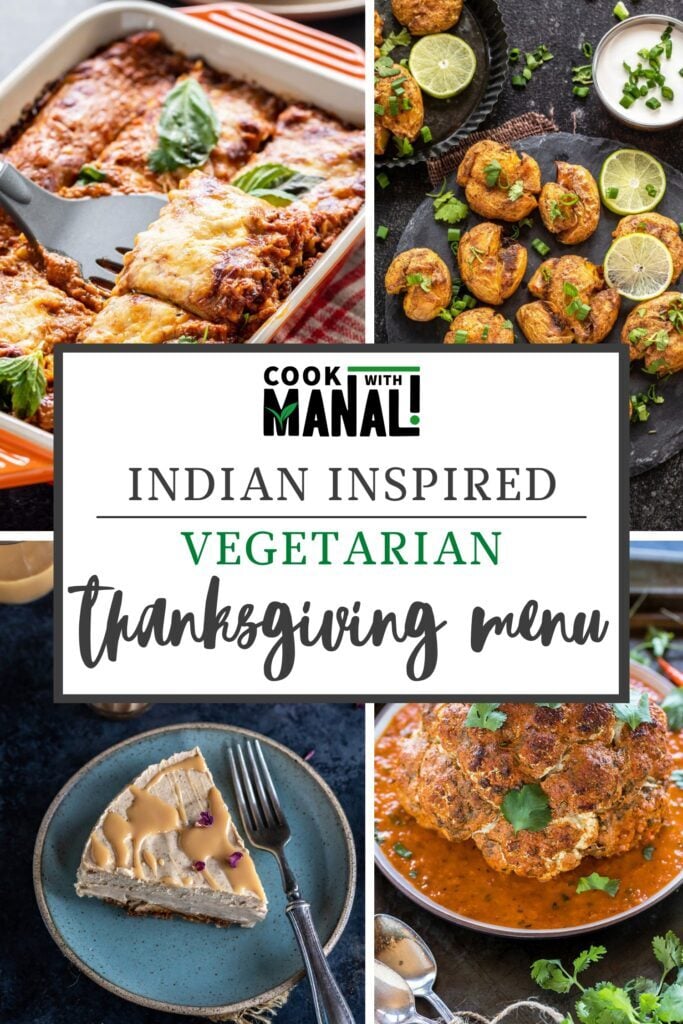 While many traditional sides on Thanksgiving like mashed potatoes, roasted carrots etc. are vegetarian, in this menu you will find some flavorful mains like the vegetable paneer lasagna or the roasted whole cauliflower tikka. The sides include apple chutney and tikka masala mac and cheese (look for mac and cheese recipe on my Instagram page, the whole recipe for this is shared in the captions with the video there).
Putting an Indian spin on desserts is something I absolutely love and the masala chai cheesecake and gulab jamun tiramisu are the best example of when Indian flavors meet western desserts. All those wonderful spices in the masala chai cheesecake make it the perfect Thanksgiving dessert.
Drinks
Salad
Appetizers
Sides
Mains
Dessert
Prep in Advance
Thanksgiving feast is usually big and you can prep in advance to make your life a little easier. Most of these dishes in this menu can be made in full or prepped for in advance.
The maple rosemary syrup can be make 2 to 3 days in advance for the maple rosemary mocktail.
For the mushroom tikka, prepare the stuffing for the mushrooms 1 day in advance. After stuffing the mushrooms and marinating them, you can keep them in the refrigerator for up to 36 hours.
The apple chutney lasts for a good week in the fridge.
The entire lasagna can be assembled a day in advance and baked on the day of serving.
Both the cheesecake and the tiramisu can be made 48 hours in advance. The cheesecake in fact needs to be made a day in advance so that it gets time to set.
Hope you find something that you love from this menu and try for your Thanksgiving dinner!