Are you not sure what to serve your vegetarian guests in place of turkey on the Thanksgiving table? Try this Roasted Cauliflower Tikka. Whole cauliflower marinated with aromatic spices then baked in the oven and served with a tomato based creamy sauce! This will surely impress your vegetarian guests!
I love adding Indian inspired dishes to out Thanksgiving table like the masala smashed potatoes, tandoori mushrooms, apple chutney and more. However these are all sides and vegetarians usually stick to side dishes during Thanksgiving.
But I firmly believe that even vegetarians should have a centerpiece for Thanksgiving and too a flavorful one. And that's why you need to make this Roasted Whole Cauliflower Tikka. Doesn't it look like the perfect centerpiece for your Thanksgiving table?
It has this whole head of cauliflower which is marinated with yogurt and spices then baked in the oven. It's served with a creamy tomato sauce and sliced onions.
While testing this recipe, I actually made the whole thing twice with different flavors. I first made a tandoori masala at home, marinated the cauliflower with it and served it as such. I thought it was nice but a sauce would make it more complete. So then I changed the flavors and made this cauliflower tikka with a tomato sauce or you may call it Cauliflower Tikka Masala. Sarvesh thought both were good but I am sharing the one that I felt was more appropriate for Thanksgiving.
You can serve this one too without the sauce, just the cauliflower head with cilantro chutney. It would make a great appetizer/meal but to make it more complete for the dinner, I suggest you serve with the sauce.
This Roasted Cauliflower Tikka
is really flavorful with all the aromatic spices.
tastes better the next day so you can make this in advance.
will appeal even to the meat-lovers!
is perfect to share with a crowd/
This dish actually tasted so much better the next day. The flavors really come together as time goes by so you can make this in advance. Also, in the recipe I mention to marinate the cauliflower for 1 hour but if you have the time, marinate for a longer period of time. You can even marinate overnight and then bake it first thing in the morning. Either way, it would be just fine.
Step by Step Instructions
1- To a bowl or pan add all the ingredients listed under "to marinate". Make sure the yogurt that you use here is thick.
2- Whisk to combine everything together.
3- Trim the outer leaves and stalks of the cauliflower but make sure the head remains intact. Coat the entire cauliflower with the marinade. Use you hands to spread the marinade all over, going to sides and also to the back of the cauliflower.
4- Cover and refrigerate for a minimum of 1 hour. If you have time, you can even marinate 4 to 6 hours or even overnight. Once you have marinated the cauliflower with the masala for a desired amount of time, roast it in the oven at 400 F degrees for 45 to 50 minutes or until tender.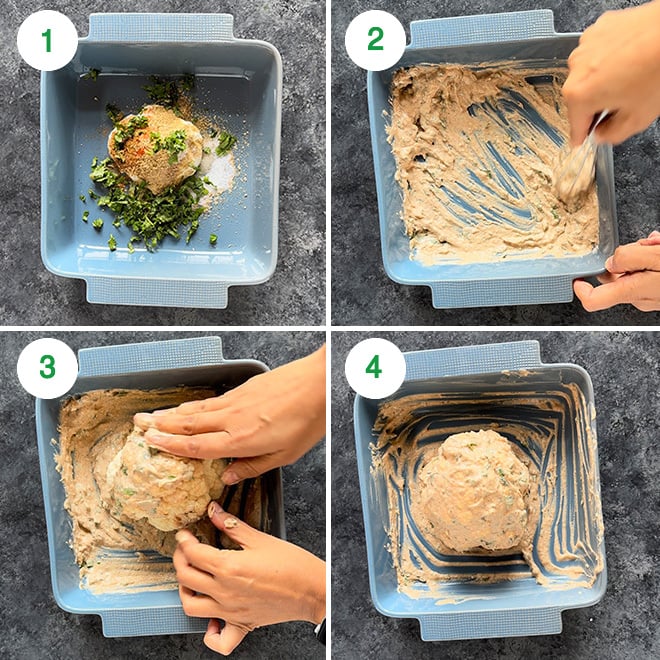 5- Meanwhile make the sauce. Heat oil in a pan on medium heat. Once the oil is hot, add the cumin seeds and let them sizzle. Then add the onion and cook for 2 to 3 minutes till soft and translucent. Add ginger garlic paste and cook for another minute or two till the raw smell goes away.
6- Add the chopped tomatoes along with store bought tomato puree, salt and 1/4 cup of water. Let the tomatoes cook for 3 minutes.
7 & 8- Add red chili powder, curry powder, sugar and let the masala cook for 2 more minutes.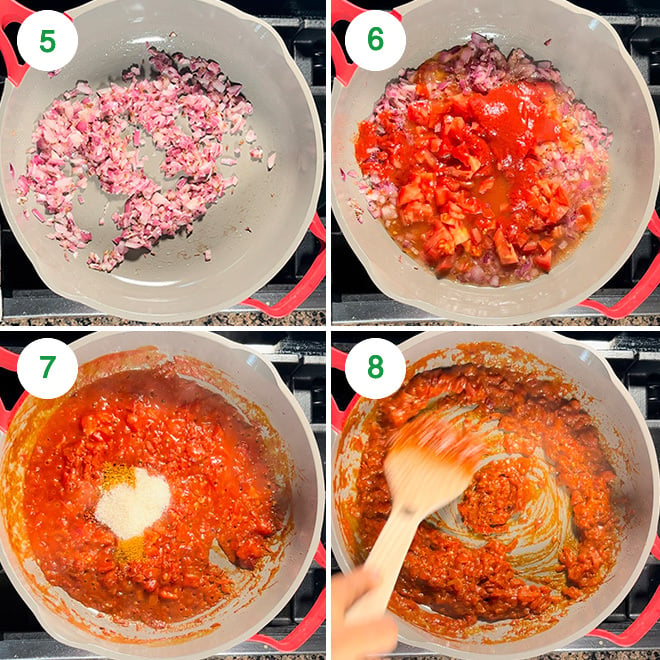 9- Once the masala is nicely cooked, add the remaining 3/4 cup water to the pan. Mix everything well and then blend the mixture to a smooth paste.
10- Transfer the puree back to the pan and add butter and chopped cilantro.
11- Let the sauce simmer for 2 minutes.
12-Place the roasted cauliflower in the center of the serving plate and pour the prepared sauce all around the cauliflower. Serve roasted cauliflower tikka with onion rings and cilantro-mint chutney on the side!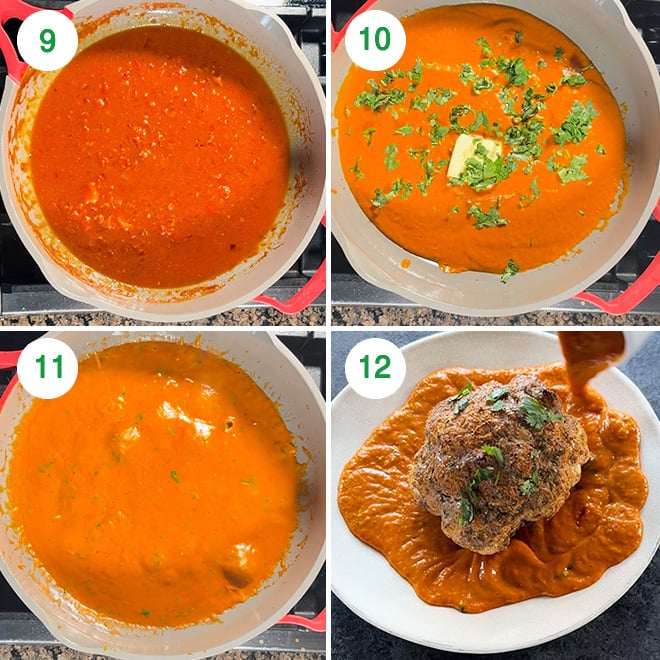 Vegan Variation
I have not tried making this recipe vegan but it's totally doable. Use plain almond milk yogurt in place of regular yogurt to marinate and add vegan butter in place of regular butter in the end. Follow the rest of the recipe as it is.
Tips & Notes
You may serve this cauliflower tikka without the sauce. Serve it with cilantro chutney and it would make a great appetizer. With the sauce, it's more of a complete meal.
I strongly recommend using store bought puree here. But if you can't get it, make a puree of 2 tomatoes and use in the recipe.
A smaller cauliflower head might get done in less time and a bigger one will take more time so adjust the timing accordingly.
Prep time includes the resting time of 1 hour.
This post has been updated from the recipe archives, first published in November 2017.
If you've tried this Recipe then don't forget to rate the recipe! You can also follow me on Facebook, Instagram to see what's latest in my kitchen and on YouTube to watch my latest videos.