Seviyan Kheer
Oct 10, 2013, Updated Jul 03, 2015
What do you do if you have a lot of milk bottles lying in your fridge. Make kheer!
Yes, that's what I do usually. I think kheer is the easiest dessert you can make in a jiffy. So if you have some guests over for dinner and you are running short of ideas on what to make for dessert, opt for kheer. You can hardly go wrong with it.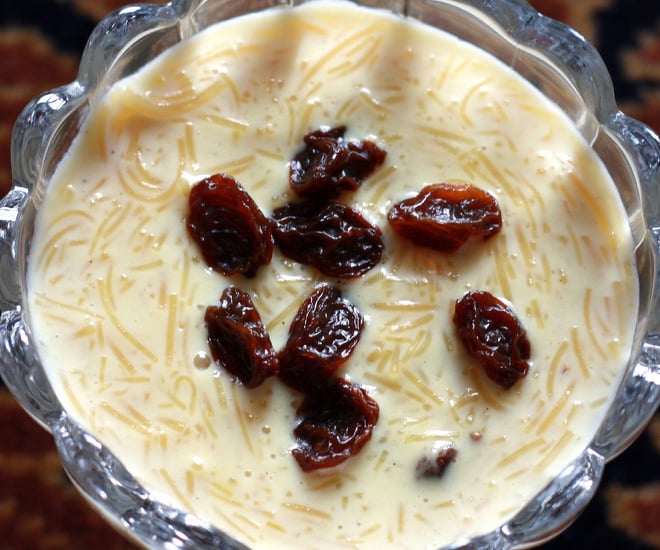 For those who don't know kheer, or payasam as it's called in southern parts of India is a dessert which is prepared my boiling milk with sugar and then adding the ingredient of which you want to make the kheer of, it can be rice, vermicelli, sago or semolina! You have a lot of choices when it comes to making kheer, the recipe I'm sharing here is of Seviyan kheer or the Vermicelli kheer.
As a child, kheer was one dessert which I would often eat at home. I think what makes it so popular is that it can be prepared quickly and also the ingredients used are very basic which are readily available in every Indian kitchen.
Here's a simple recipe for Seviyan Kheer.
Serves: 4
Ingredients
Ghee [Clarified Butter]: 1 tbsp
Roasted Seviyan [Vermicelli]: 1 cup
Milk: 500 ml + 2 tbsp
Raisins: 3 tbsp + for garinishing
Rose Water: 2 tbsp
Sugar: 4-5 tbsp [more or less depending on taste]
Cardamom Powder: 1/2 tsp
Saffron strands: a pinch
Method
1. Take ghee in a pan and let it melt.
2. In a bowl, take 2 tbsp of milk and add saffron to it. Set it aside.
3. Once the ghee melts, add raisins and saute them for a minute. You know it's done when the raisins balloon up.
4. Add the seviyan and saute for 2-3 minutes at medium flame. Remember I used roasted seviyan so they don't really need to be roasted much.
5. Add milk and continue to stir at low-medium flame for around 7-8 minutes or till the milk thickens. Do not leave the pan else the milk might get stuck to the bottom.
6. Once the milk has thickened, add the sugar and saffron (which was dissolved in milk). Stir well for a minute.
7. Add cardamom powder, rose water and switch off the gas stove.
8. Pour the kheer in serving bowls and garnish with remaining raisins.
9. Serve hot or keep it in the fridge for 1-2 hours if you want to serve it chilled. I personally love to eat chilled seviyan.
Tips
1. Use as many nuts as you like here. I used only raisins but you can use cashews, pistachios, almonds etc.
2. Sugar and consistency of the kheer should be adjusted according to your choice. If you want it to be on the thinner side, add more milk towards the end.
3. The use of rose water is optional but I highly recommend it. Rose water gives a wonderful aroma and flavor.
4. Use a heavy bottom pan and stir the kheer continuously else the milk can stick to the bottom.